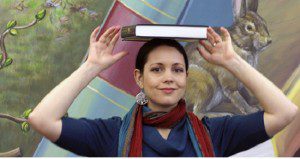 Unless you already follow me on Twitter (@foxyfolklorist), you're probably wondering… what the heck is a foxy folklorist?
Maybe a kitsune came to mind, or maybe you thought of the trickster foxes of European folktales, or the trickster fox's more recent filmic incarnation The Fantastic Mr. Fox. I do like to think of myself as participating in the long tradition of tricksters cleverly upsetting the status quo, and one of the topics I'll explore in this blog post is the relationship between folklore and power.
While these tricksy associations resonate with what I'm doing now in my non-traditional career, when I came up with this name, I wanted it to be a tongue-in-cheek take on the fact that I'm a professional folklorist, but I also study gender and sexuality. I might even – gasp – have a gender and sexuality of my own. I know, it's racy for academics to admit to inhabiting physical bodies with social identities.
In my next few posts, I'll describe why it's important for Patheos to have a folklore blogger, and why I'm a good fit for the atheist channel, but for now I'll say a bit about my academic background and why I blog about folklore, culture, and sex.
I attended UC Berkeley for my undergrad, intending to major in history or something related, so that I could become a writer. Instead, I got bit by the folklore bug. My first semester, I took intro to cultural anthropology, intro to linguistics, intro to religious studies, and a freshman seminar on fairy tales…and I realized that I wanted to study all those things, which is basically what folklore is, as the study of expressive culture. Then I started to study under Alan Dundes, famed folklorist, and I decided to get a PhD in folklore.
That brought me to Indiana University, where I earned my MA and PhD. My MA was on interpretive approaches to father-daughter incest fairy tales (you can read a version of it here), and my dissertation was on gender and the body in European fairy tales (I've blogged about it here, and there's a revised chapter available to read here). I've also done fieldwork on contemporary belly dance in America (read my article about numinous/spiritual dance experiences here). I study body art, feminism, queer theory, narrative theory, gender and sexuality, the history of sex education, and… stuff. Basically, I study people doing creative things in various cultural contexts.
What really grabbed my attention about folklore is the fact that it's a form of culture that is non-institutional and endlessly varied. In short, I'll never be bored. But more to the point, I get to study people's engagement with tradition. Tradition is dynamic rather than static, and tradition is always about power, even if it's in subtle ways: who has the power to perform a given tradition, transmit it, or even subvert it? While we ask these questions of everything from mundane stuff like family dinners up through festive occasions, we're getting at the same cultural dynamics, and asking similar questions of who has agency, which identities are suppressed vs. celebrated, and so on. Basically, I get to professionally investigate who has the right to tell their story, using which language, foregrounding which identities. It's good work to engage in… and I try to maintain a sense of humor (perhaps even snark) while doing so.
In addition to writing academic articles, I've enjoying blogging for over five years now. I've done most of my blogging at jeanajorgensen.com (which is now archived here), and I also blog about sex education topics at doctorjeana.com. So I'm not new to blogging, but I'm quite excited to now be blogging at Patheos, where I can contribute to the nuanced conversation happening around culture, belief, and power!