I've decided to start a Patreon for my writing and conferencing activities. The main problem is, I have no idea what I'm doing, so I've got to figure it out as I go!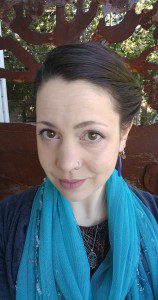 I spent a good chunk of yesterday writing a #FolkloreThursday post that I'm really excited about. It took a couple hours, and I was lucky to have that break in the end-o-semester grading frenzy to make it happen. I wish I could devote that much time to every blog post, but right now? I can't justify it.
I love writing. I love scholarship. I love doing both these things for broad, public audiences.
But the fact is, as a part-time academic, I'm always pressed for time and money. I don't want to skimp on blogging here because I need to pursue paid writing opportunities elsewhere; I don't want to have to pick up so many adjunct classes that I no longer have time to do the writing I love. Even if I somehow landed a full-time academic job, this kind of outreach wouldn't count toward tenure, so I'd have to cut back unless there were a compelling enough reason to keep doing it.
So I'm starting a Patreon. I plan to launch in the next month-ish.
However, I have no idea how to go about this. I'm fortunate to have friends on the site, and who are involved in various other things, who are sharing their experiences and giving me advice. I've got a friend who'll help me film an introduction video for my homepage, and colleagues willing to collaborate on a cool feature we can hopefully get going.
Since most of my writing is based here, though – and I want to keep it that way – I thought I'd ask y'all for advice/ideas.
I intend to keep blogging here, and hopefully on the daily basis I've recently reestablished. Making quality writing available to the public is such an important part of my advocacy that it won't change. But I will have some patrons-only writing on my Patreon, for people chipping in $1-2 dollars a month. That content will either be entirely exclusive, or previews that won't go live for 3-6 months minimum. For a slightly higher tier, people can suggest research topics and blog post ideas.
Since I go to 3+ conferences a year anyway, and live-tweet the hell out of them and write recap blog posts, I figured I'd monetize that to the best of my ability. So there'll be a tier that'll get people access to fun, short conference experience videos I'll make, as well as exclusive write-ups and anything else that sounds fun/feasible.
If there's interest, I'll include a tier for my creative work, such as poetry and dance videos. That stuff's weird/experimental/vulnerable but people seem to dig glimpses of my creative process. Or maybe that should just go under an existing tier? I'm not sure.
I'll probably have higher-level tiers for either group or one-on-one Google Hangouts, so that people can pick a folklorist/sex educator's brain. Maybe like a coffee hour once a month? Or submit questions in advance so I can research them?
The best part, that I'm not sure how to make happen, would to start a Drunk Folklore video series. Yes, this would be me (and my colleagues, when I could link up with them) tipsily rambling about folklore topics. Or if drinking's not their thing, doing something else almost to the point of excess (caffeine or what have you) so that the conversation is a bit more buzzed than usual. If we do this one at a high-enough tier, there'd be money for travel, so I could link up with colleagues all over the place, and get technical help because I just don't have video-editing abilities or equipment.
Anyway, this is the part where I'd love suggestions!
If you've got a Patreon, what has worked for you?
If you're a patron, what do you enjoy receiving in terms of the rewards? What pricing seems reasonable for the types of rewards I've mentioned?
Would you like to see anything specific from me?
Would it be too corny to give the various reward tiers folklore-related names, like "Muse" for people who get to suggest blog/research topics?
On a more superficial note, how do I even choose which pictures to use for the header and stuff like that? Like, do I need new professional headshots?
What should I call the bloody thing?! Keep the Foxy Folklorist title, add Freelance in there somewhere because yay alliteration, or…?
So many options and decisions! Thanks in advance for any help/ideas/discussion.