One of my side projects involves looking at masculinity in contemporary North American fairy-tale retellings. One more fun way to fight the patriarchy, eh?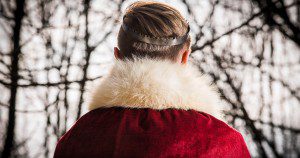 In a continuation of my perhaps ill-advised Do All the Conferences This Year adventures, I decided to attend Thinking with Stories in Times of Conflict: A Conference in Fairy-Tale Studies. This, despite it conflicting with Woodhull's Sexual Freedom Summit, which has been a fave conference of mine for the last two years. My reasoning is that I can do the fairy-tale conference cheaper (driving to Detroit from Indy vs. flying to DC) and that after my time at Berkeley, I'll be in some serious withdrawal from being around folklore colleagues 24/7 and could probably use a boost.
This conference paper is the mirror image of my WSFS 2017 paper, which focused on femininity in three contemporary American retellings of "Snow White." I'm not limiting myself to a particular tale type in this paper, however. So it'll be a little different, but hopefully also a useful exercise toward my book chapter. Here are the title and abstract:
Pretty Boys and Demon Lovers: Masculinity and Sexuality in Contemporary American Fairy Tales
Demon lovers and serial killers appear in legends and ballads as well as in fairy tales like "Bluebeard," "Fitcher's Bird," and "The Robber Bridegroom." Social outlaws, these men also prey on women, illustrating the dangers of heterosexuality and the marital household. This paper examines the depictions of masculinity in contemporary North American literary retellings of fairy tales, with a special focus on how gender and sexuality intertwine to coalesce around two representative types of men who approach and resolve conflicts differently: good-looking nice guys and dangerous monster-men.
In contemporary fairy-tale retellings from young adult fiction to erotica, female protagonists shine and take center stage, contesting the stereotypes about passive femininity that feminist and queer scholars have long critiqued. The depictions of masculine characters have received less critical attention, and thus this paper shall focus on male characters in a handful of texts, such as the erotic short stories in Myth & Magic: Queer Fairy Tales edited by Radclyffe and Stacia Searman (2014, Bold Strokes Books) and the YA science fiction series The Lunar Chronicles by Marissa Mayer (2012-2015, Macmillan). Utilizing concepts such as hegemonic masculinity, gender performance, homosociality, and gendered sexuality, this paper will advance the view that masculinity in retold fairy tales is being revised differently than femininity is, in large part due to how hegemonic masculinity is constructed differently than idealized femininity. In addressing the strictures of toxic masculinity, with its strict adherence to patriarchal norms that replicate misogyny and homophobia, authors transform male characters into approachable and sensitive men on the one hand, and violently aggressive but redeemable men on the other. These literary transformations arise in a contemporary context of contested gender and sexuality, much as fairy tales have always engaged with questions of identity and narrative representation.
It was accepted to the conference, so wish me luck!