I worked really hard this semester, and it all paid off in the end. My classes wrapped up nicely and I got to have a little Bay Area fun too!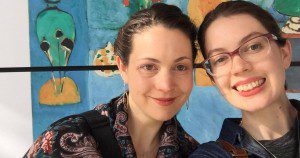 Balancing work and play is always tough, so in this post I'm making a point of celebrating my successes while in Berkeley, which includes a fair bit of frolicking.
My first week teaching at Berkeley rocked. Then I hit a rough patch, much of it to do with how difficult it was to teach my dead mentor's class and work. By the time I realized I only had a month left – right around my birthday – my departure felt like it was looming, bittersweet already.
Looking back over the semester, it was a bit of a wild ride. Teaching my two upper division classes (one of which had almost 200 students enrolled!) was a ton of work. This is not surprising. I knew it'd be a lot of work going in. In addition to that course load, I supervised teaching assistants and held office hours. And as part of the Berkeley folklore community, I presented a Folklore Roundtable talk and worked so hard on it and other projects that I often spooned my books to sleep.
And from a teaching perspective? This semester was a total win. There are definitely improvement I'd make if I taught these classes again, but on the whole I think I imparted a lot of valuable information to my students. They were a delight to teach, too. Their questions were frequently very sharp, and they pushed me to incorporate more material, and to explain my points with more clarity. I think that the majority of my students "got it" – whether it was folklore studies, fairy tale studies, feminism, or some combination thereof.
I was pleased as can be to hear feedback from a number of students about how much they learned and how much they enjoyed my classes. One student wrote me a card thanking me for the class and saying how much she'd learned (and she gave me a small gift, including homemade cookies!). Another student fist bumped me after the final exam. Both classes applauded after the very last lecture – is that a thing? I don't recall that being a thing when I was in college. Anyway, it was really heartening, and I'm so very glad that my students seemed to get so much out of my classes (yes, I know there's the possibility that some might be applying flattery in the hopes of higher grades, but I got a LOT of positive feedback at a time too late in the semester for grade-grubbing behaviors to be very effective). I'm curious to see my evaluations when they come out.
But part of the reason I'm so baffled by how quickly the semester ended was that I never quite got the hang of balancing my teaching load with everything else I wanted to do here. I'm not sure how much that's a failure on my part, and how much it's just a feature of Bay Area life.
There's just SO much to do here. I took a ton of belly dance classes in the main style I study/teach/perform (American Tribal Style®), and I studied butoh as often as I could. Sometimes butoh led me good places, and sometimes it took me painful places. I tried to sample the Bay Area's wide-ranging selection of cuisines, and I spent tons of time with my folklore colleagues, and the handful of other friends I made locally. Oh, and the Yiannapoulos crap happened while I was here too.
While I didn't have as much time to travel as I would've liked, I presented at two (out-of-state) conferences – ICFA and WSFS – and I celebrated the arrival of my copy of Split (not that I was nervous about writing an essay about my divorce, haha, yes, I totally was…I felt like I was walking around with my organs exposed, that's how vulnerable I felt).
Now that the semester's over and final grades are in, I earned some celebration. My sister came up to visit, and we packed in a bunch of awesome adventures, which I thought I'd share here because I know otherwise my blog is a lot of political doom-and-gloom, academic ruminations, and similarly serious stuff.
First, we enjoyed a meal at the Chez Panisse Cafe. We come from a foodie family, so this was a real treat. I've eaten there once or twice before and it's always a delight.
We started with their bread, olives, and a baked goat cheese dish served with mixed lettuce.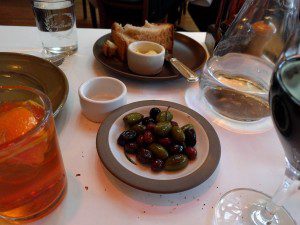 I had a grilled chicken breast for my entree, which was amazingly tender. It was served with polenta and rainbow chard, both of which I thoroughly enjoyed (which is rare, as neither one is among my favorites). But the fried baby artichokes atop the polenta were a revelation: crispy, tender, salty, satisfying. If there's one thing I learned in this meal, it's that fried baby artichokes are now my new favorite thing and I may have to learn to prepare them despite disliking the act of deep-frying.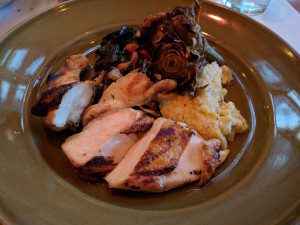 Despite feeling pretty full (my sister got fig-leaf-wrapped halibut, which was also amazing), we shared dessert: Meyer lemon sorbet over a meringata, with blueberry compote and candied kumquats.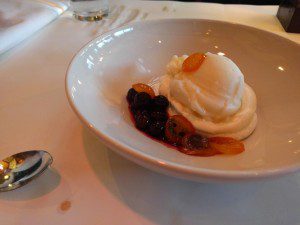 Obligatory Chez Panisse selfie. Their interior is just so beautiful.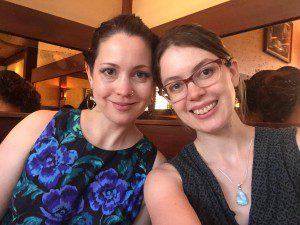 For our next adventure, we went to the Matisse/Diebenkorn exhibit at the San Francisco Museum of Modern Art (SF MoMA for short). It was phenomenal. I already knew a little something about Matisse's work, but I didn't know much about Diebenkorn.
The story of how Matisse inspired Diebenkorn totally drew me in (Berkeleyside has an excellent account of their bromance here). I love learning about how artists interact, whether in person or at a remove. Seeing various paintings and drawings by Matisse and Diebenkorn side-by-side really illustrated just how concrete of an influence Matisse had on Diebenkorn, whether in terms of color use, shape, or composition. Their drawings of models were also quite demonstrative. I'm in complete awe of how Diebenkorn established himself as an abstract painter, then went into figurative work (and kept up an amazing figure drawing practice; holy crap, his drawings based on live models are soooo good), and then returned to abstract painting. How many people are that awesomely competent in completely different styles of art?!
I was also amused at how my appearance apparently dovetailed with the exhibit. Within minutes of one another, one woman told me I looked like Frida Kahlo, and another woman said I looked just like the woman in Matisse's Laurette in a Green Robe, Black Background. I enjoy engaging with body art so I guess it's nice that other people register my presence as artistic?
Anyway, this is how I want to remember my last week in Berkeley: eating delightful meals, spending time with people I care about, seeing art, and sometimes making/being art.