Scholarly outreach is a major part of what I do, which is why the Scholarly Communication Institute is something I'm looking forward to this fall.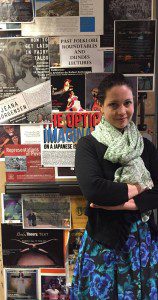 In my post on all the conferences I'm doing in 2017, I alluded to how in addition to the five conferences I was confirmed to present at, there might be a sixth in the works. This is that sixth one.
There's a conference called the Scholarly Communication Institute, which happens yearly in the Research Triangle in North Carolina (Raleigh, Durham, and Chapel Hill). I'd heard of the conference, and it sounds up my alley, since according to the website "The Scholarly Communication Institute aims to bring together groups of scholars, information scientists, librarians, publishers, technologists, and others from both inside and outside academia to articulate and begin to address needs and opportunities in the domain of scholarly communications." Cool stuff, right?
This year, the theme is Scholarly Storytelling. So of course when a colleague suggested putting together a panel, I was all about it, since one should obviously have a folklorist on hand for these types of things.
To my delight, we were accepted! I'm thrilled to bring insights from academic folklore studies to a new demographic, since outreach is a huge part of what I'm all about (with this blog, with my scholarship and teaching, and so on). Here's a version of our proposal that was accepted, and will be published on the conference website.
Description
For the 2017 Triangle Scholarly Communication Institute, we would like to propose a group to look at how storytelling techniques, specifically those used in journalism and folklore studies, can be used to help combat anti-intellectualism faced by scholars and reporters. This idea came from discussion about current information culture (i.e.: "alternative facts" and "fake news"), how scholarly research has been mis- or underrepresented in news media, and how "bad science" and retractions have promoted public distrust of scholarship.
Institutions of higher education are often characterized as bastions of liberalism, which in a politically charged environment will hinder academics' ability to communicate effectively with the public. This perceived politicization affects the research output of colleges and universities and the ability of the news media to cover research-based stories as they compete for the attention and confidence of their audience. Democratization of information has exacerbated this to some extent. The reduction or elimination of gatekeepers has enabled scholars to engage in disseminating their research but has also contributed to the spread of misinformation and made evaluating information far more difficult.
Scholars have also expressed concerns about sharing their work widely for fear that it will be misinterpreted (see The Heartland Institute's 500 Scientists with Documented Doubts of Man-Made Global Warming Scares, featuring a number of scientists who later came out protesting their inclusion on the list suggesting their research had been misinterpreted)1, 2 or targeted for grant revocation (see HR 5155, proposed legislation prohibiting the NEH from funding the Popular Romance Project and similar projects.) Still other scholars show a lack of interest in sharing their work with the public as they report believing the people who need access to their work – other researchers – already do; this, in turn, can help reinforce the idea among the general public that these researchers are elitists locked in their ivory tower.
We intend to approach this problem from the perspectives of educators, folklorists, journalists, librarians, and researchers. Our proposed solutions will involve the use of personal narratives to help make real people the face of the issue at hand and help add empathy to discussions about research and scholarly output. We'll focus on supporting researchers, librarians, and other involved parties who use or want to use popular/populist platforms like blogs, Twitter, Instagram, and podcasts and offer primers on different methods for evaluating impact.
Our goal with this approach is, as stated in the Call for Proposals, "build bridges with constituencies that normally don't feel connected to universities, and who may even feel antipathy to them." We would like to engage these constituencies using storytelling techniques borrowed from journalism and folklore and ideas gleaned from popular "edutainment" and popular science entities, including I Fucking Love Science, lol my thesis, TED Talks, and the VlogBrothers' Crash Course series. We also want to look at entities engaged in repackaging complex topics, such as eLife Digests, Vox, News in Slow, and Thing Explainer to consider how plain-speaking in scholarship can encourage engagement.
The proposed team includes scholars engaged in research on fairy tales, digital humanities, social justice, sex education, experiential learning, digital storytelling, scholarly communication, and diversity in news, among other research interests. We hold positions ranging from tenure-track faculty to blogger to full-time librarian to alt-ac scholar, having worked in newsrooms, classrooms, and libraries. Between our collective interests and our collective experience, we have the necessary perspective to productively engage in our proposed topic at TriangleSCI and successfully produce the toolkit outlined below.
Output
Our intended output is a toolkit that will include the following items:
Breakdown of different storytelling genres, including classical folklore genres and pop culture examples to help users harness generic associations and aid them in making certain points or reaching specific demographics

Advice for researchers on building pre-made video news releases, interactive infographics, and podcasts, including guidance on using humor, emotion, and personal narratives to encourage understanding, empathy, and sharing (i.e.: how to go viral)

Unbranded, editable Creative Commons-licensed templates to be used on social media to share research
Team Members
We'll have full bios up on the Institute's page, so for now I'll note that I'm pleased to join with Butler librarians Franny Gaede and Amanda Starkel, communications professor at Savannah State Jessica Sparks, Grand Valley State University librarian Ashley Rosener, and University of Nevada (Reno) librarian Teresa Schultz.
Live Tweeting
…of course I'll be doing it, at the #TriangleSci hashtag. I'll try to post some more information closer to the time of the conference, but for now I'll just say that I'm excited, while also trying to make sure I'll have the energy to do it justice!