I've been to belly dance workshops before, but never a belly dance retreat. Suffice to say, I'll be back next year for sure!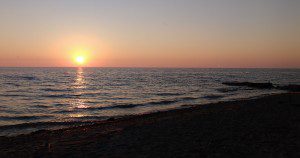 Sacred Circles is a belly dance retreat held in Michigan in the fall. It's specifically focused on American Tribal Style® dance (ATS® for short), with workshops and performances by and for ATS dancers. As a living dance language, ATS is in the unique position of being pulled in one direction by the need to standardize and keep the dance mutually intelligible for all its trained practitioners, and on the other hand evolving in new directions (like a dialect from an existing language). Sacred Circles exemplified this push/pull tendency in a fascinating way but also was personally meaningful to me because of the experiences I had there.
First, the site was gorgeous. We stayed at Camp Cavell, located on the shore of Lake Huron. I'm not a huge fan of camping, so being able to stay in cabins was fantastic. Huzzah for running water!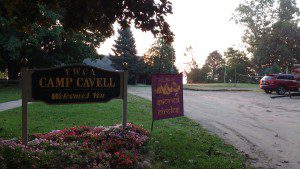 Because I'm a foodie and a health nut, I was concerned about what the food would be like. It was hearty and delicious, and every meal had vegan and gluten-free options. The dining hall was open 24/7 and stocked with all the things dancers love: coffee, tea, water, and a range of healthy to not-so-healthy snacks (chocolate and potato chips alongside fresh fruit and hard-boiled eggs).
And boy, did we need all that food. We spent 4-6 hours a day in dance workshops, with dance jams and performances in the evenings. It was an utter delight to be able to study with the various ATS teachers, including members of FatChance BellyDance, the troupe that started it all. Which brings me to my next point.
I've written about dance certifications before, how they initially struck me as weird but now I'm on board. Well, this year I finally bit the bullet and signed up for Sister Studio Continuing Education (SSCE), which means that even though I'm officially certified as an ATS teacher, I'm committing to doing continuing education credits this year. I view it as a way to avoid becoming complacent and resting on my laurels. Like, sure, I'm the only certified ATS teacher in Indianapolis, but that doesn't mean I should get lazy and not continue working on both my individual dance technique as well as my teaching technique.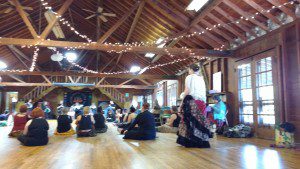 So, from a professional viewpoint, this was a fantastic event for me to attend because I was able to knock out a bunch of certification hours. But it was also incredibly fulfilling from a personal standpoint.
I got to spend time with the amazing women in my dance troupe, as the six of us in attendance shared a cabin (what with the attendant woes of scrambling for a spot in front of the mirror while getting decked out to perform). We transformed the space with scarves and twinkling lights into a home away from home. Most importantly, we supported each other through the weekend, which included things like taking time out for self-care and checking in on each other, sharing allergy meds because some of us are allergic to nature, getting each other coffee, offering opinions on which skirts in the vendors' room would complement existing color schemes in our group, helping take photos and videos of/for each other, and so on.
I also got to hang out with dance friends old and new. This included lunchtime conversations with dancers who are, like me, educators in other areas, as well as discussing major life events that have impacted our dancing. The human connection element of this event was pretty phenomenal; as an introvert I sometimes have trouble connecting with new people, but I felt pretty at home within 12 hours of being at camp. More than once, I found myself close to tears during exercises that had groups of us dancing in circles, making eye contact, laughing, smiling. This is the heart of the dance – this is why we do what we do.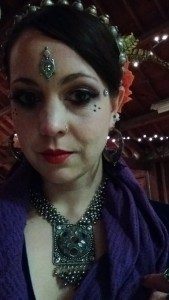 The performances were stellar, which was another giant perk. My troupe pulled off a really fun set, which I'm super pleased with, obviously. I'll embed the Youtube video for anyone curious.
I relaxed into this event with a sense of comfort and belonging, and I felt vulnerable and cared-for at multiple points in the weekend. This is rare for me, as someone struggles with anxiety (though I'm pretty high-functioning). This event really made it clear just how much ATS is about nurturing the dance community, and in doing so, nurturing ourselves. The organizers deserve huge compliments on creating such a dynamic yet safe space for us participants.
Since so many women are shamed for their bodies, I believe it's especially crucial for belly dance instructors and organizers to make the dance as approachable and safe as possible. Sacred Circles accomplished that goal, and was thus a rewarding experience for me both personally and professionally.
I'm sad about that toenail I lost, and boy did I come home exhausted and feeling pushed to my limits.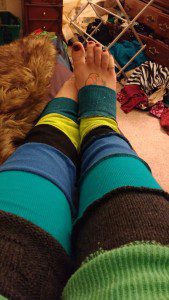 That weekend is over, so I'm trying to move forward with what I learned and absorbed while there. While I could use another 20 hours of sleep and 3 hours of professional massage, I'm grateful that I was able to attend, and I'll fondly remember the shore of Lake Huron until I see it again in a year.