This is some high-level folkloric symbolism scholarship, but y'all are into that, right?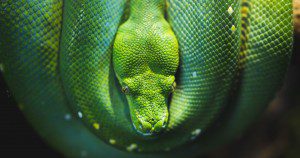 I posted my Dehumanized and Rationalized essay on stereotyping in WWII humor because I wanted to keep sharing my folklore scholarship with the world. When I've got an essay I think is top-notch, I send it out for peer review…but while I think the papers I wrote in college are quite good, I'm not necessarily invested enough in them to put in the revision time it'd take to make them journal-worthy.
The same is true here. I wrote this essay on snake symbolism for a graduate seminar I took while an undergrad at UC Berkeley. Since I was only a sophomore at Berkeley when I decided to pursue the study of folklore, I got enough coursework under my belt that I was allowed to take a graduate seminar before I was a graduate student. Studying folklore with Alan Dundes made a huge impact on me, and helped shape my scholarly identity today, even as I've taken my work in new directions.
When I reread this essay before posting it, I decided that while I'm still proud of having written it as an undergrad it, I'm not sure if I agree with everything in it. I still think I assembled an impressive amount of scholarship on snake symbolism, but other things have changed over time. For example, I've since veered away from using "female" as a noun or quite as much in my writing.
I'd also recommend brushing up on a few concepts before reading:
Anyway, here's the introduction to the essay, with the rest to follow!
Snakes Spouses and Feminine Symbols in Japanese Folktales
Snakes appear frequently in Japanese folklore, notably as spouses in narratives in both folktale and legend narratives. Interestingly, snakes are among the only creatures that appear both as folktale husbands and wives, and moreover, their dispositions vary with their gender. In general, male snakes seem intent on harming the human bride, whereas female snakes are reluctant to leave behind their human husbands and children, and often make great sacrifices on their behalf. Scholars interested in symbolism have attributed wide-ranging qualities to snakes, some through localized data, some tending toward universal. One of the most consistent symbolic characteristics assigned to snakes, however, has been sexuality. Why snakes—a species in which many humans cannot easily tell male from female—connote sexuality in human terms cannot be easily explained. Much of the scholarship on snake symbolism relies on Western materials, notably Biblical serpents, or materials from unindustrialized cultures, such as the Rainbow Serpent of Australian Aborigines. In many cases, snakes seem specifically linked with women, and women's sexuality. This study will examine Japanese folktale snake spouses in light of Western symbolic research, with special attention to the noticeably sexual connection between women and snakes.
Stay tuned for Part 2…