Welp. As if hating gay folks, trans folks (most recently this outrage), impoverished drug-users, and uterus-havers isn't enough, Pence is apparently in the pocket of the tobacco industry.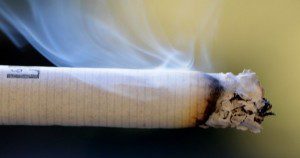 Click over to read Josh Israel's coverage at ThinkProgress, but the highlights include:
Pence saying things like "Despite the hysteria from the political class and the media, smoking doesn't kill"
Pence receiving almost $100K in campaign donations while in Congress from tobacco-motivated businesses
Pence rejecting a plan (proposed by his fellow Republicans, even) to raise taxes on cigarettes, despite the fact that Indiana has the 7th highest smoking rate in the nation, and especially high rates among pregnant women)
Um. Yeah. I didn't think Indiana's leadership was necessarily this anti-science (despite the crummy abstinence-only sex education happening here), but there you have it.