My contributor's copy of Split is here, and I'm so excited on so many levels for this publication. Among other reasons, it's my first non-academic essay to be published in a book.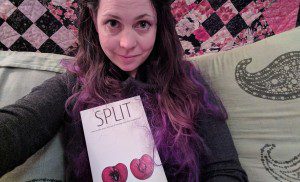 I've published a bunch of my academic work, probably in the range of a dozen essays in peer-reviewed journals and books in addition to things like encyclopedia entries. It's a significant accomplishment, and not one I downplay.
But my essay "Rites of Passage" in Split will always have a special place in my heart as the first non-academic essay appearing in print, well, ever. It's very personal, achingly so, and I'm very proud of it. This is the kind of work I intend to do with my writing, even as I'm still figuring out how to balance the need to appear respectable/objective enough in my academic writing with vulnerable projects like this one.
Also, can I just say, holy shit, my essay is 2nd in the table of contents?!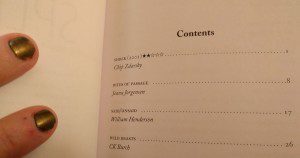 I'm about halfway through reading the other essays, and already I'm stunned with how insightful and touching they are. I see my own experiences reflected and refracted in them, in these tales about people coming out as queer, struggling with anxiety, feeling like they've lost themselves along the way.
I wish I could've made it to the release party, but alas, it was in London. This publication feels especially poignant, occurring so near my birthday as well as nearing the end of my time at Berkeley (this time around, at least). My emotions about these things come in cycles, in waves, and I'm sure there'll be more ups and downs ahead as I navigate my divorce. If anything, writing about my divorce so soon after it happened helped me find clarity, in committing thoughts to paper and revising them with thoughtful editorial help.
Writing (and publishing) about one's personal relationships isn't for everyone. I'm not even sure it's for me, most of the time. But this was perfect for me in so many ways, and thus I'm barely able to contain my excitement about this project…hence this gushy blog post.
Check the book out here. It's worth reading, I promise.