Let's keep mocking Indiana governor Mike Pence with Periods for Pence and #AskDrPence, but don't forget that his policies helped instigate an HIV crisis in rural Indiana.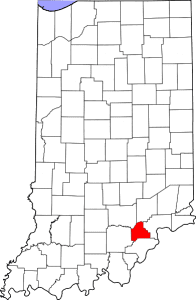 As I wrote in Why #AskDrPence Is the Best Thing on the Internet, the Twitter and Facebook activism arose in response to Pence passing one of the most restrictive abortion laws in the country, "requiring an 18-hour waiting period between the decision to abort and the ability to do it; making illegal an abortion presumably based on the fetus's gender, disability, or any abnormalities; and requiring providers to pay to cremate or bury fetal remains from every abortion or miscarriage, a cost that will likely trickle down to impact the people seeking abortion."
Those laws go into effect… now ("now" being July 2016). So we'll see how they work on the ground starting very soon.
This Slate article gives a good rundown of the relevant facts, including that 99% of the 8K abortions performed in Indiana in 2014 were done in the first 13 weeks of pregnancy, when there's not much to have to officially dispose of as bodily remains. Unless the joint Planned Parenthood/ACLU lawsuit goes anywhere, this is about to have a very interesting impact on local cemetaries and funeral homes. (edited to add: I'm aware that a federal judge has blocked the bill from going into effect on the basis of its ban on abortions for reasons of fetal abnormalities, but I'm not sure how that's going to effect the remainder of the bill, such as the fetal remains part)
You know what else is happening in Indiana right now? An HIV crisis.
I mean, what else do you call it when, as blogger Jenn Rose points out, 3.5% of a town has HIV? (the national rate, for comparison, is less than .4% of the population)
According to local coverage, there are over 190 cases in Austin, IN currently. A volunteer-run needle exchange (which normally isn't legal in this state) is helping prevent the further spread of HIV, but many of the residents cannot afford health care, and remain addicted to opiates. The state's lackluster public school sex ed is being supplemented by volunteer efforts.
The HIV situation in Indiana demonstrates the collision of America's war on drugs with the anti-abortion war. When you shut down rural Planned Parenthood clinics – ones that don't even provide abortions – you take away people's access to health care, including HIV testing. You make it less likely that they'll have access to contraception like condoms, which can help prevent the spread of HIV and other STIs, or, given that Indiana already has poor sex education, that people will be able to have access to education about their bodies. Welcome to intersectionality.
All this stuff is preventable. We could've been funding Planned Parenthood, but Pence is adamantly opposed to them, stating to a reporter, "If Planned Parenthood wants to be involved in providing counseling services and HIV testing, they ought not be in the business of providing abortions…As long as they aspire to do that, I'll be after them." He's slashed their funding repeatedly, even though no government money actually goes toward abortions.
According to the IndyStar, Indiana's drug overdose mortality has quadrupled since 1999. Obviously we can't lay that all at Pence's feet, and apparently he's trying to work in a harm-reduction model geared more toward treatment than incarceration… but we'll see how that goes. If he only allows needle exchange in one county, that might not be a good sign.
So, by all means, let's keep focusing on how Pence has done real damage to reproductive rights, as well as cost our state millions of dollars in revenue thanks to his anti-LGBTQ stance. Oh and he cares way too much about where people pee. But let's not forget that a tragically avoidably HIV crisis also happened on his watch.