I've been attending AFS for about 15 years, and while it's always a fun and intellectually exhilarating time, this year's conference spoke to so many of my interests – from narrative to #MeToo – that I had a really stellar experience there.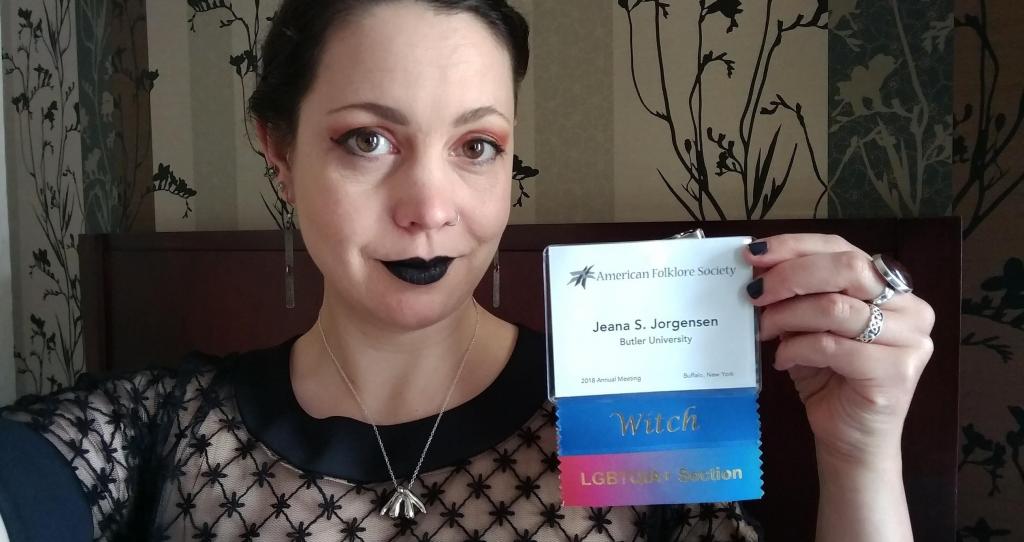 First, feel free to peruse the hashtag, #AFSAM18, if you want to see people's live-tweets from the conference, as well as hot takes on people's experiences there. Me, I didn't do much in the way of tourism because there wasn't much in Buffalo NY that really appealed to me (yes, I know I should have seen Niagara Falls, but I wasn't feeling well and I had daily commitments at the conference).
…About that. It's odd to attend an academic conference, and still not have a tenure-track professorship, and hear people citing my work in their papers (which happened at least 3 times in my presence, and at least once when I wasn't there but heard about it over Twitter). The hierarchy of prestige in academic explicitly tilts towards those at the top of the ivory tower, so there's a lot of cognitive dissonance for me in having "failed" to have gotten a tenure-track professorship, and yet still be doing a lot of things that are coded as "successful." Independent scholars, as well as those lower on the hierarchy, face many obstacles in our careers. Anyway, on to the highlights.
Overall, it was an excellent and successful conference. No folksplaining occurred to my knowledge, and there was a general atmosphere of excitement around being folklorists given what we can contribute to important conversations like political ones and #MeToo moments, though also a sense of weariness. Many of us are facing burnout and emotional fatigue from either our status as contingent workers within the academic or public sector, or from being women or minority groups having to constantly assert our right to be here, or having to perform emotional labor on the behalf of those who should know better but don't. I'll go into more detail about these.
On the scholarly side of things, I saw an excellent panel on The Other Fairy Tale Legacies, which illuminated forgotten fairy tales throughout history that haven't been canonized along with late 17th-century French writers (such as Charles Perrault and his female colleagues like Madame d'Aulnoy), with the 18th century Grimms, or with the 19th century Hans Christian Andersen:
Adrion Dula presented on the French writer Julie Delafaye-Bréhier, a French author who wrote over 40 works mostly under a pen name, in the 1800s, positing her as a successor to Perrault. Like Perrault, Delafaye-Bréhier categorized her tales as innocent and fleeting pleasures, and embedded them in larger frame tales so as to provide instructive messages to young readers (including a text resembling ATU 510A, or "Cinderella").
Anne Duggan presented on Félicité de Choiseul-Meuse, a 19th century French writer whose work parallels and reinvents that of d'Aulnoy, including motifs, tale titles, and plots that seem like direct references to those of d'Aulnoy. References to noble status might have also been a comment on hierarchy in post-Revolutionary France. Plus she cited my forthcoming article on masculinity and men's bodies in fairy tales, due out soon from Marvels & Tales!
Julie Koehler's presentation didn't focus on a single writer, but rather on how the Grimms criticized the apparent influence of d'Aulnoy on many of the female taletellers and writers that they were working with in their own time (not-yet-Germany in the early-to-mid 1800s). They perceived the mixing of French and German motifs in fairy tales as an impurity of tradition, hence were highly critical of the (many) women who did it (but men apparently did too, and when they did it was Art).
Shandi Lynne Wagner's paper, less based on issues of translation than the previous three, focused on intersections of "Little Red Riding Hood" (ATU 333) and "Bluebeard" (ATU 311) in 3 British texts, in an anonymous magazine text titled "The Real Story of Little Red Riding Hood" (1866), in Egerton's "Virgin Soil" (1894) and Carter's "The
Bloody Chamber" (1979). The first two texts metaphorically extended LRRH to make it a tale about a young girl preyed upon by an older suitor, often sold out by her own mother who was already impoverished. There were a number of fascinating intertextual elements, ranging from the wealthy bridegroom being described in predatory/wolflike terms, the image of the naive young girl shivering in fear and her subsequent desolation, her mother's complicity in the marriage match, and so on.
Next, I was the discussant on a panel, meaning I was supposed to provide commentary after all 3 papers that wove together their themes and hopefully provided some insight onto them. I'm trying to wrangle a separate post to get all my thoughts in one place, but briefly: Naomie Barnes presented on interviews with Mormons about sexual purity and rape culture, focusing on how BYU and other Mormon schools would kick out female students who had been sexually assaulted because it violates their purity rules; Jessica Campbell presented on the Carmen Maria Machado short story "Real Women Have Bodies" as a lesbian retelling of the supernatural wife folk narrative; and Linda Lee presented on consent in ATU 425C "Beauty and the Beast," focusing on versions where the Beast asks her every night to marry or sleep with him, which on the one hand could be seen as positively focusing on consent, but on the other hand he asks her every damn night which seems to be a form of harassment. Throughout all these papers, I perceived a pattern about women being responsible for protecting/guarding men's sexuality and simultaneously being positioned as sexually vulnerable. Control over women's bodies and sexuality remains a key concern, for both men and women.
One of my favorite panels was on women and folklore in film. I loved hearing from Wanda Addison on women's and Afro-centric experiences in Black Panther, from Mary Magoulick on goddess mythology in Wonder Woman, and from Chrissy Widmayer on toxic masculinity in Star Wars: The Last Jedi.
Fun fact: there's a whole issue of New Directions in Folklore on folkloristic approaches to Star Wars that you can read for free here, including an essay by Widmayer on feminist responses to Carrie Fisher's death.
I was not as much a fan of the paper on The Shape of Water but in part that's because I'm very picky about fairy-tale scholarship, and in part because I'm also working on the film (I've got an essay on it that will hopefully be published in a book next year). The author was primarily focused on comparing the film to the Disney version of "Beauty and the Beast" which seems extremely limited in my view, plus the other didn't take into account disability, like, at all, which seems strange given that the film's protagonist is mute.
I also attended an excellent panel on Folklorists and #MeToo. I live-tweeted as much of it as I could while maintaining the confidential atmosphere of the room, since people were sharing intensely personal stories at times. Unlike the panel I was on a discussant in, there were more than a handful of men, so that's a plus (one of my consistent complaints, between both folklore and sexuality conferences, is that when gender, sexuality, feminism, consent, or assault are the panel topics, often there are way more women than men in the audience, despite men being the majority of the perpetrators of these kinds of crimes).
To sum up that panel discussion, folklorists study narrative (among other topics) and thus we can play an important role in collecting, preserving, and studying stories about sexual assault, those being shared in the #MeToo movement and elsewhere. Got a whisper network to quietly share information about rapists or aggressors to avoid? Yeah, that is literally something folklorists are equipped to study. We also study jokes and humor, and given that rape or domestic violence jokes can be used to both normalize sexual violence and to take the temperature of a group, to figure out if a perpetrator can be more open about their values/intentions, folklorists can and should be more involved in understanding the various facets of rape culture.
We also have our own #MeToo moments in our discipline, with women in the field having shared their experiences of being harassed or assaulted on the basis of their gender both in decades past and in recent times. Many of the experiences that were shared in the panel were characterized as minor incidents, but ones that nonetheless stuck with the tellers for years if not decades. Institutional responses to rape culture are often slow and wrong-headed, but many of us at the panel were hoping that the American Folklore Society, as well as our respective universities and organizations, would do a better job in the future.
There was also an important reminder that traditional communities speak indirectly. It's common to see coded, veiled, or metaphorical expressions of experiences and values in folklore, especially in cultures where it might be taboo to directly address certain issues.
Emotional labor kept coming up, both in the #MeToo panel and in other panels, as well as the fear and confusion that many men and masculine-type-folks seem to be feeling in this era. Um, welcome to the party? Or, as it was put so brilliantly on the Saturday Night Live sketch, welcome to hell! I definitely want to see more folklore work on emotional labor since it's such an important and relevant concept.
My paper on sexual assault in fairy tales was well-received, so that was good (I don't intend to share anything beyond the abstract as it's likely that I'll polish it into something to publish in the near future). My other two panelists did stellar work: Montana Miller talked about her initial fieldwork on narratives of heroic suffering among elite female gymnasts and how that could potentially tie in to the silence around sexual abuse (like the recent scandal with Nassar), and Alex Hutchings talked about her embodied experiment with 100+ days of daily corset wear, which had numerous negative effects on her body, such as reduced breath capacity, severely reduced core musculature, and the development of scoliosis.
I missed most of the papers on digital folklore, which is a bummer since a) it's fun b) my work on the Biden memes is inching ever closer to publication as a book chapter. But I attended a lot of receptions and caught up with a lot of far-flung colleagues, in addition to making new friends, so that was a wonderful aspect of the conference.
In terms of dance, I got to network with some international colleagues who study dance, and I also taught an ATS Belly Dance workshop to a dozen-ish people at the conference in order to raise awareness of our section devoted to dance scholarship. Best of all, I got to see New-York based Algerian dance educator Esraa Warda perform Chaoui dance (an indigenous dance from Algeria) and talk about the dance form and the cultural background. She's someone I would love to study with given the opportunity.
Since it was Buffalo, I had to have buffalo wings,which paired very nicely with the local beers I tried.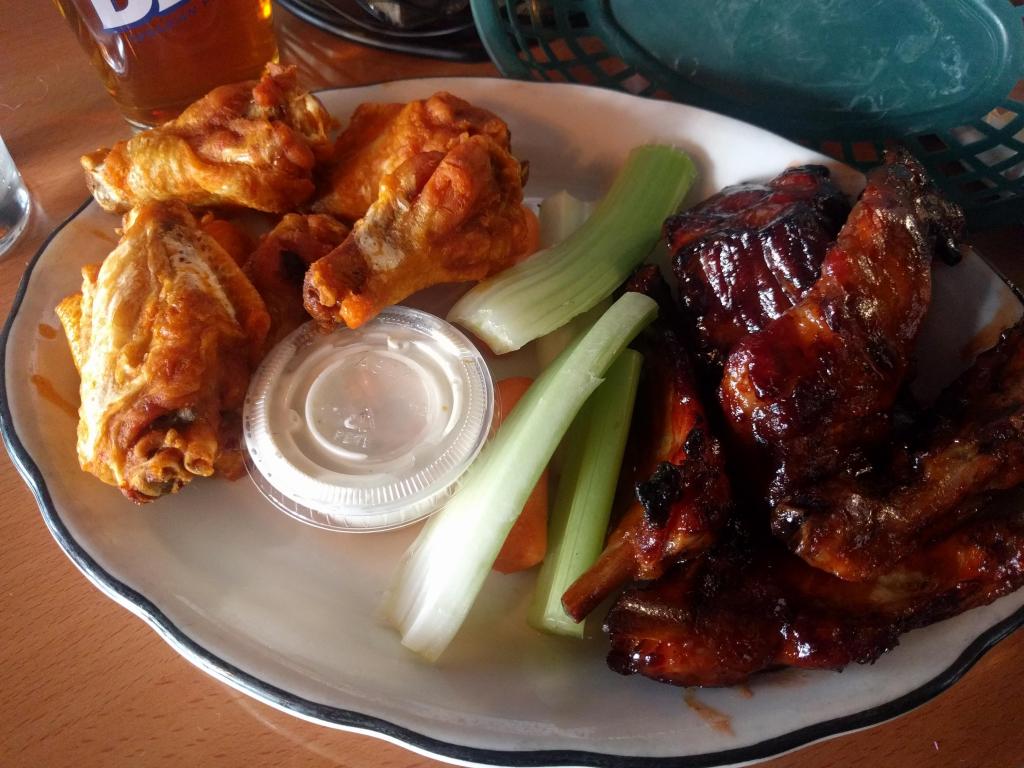 So: food, friends, and a lot of thinking and talking about folklore, fairy tales, film, and sexual violence. That means it was a great time, at least by my (admittedly non-mainstream) standards!