Finally, it's here! My keynote address from the 9th annual OSU/IU Student Conference in Folklore & Ethnomusicology! You can read the abstract here first, or just dive right in below (it's divided into 5 parts, with references at the bottom of each post and ALSO collected in the concluding post in one huge bibliography, because I'm a nerd like that). And for quick skipping around, here are links to part 1, part 2, part 3, part 4, and part 5.
Let's do this!
The Body in Folklore: History, Theory, and Experience through the Lens of Embodiment
You probably already know this, but you have a body. You don't think about it constantly, and when you do think about it, you might hate it. If you do like it, well, bad news, it's going to change. And if you're an academic, one of your life goals is probably for your work to outlive your body. But even though our bodies are an inseparable part of our identity, we don't think about them very much, and when we do, it's not always very comprehensive.
Commercial break: I'd like to thank Brittany, Sara, everyone at OSU who helped make this happen (especially the volunteers); and for their comments on early versions of this keynote, I'm grateful to Cristina Bacchilega, Margaret Lyngdoh, Thomas Root, Rob Slaughter, and the dozen-plus friends who agreed to listen to a draft of my speech at my birthday party that was a salon (in the 17th-century French sense of the salon, as an intellectual/artistic gathering).
Also, I'd like to give a content note: I will discuss sexuality and sexual violence, not in great detail, but still.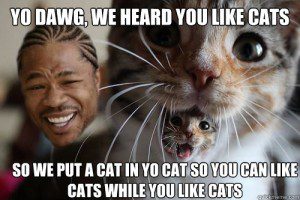 So let's talk about the body in folklore. I'm going to use one of my favorite forms of folklore, internet folklore, to illustrate my talk. We'll see these themes play out on cat bodies, though my focus on this talk is on human bodies. That's right, this entire presentation is going to be cat memes.
Alan Dundes, the great 20th century folklorist, was my mentor during my time as an undergraduate at UC Berkeley. I remember sitting in his office one last time, before I headed out to Indiana for my MA and PhD, and talking about what it would be like to live in Bloomington, where he'd also done his graduate work. He told me not to tell them that I belly dance, because it would be too "risque" for the Midwest.
I, of course, ignored Dundes's advice. It was pretty ironic that a folklorist known for studying the taboo would caution me against engaging in a dance form that is, ultimately, not THAT taboo (here's another excellent tribute to his work).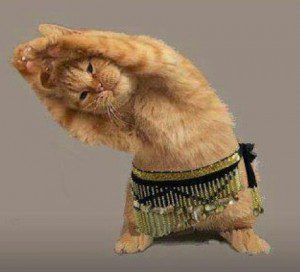 But it got me thinking: why does it matter what academics do with our bodies, and whether we're public or private with that information? Which bodies are we allowed to study, or to inhabit? As a folklorist interested in gender and sexuality, as well as more "traditional" folklore topics like folk narrative and body art, how do I navigate ideas about the body in my scholarship?
Today I'll discuss where folklore scholarship has been, and where it's going, in regard to the body. To do this, I'll review the history of the body in folklore scholarship; how the body has been represented in folk narrative, body art, and dance; and where the body is in relation to the university, from the alt ac experience to the bodies of our students. I'll wrap up with a plea for activism around marginalized bodies. Yes, it's ambitious, but I learned from the best.
Next up: a consideration of the body in folklore scholarship and theory.