Porn addiction is a sketchy concept… but to try to flip it and shame women who like being looked at? Nope. That's a whole bag of nopes.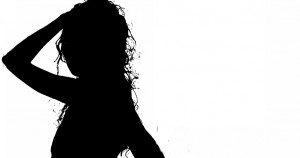 I've started digitally hanging out with some of the folks at Removing the Fig Leaf, a Patheos blog about exploring sexuality without shame. Mostly this has been fun but we sometimes share links with each other that are brain-numbingly bad. What follows is my take on one of those links.
As I learned by blogging about why women wear revealing clothes (Part 1 & Part 2), people have really strong opinions about the clothes that women wear (or don't wear). Like damn, read the comments. Or don't, if you follow that ever-so-sensible internet rule.
And if you want to really get upset, you could read this dude's post on backward porn addiction, which he defines as "when a person intentionally attempts to lure the gaze of another person through physical manipulation, either by what they are wearing or how they look."
Specifically, this (supposedly) applies to women who get "addicted" to the sensation of others looking at and admiring them. There's also a bunch of religious mumbo-jumbo about lust and visual adultery and… it just falls apart.
Why? The religious stuff doesn't speak to me because I'm an atheist, but there's more going on here. Even the professionals working in sex therapy and research are divided as to whether porn and sex addiction are real. An article published on the site of the American Association of Sexuality Educators, Counselors, and Therapists, for example, surveys a number of sex therapists about sex addiction. The responses range from wholeheartedly in favor of the diagnosis to debunking it. It's not in the DSM, if that tells you anything.
So if porn addiction may not exist in the first place, why on earth would backward porn addiction be a thing? And why would that phrase have the word "porn" in it when it's not actually related to making or viewing porn? The implication is that a woman showing any amount of skin, or trying to look sexy for someone's gaze, is pornographic. But it's not. Porn is notoriously difficult to define, but a person wearing kinda-sexy clothing in a context where they're not engaging in sexual acts for a viewer or camera just doesn't strike me as being pornographic…unless, of course, you're coming from a twisted perspective that labels women's bodies as always already sexual. Ew.
I understand that not everyone wants to expose every inch of skin, and I understand that there are religious reasons why people wear what they wear and engage in various forms of body art. That's all fine.
But here's the thing: even the guest post from a man about women's revealing clothing that I published, which drew some ire for essentializing and stereotyping comments, still basically said yeah, women should wear what they want, and embrace their appearances, and feel sexy and confident if that's what they're into. It's possible to hold views on various points of the progressive spectrum about women and gender and sexuality and still not fuck up by using a much-contested concept to try to prop up your already shaky argument.
I know I get on this soap box a lot, but if we had decent sex education and more money going into sex research in the U.S., we'd have informed citizens who know that porn addiction is something to be looked at askance, and who know that it's okay to want to feel good about your body in both sexual and non-sexual contexts. Is it possible to go to extremes with these behaviors? Of course. Is it as widespread as to be considered an addiction or an epidemic? No.
So just… don't believe the hype about porn addiction, or backward porn addiction. Do us all a favor and push back against these concepts, because they're neither scientifically valid nor showing enough human decency to not be a sexist douche-nozzle.