This conference recap post is long-overdue, but it took me a while to process all the amazing & fascinating things that went down in Detroit.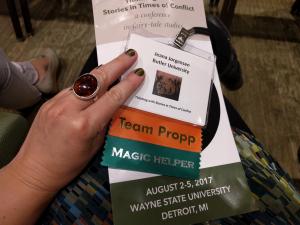 In early August I drove to Detroit for Thinking with Stories in Times of Conflict: A Conference in Fairy-Tale Studies. It was a fantastic conference, and I'm so glad I was able to attend for reasons I'll get into here.
First, the intellectual atmosphere was one of excitement and engagement. Everyone was simply thrilled to be there, and we were all bursting with ideas to share about how our research is packed full of relevance for the narratives being spun in the media, and on national and international stages. We got into conversation after conversation about politics, stories, and texts both old and new.
The picture at the top of this post, showing my conference badge, also shows off some of the conference badge ribbons I helped coordinate so that participants could choose ribbons that expressed parts of their scholarly and personal identities. They said things like Witch and Frog Prince and Sorcerer on them. I chose Team Propp over Team Levi-Strauss in what's a nerdy inside joke about narrative structure. I think the ribbons helped contribute to the atmosphere of excitement and solidarity as narrative scholars.
Second, the research papers were solid. My colleagues presented on everything from monsters in the TV show Grimm to folktales with transgender protagonists. The keynotes were really excellent, ranging from Veronica Schanoes's extremely timely talk on anti-Semitism and Jewishness in fairy tales (specifically the Grimms' & responses to the Grimms) to Jack Zipes's talk on power, powerlessness, and fairy tales. Pauline Greenhill was a genius on fairy tale and film as usual. Kay Turner's workshop on witches in folktales and performances was also stellar.
I live-tweeted the conference, which you can see at the conference hashtag #ThinkingStories, but here are some highlights:
Amy Carlson on the web comic How to be a Mermaid by Maya Kern, offering a queer and transbiological reading
Ida Yoshinaga on Moana and the cultural imperialist processes behind the making of the film; how narrative structure limits worldbuilding leading to ethnocentric individualist plot constructions that resonate with American audiences
Lots of good conversations around fan culture, the creative process, and the impact of storytelling in live-audience situations
Lewis Seifert's paper on West African tricksters who pop up in colonial folktale collections; Andrew Teverson's work also touched on the connections between colonialism, identity, and folktales
Brittany Warman and Sara Cleto's prsentation on teaching empathy through the use of fairy tales in the classroom
Ruminations on where stories and ethics and compassion all intersect
Some excellent talks on folklore in art and literature (e.g. LRRH in Lolita analyzed by Susan Wood; Australian fairy-tale retellings, specifically Baba Yaga oriented, placed in context by Danielle Wood; Polish children's literature about war and hope interpreted by Weronika Kostecka)
Third, Detroit is a neat place to explore, and we ate really well. Since the conference took place at Wayne State University, I got to hang out in that part of midtown, and also get out a bit to downtown. While we had a lot of meals at the conference, I made a point of trying some local establishments (and local beers, yum).
I had a delicious lamb burger at Rock City Eatery on Woodward: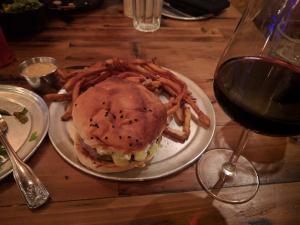 I also managed to catch brunch at Toast in Birmingham, where I split avocado-baked eggs and strawberry-stuffed French toast with a friend.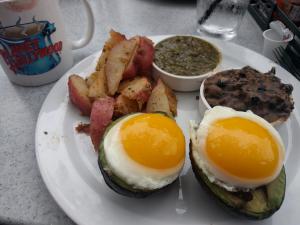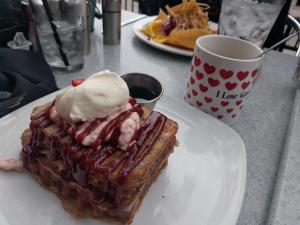 We held a wrap-up banquet at Vicente's Cuban restaurant, which was delicious. I didn't get any pics of that food because we were too busy having a raucously good time. But I ate very, very well in Detroit.
I know that enjoying Detroit as an outsider isn't entirely unproblematic; I got to experience it, and then go home to my comfortable life. I learned about the 1967 riots in Detroit and the legacy they left, along with other institutional and infrastructural problems still faced by residents today. This piece of graffiti seemed to sum it up nicely: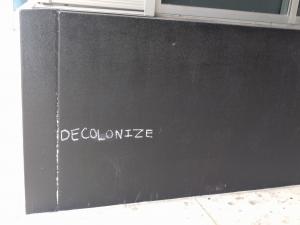 I spent an evening walking around the Detroit Institute of Arts, mingling with other conference attendees. I'd attended the museum once before, but of course I loved getting to walk through again. I visited the Diego Rivera murals, of course, and also learned a lot from walking through the exhibit on black art of the civil rights movement.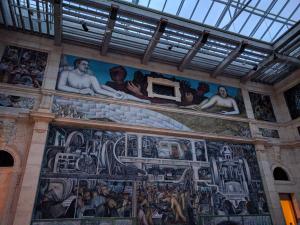 Midway through the conference, I wrote Reflections on Academic Community, trying to pin down the optimistic, vibrant feel of the conference. I concluded that this was essentially the upswing of the academic life cycle: when you emerge from your hermit-y cocoon of research and get to share your ideas (and socialize) with your colleagues.
The best part about community is that it's ongoing: some of us formed a fairy-tale writing group and we help critique each other's work and provide encouragement ward meeting our goals. It's phenomenal.
And indeed, we spent a lot of time socializing. Some days after the conference, I'd come back to my dormitory room (I was able to stay on campus in really affordable accommodations, which was one of the many nice things that the conference organizers pulled off), change into comfy clothes, and then drink wine and snack with my colleagues. I took a selfie during one of these chill times in order to show off the T-shirt I received after my spring semester at Berkeley (it reads, Ask me about folklore, and shows a scene from Little Red Riding Hood where the girl gets into bed with the wolf before, in some versions from oral tradition, excusing herself to go outside and poop, at which point she runs away and saves herself).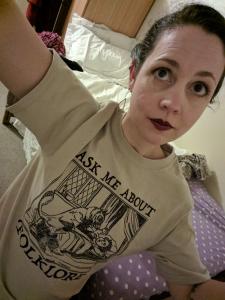 As I mentioned in my post on academic community, my paper on masculinity and sexuality in contemporary American fairy-tale retellings was extremely well-received, and boy was that a relief. I love that I get to think long and hard about gender and sexuality, create hypotheses about how they interact, and then seek those connections in texts and present the whole thing to my colleagues for feedback. I'm starting to feel accomplished as a scholar in this area, and it's a good feeling.
Somehow I only walked away from the conference with two books. This is pretty amazing. I'm excited to read them but haven't made time yet. The books are:
The Pleasures of Metamorphosis: Japanese and English Fairy Tale Transformations of "The Little Mermaid" by Lucy Fraser
From Dog Bridegroom to Wolf Girl: Contemporary Japanese Fairy-Tale Adaptation in Conversation with the West by Mayako Murai (I was so impressed by her talk that I HAD to acquire her book)
…because even though Wayne State University Press was vending there, and they're a leading press for publishing fairy-tale studies, I, uh, didn't buy much from them because I already kinda-sorta own almost every book they've published. Er. Yeah.
Again, everyone at the conference was very gracious, and that's part of why it was so exhilarating to be there. We had nuanced conversations about so many facets of storytelling, it's hard to keep track of them all. It's neat to see fairy-tale studies cohering as a distinct (though interdisciplinary) field. We've built a shared heritage of scholarship, and many of those scholars are actively involved in mentoring us young 'uns, in addition to continuing to produce groundbreaking research. This is a very neat moment for the field, where you can still come face-to-face with the great names you cite in your work and teach in your classes.
The organizers, Anne Duggan and Cristina Bacchilega, deserve a major shout-out for succeeding at planning such an exciting event. They're significant scholars in the field and also generous human beings who worked so hard to create this magical atmosphere and make it comfortable for participants.
I'll conclude with a remark that Andrew Teverson made: stories have always been a battleground. This is true, so true, for so many different cultural contexts and genres of story, and it's why single stories are so dangerous. Regardless of the degree of fantasy in a story, it can ring true ideologically, and it can motivate any number of actions or behaviors.
This is what narrative scholars specialize in, and we're here to help. These conferences replenish us even as they allow us to share our ideas with each other and with the broader world, and I can only hope that the unique blend of factors that made Thinking with Stories such a wonderful experience will congeal again in another witch's cauldron so we can repeat it.