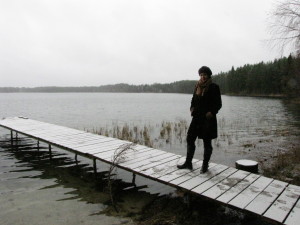 Before bursting into tears, I managed to shut the door to my office.
The shared computer I normally use to print my lesson plan wasn't working, and I didn't know if it was one of the other adjuncts who used the office who'd mucked it up, but I didn't have the right permissions to print off any other nearby computer. One of the tenured faculty took pity on me and let me print my lesson plan from his office. Normally tech frustrations aren't enough to make me cry, but there was also some stuff going on in my personal life that enhanced my feelings of helplessness, so out came the tears.
As I sobbed, I remembered thinking: At least I have an office to myself, unlike when I was teaching at ____ University.
Today is National Adjunct Walkout Day. I am not walking out, though I am recycling a (relevant) lesson plan and planning to talk to my students about what adjuncting is and how it fits into some of the power dynamics we've been discussing in related topics in our anthropology and gender studies curriculum.
Then again, I'm currently working as an adjunct in the way that I think it "should" be done: it's not my main income stream. As I've written in the past, comparing academia to a very expensive hobby for those of us who aren't full-time, trying to make it in academia can be very time-consuming and financially all-encompassing. Now that I'm more aware of this reality, I'm able to allot my time and resources better. I seek part-time work to fill in the gaps in my adjuncting schedule (and paycheck), and I've adjusted my expectations accordingly (a process I document in my blog post series at Conditionally Accepted).
The system is very broken. My place in it is very unstable (especially since I teach about gender and sexuality, always touchy topics – though perennially popular ones!). Under different circumstances, I might've walked out (I'm already canceling a class this semester so I can attend a conference, and I want to reserve an emergency/sick cancellation possibility, etc.). As my anecdote above shows, many adjuncts lack the institutional support they need. The fact that I was so grateful to have an office to (temporarily) call my own, when I was having a break-down before class (which I don't recommend, by the way), boggles the mind.
I definitely support other walkers-out… but I think, right now, it's best for me to go in, and teach, and be generally awesome, and gently encourage my students to consider where their tuition money's going.
Because if other tactics aren't working – activism, unionizing, and so on – perhaps getting the people paying tuition (students and/or their parents) to start asking the hard questions might get us somewhere. Maybe it'll take a combination of these things. I don't know what'll work, if anything'll work. But I'm trying.
More resources:
NAWD awareness-raising slideshow presentation
The American Association of University Professors (AAUP)'s background facts on contingent faculty