I can barely process the changes that are happening in the country right now. But you know what I can do? I can dance.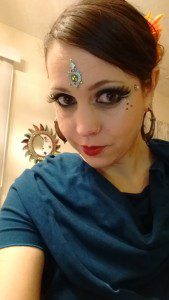 As I wrote immediately following the election, we're stuck sharing this country now so let's not eradicate each other, okay? With everything leading up to the inauguration, however, I'm not so sure that we'll make it. I'm not sure that Trump's penchant for spectacle, or Pence's for bigotry, will leave the rest of us much wiggle room to survive.
But I'm trying not to dwell on all that, because that way, depression lies. I haven't had a lot of bandwidth recently, what with all the life stuff I've had going on.
So today I'm dancing. I'm lucky to be surrounded by my dance community here in the Bay Area, and we get to dance together for an event for the next few days. I'm not looking at the news if I can avoid it, in order to give myself an emotional break. As an introvert, giving myself time and space for self-care is important. And I know that self-care is a big part of how I process things in a healthy way, which could very well be different from how others process things.
Belly dance has saved me in the past
, and I'm hoping this'll be another time when it does so.
My mode of allyship involves educating others
, and as an introvert, that means I have to make sure I'm recharging. Dance will help me do that, so that I'm ready to keep teaching my college classes, writing here and elsewhere, and generally being the change I want to see in the world.
Try to take care of yourself. Be kind. I'm doing the same over here.