What happens when you gather six teams of scholars to craft projects that promote scholarly communication? This was day one of the experience!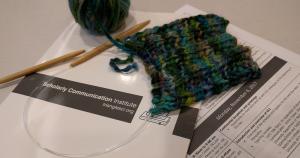 Day 1: as the Scholarly Communication Institute opens, we're hunkered down in conference rooms at the historic (and comfortable) Rizzo Center in Chapel Hill, North Carolina. We're being fed extremely well, and working very hard. Yes, I know my header pic contains a knitting project, but I'm one of those people who can keep my hands busy while hearing/processing information.
As I explained in Why You Should Care About Scholarly Communication, this is an issue that affects everyone, from scholars to students to librarians to lobbyists to scientists to consumers to… you get the point. Scholarly information helps make science go round, impacts political policies, and influences the entire educational system. Scholars help power the world, and scholarly communication allows us to be in touch with each other and with broader publics to grease the wheels.
The institute opened with remarks from organizers, workshop alumni, and affiliated Research Triangle scholars. The speakers affirmed the importance of storytelling in their personal and scholarly lives, and encouraged us to make the most of the retreat setting. The creative collaborative retreat, of course, is not a new idea; for centuries, humans have known that we benefit from putting limits on our time and geography in order to hermit up and get stuff done.
Early in the day, each team introduced itself. My team has a lot of librarian-power, with folks who also have experience as journalists and professors. I'm the only folklorist and blogger, but my expertise is definitely being valued so far (which always feels nice). I couldn't not raise the cranky question of "if everything is now being called a story, does that mean that the category of story is so vague as to be meaningless?" This is why I'm all about folk narrative genres, y'all: they give us the specificity to navigate where author and audience expectations meet content, context, form, and function.
We had lunch (which was delicious), and then my team took a walk around the Rizzo Center grounds. It was refreshing to get out into nature before spending the next 3+ hours indoors working on our project.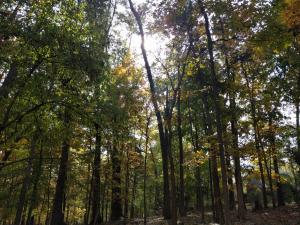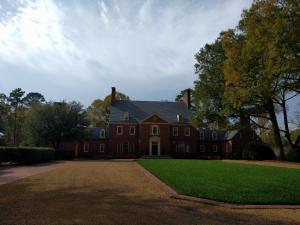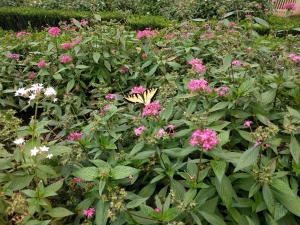 Our group got a lot done, but we're still figuring out the exact shape our project is going to take. We're being encouraged to take risks, and not think about what failure might mean, which is actually a pretty rare academic experience (since it tends to feel like everything is very high-stakes, you need to get that publication or presentation out ASAP or else, etc.).
The #TriangleSCI Twitter hashtag is pretty active (and it's not just me tweeting up a storm, ha). I'm pleased to note that my team is also on Twitter a lot, including tweeting team pics of us doing, uh, team-bonding stuff.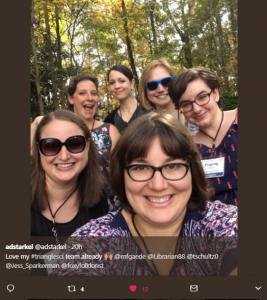 In the evening, I joined up with a group taking a walking tour of UNC Chapel Hill. It's a really lovely university, dating back to 1795. Some of the buildings from that time period are still around! There was a lot of brick, and beautiful open spaces. And, of course, as a Cal alum, I can appreciate their clock tower.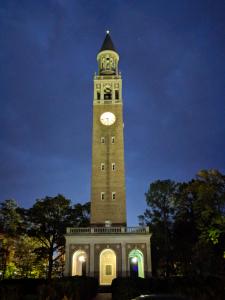 I used this next pic as the header in my last post, but it's too pretty not to post again. This is the Old Well of UNC Chapel Hill, and there's some cool campus folklore about it (I believe the superstition is that if you drink from the adjacent drinking fountain on the first day of classes, you'll get a 4.0 that semester).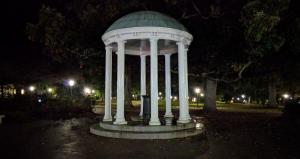 We then had a delicious dinner at Acme Food & Beverage Co in Carrboro. I bullied the table into getting a platter of oysters from the nearby Atlantic coast and I have no regrets.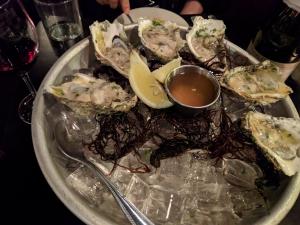 Finally, I have to add that many of us rolled in the previous evening, and we had a get-to-you-know dinner, which was really nice. This was actually my first time meeting my entire team in person. We later gathered with another team at the fire pit, and as we talked about our projects and our research, we began to feel a bit like a scholarly community.
I have to say, any academic conference where I can hang out around a fire pit and learn about digital storytelling, academic activism, and a podcast called Secret Feminist Agenda (!!!), is gonna win my heart.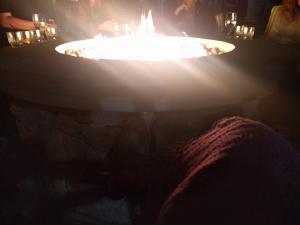 TriangleSCI: so far, so good.