On the second day, my team presented our take on scholarly storytelling. And the conversation very quickly grew very intense.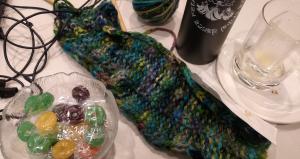 We spent the first day of the Scholarly Communication Institute working closely with our teams to fulfill the projects we'd proposed. Mostly it meant a lot of coffee and snacking and conversations held huddled around laptops.
The second day was when teams began to present their progress to the entire group, with the hopes that we'd get productive feedback, because we still have some team time left before the conference winds down.
My group was one of the two teams to present yesterday, and it did NOT go as expected.
The first team presented on a digital archive project, using dance anthropologist Camee Maddox-Wingfield's ethnographic research on bèlè, an African diasporic dance from Martinique. It's a fascinating project, and as a dancer I was super excited to see some of the video that Maddox-Wingfield had.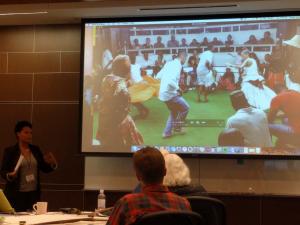 That team is grappling with questions of research ethics – who should have access to videos taken in the field? – as well as colonialism and postcolonialism. Further, questions of intangible cultural heritage are exciting and relevant, and while I haven't done work on this area myself, I can think of many folklore colleagues who have (I'd direct curious parties to this book, UNESCO on the Ground: Local Perspectives on Intangible Cultural Heritage, edited by folklorists Michael Dylan Foster and Lisa Gilman).
Then my team presented. We're working on a toolkit, hopefully to be hosted on a website, to help scholars use storytelling to disseminate their research to broader publics, thereby (ideally) combating the mistrust, ambivalence, and ignorance that many members of the public have about scholarship.
That part went well. We talked about the various facets of our project, how the pieces are coming along, our plans for moving forward, and so on.
And then we asked for audience feedback about potential risks and reasons why scholars hesitate to share their work more broadly with the public.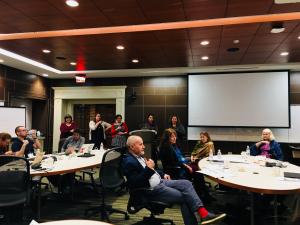 People in the room opened up about some very real fears: not just being bothered by obnoxious trolls, but being harassed or even doxxed. I'm still a little worried about pushing back against white supremacists citing my folklore blog. Many of us are in even more vulnerable positions, whether because we lack the protections of tenure, or because we're already facing intersectional oppression (for example, women of color often face worse harassment on the internet and in life more generally).
This is definitely a feminist issue: online harassment parallels IRL harassment, as an attempt to control who feels safe being out in public, whether it's taking a walk outdoors or putting your research out there. It's a basic double bind, the kind that feminist scholars have been discussing for decades (e.g. the demand that women be sexy, but not too sexy, and further places blame on women for anything that subsequently befalls them). And obviously, having a very "out there" online persona isn't for everyone, as much as we're all being encouraged (one might even say pushed) to build our "brand" even as academics in the ivory tower.
…which leads me to how one of the major issues is the neoliberalization of higher ed, with faculty being encouraged to be in communication with the public, but then having to assume all the risks. Many institutions are simply not equipped to deal with large-scale harassment of their faculty…and even when they are, adjunct faculty and grad students may not be afforded the same protections. The problems faced by medievalist Dorothy Kim exemplify the kind of conflict we're talking about here, with universities being unprepared for the kinds of backlash and harassment faculty might encounter.
The conversation got intense, with people waiting long minutes with raised hands to share their stories, either of being personally harassed, or of rallying to support colleagues facing harassment. We didn't manage to address all of the concerns, or answer all of the questions, in large part because this is a systemic issue that's larger than any one project's ability to offer solutions.
I want to share one of my comments that kinda ended our presentation on a dystopian note. Since we're struggling with the fear of consequences for simply sharing our research, I think it's important to note that the harassment and threats we fear for being outspoken could very well become a daily part of reality for everyone, not just scholars, if the current regime continues down the path it's going. Fascist states rule in part through fear, fear that speaking up or speaking out will have devastating consequences. So, I think scholars should keep that in mind when deciding how much to use our educational and research expertise in crafting activist challenges to oppression.
---
See also: I'm a Teacher: Believing People Can Change Is In the Job Description
---
We're all being encouraged to frame our wrap-up talks tomorrow in terms of answering three main questions:
What we did
Why it matters
What we're doing next
I'm pretty sure the "why it matters" is clear for our group, since our presentation struck such a chord. We're still working on framing the rest of our answers, though. We made a lot of progress on our project, but where we go next isn't entirely clear.
In the evening, we had a lovely reception at the National Humanities Center, which is a stunning facility, modeled off a medieval monastery.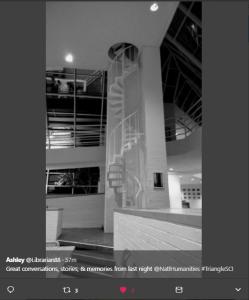 There was good food, and a handful of speeches reflecting on the role of the humanities, what retreats are supposed to accomplish, and so on. A good number of us, once back at the Rizzo Center, closed down the bar playing card games and congregating around the fire pit (introducing people to Set is always one of my favorite things to do, even better when it's a group of Swedes and Canadians and medievalists). Again, I'm calling this convivial atmosphere a win.