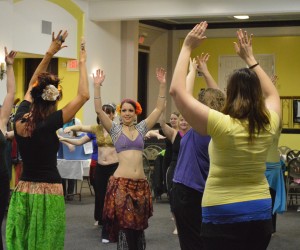 I didn't enter dance or academia expecting to love teaching, but I've found myself teaching dance and teaching college-levels classes for almost a decade now each, and enjoying both opportunities a bunch. The more I teach dance, though, the more I find it necessary to reflect on the role of the teacher, and what kind of trust she must build with her students.
Perhaps the academic classroom is so structured that this question didn't really enter my mind until I began building a dance community that has me teaching and rehearsing multiple days a week. Being in sustained contact with my dance students, both in person and online, has been a unique experience. And it's not that I don't adore and benefit from contact with my college students, but there are many boundaries there that don't exist with my dance students. I socialize with my dance students, and even party and (gasp) drink with them. They've been to my home, and I've been to many of their homes, for practices, craft nights, movie nights, and so on. We carpool to events. We've worn each other's costumes for performances, and gifted each other costume items and snacks and caffeinated beverages. Very few of these activities would be appropriate for me to pursue with my college students, but I don't feel they cross a line with my dance students. In part this is because dance in our community is a hobby (whereas one's college performance arguably has a more "real" impact on one's life), and in part this is because the student-teacher relationship in a dance context is often less power-laden than the student-teacher relationship in an academic context.
The interesting – and unique – thing that's happening to me in the dance classroom these days is that I'm having to ask my students to put immense amounts of trust in me, and I'm struggling to prove myself worthy of that trust daily. Belly dance is intimately connected to body image, which for many women in American culture, is a fraught topic. One of the major reasons I perform belly dance is to challenge expectations about ideal feminine beauty. So, the first challenge I face in asking students to trust me is that I'm basically saying, You are beautiful as you are, and you will be beautiful when you dance. We receive so many mixed messages from our capitalist culture that I'm not surprised that this message might be hard to swallow.
Since I'm trying to build a community based on the radical notion that women's bodies in motion are beautiful, regardless of one's age or build, I have to ask my students to trust me when I tell them that they can do this. American Tribal Style® Belly Dance is particularly well-suited to making women look good when they dance, in large part thanks to the richly layered and customizable costumes. For some women, just taking that first step and signing up for a belly dance style requires trust. For others, taking classes is fine, but then baring their bellies (which I don't require) or dancing in front of others is what's tough. In order to encourage them to take a chance on me as an instructor, I try to cultivate an upbeat, cheerful teacher persona. I encourage questions and I never shame anyone for not picking up on a move right away, or needing to ask the same technique question again, or whatever. Shame has no place in the belly dance classroom, or any classroom, really.
(on a related note, though written in reference to the academic classroom, I agree with this professor's statement: "Education is about students. It is about caring for them, pushing them, helping them, working with them rather than against them. Take a good long look at your reasons for being in higher ed. If students are not at the center, you are doing it wrong."
Further, since practicing belly dance often comes with the hope of eventually performing it, I'm having to ask my students to trust me when it comes to evaluating their readiness to perform. This is where it gets really tricky. I've hopefully established that they can trust me to be their teacher and to build up their confidence… but now I have to objectively evaluate whether they've mastered a certain skill-set enough to confidently perform it on stage. Performing introduces so many variables that dancers must be comfortable with the basic movements. If that stuff isn't committed to muscle memory, there's so much that can go wrong. It's never, like, catastrophic when someone forgets or messes up a move on stage, but I try to prevent that from happening because it can be unpleasant, and I'd prefer for my dancers to associate pleasant memories with dancing.
So the weird duality I'm noticing here is that I have to ask them to trust me enough that I can be responsible both for building up their confidence, and for gently criticizing their shortcomings. I try to approach this tension with an air of humility; after all, I'm not perfect either. Goodness knows I could always use more practice, and when I'm traveling to a city where there's another certified ATS® teacher, I try to go in for classes so that I can get technique corrections or new ideas.
Hopefully my students recognize my intentions and trust me, and hopefully they understand that when I correct them, it's all in service of building their confidence back up again when they can grasp a concept correctly. Getting us all dancing together – which takes a ton of work! – in turn builds the community. And the stronger and more loving our community is, the better we are as dancers, and as people. Seeing my dance students flourish in this community is one of the most amazing things I've ever experienced, and so muddling through the cognitive dissonance of how to build students up while encouraging them to better is well worth it.