Two very different studies have reached similar conclusions: that one's beliefs about one's interactions with porn may have a more insidious effect than anything porn actually does to us.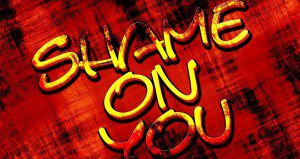 You know why I categorized this post as "Sex Education"? Because sex education and sex research go hand-in-hand. Both endeavors are (or should be) committed to providing the best empirical approaches to human sexuality. And when it comes to porn addiction, we're slowly figuring out that sometimes the shame that accompanies it – often self-imposed based on a widespread porn addiction model – is worse than any other supposed harm.
This blog post is inspired by reporting on 2 studies, which I'm glossing as "Damaged Goods" and "Perceived Addiction," and which approach the topic of porn addiction from divergent viewpoints and measuring different things but end up reaching very similar conclusions.
The "Damaged Goods" studies was reported on by Eric W. Dolan at PsyPost, and the "Perceived Addiction" study was reported on by Dr. David Ley at Psychology Today. I know of and respect Dr. Ley's work, but I don't know Dolan's work at all, so that could form a bias in my own reporting.
Basically, both studies found that porn users report greater emotional distress and negative impacts from porn use when they view themselves as porn addicts. The "Perceived Addiction" study emphasized religious identity, as Nolan reports: "religious participants were more likely to believe their pornography use was addictive, regardless of how often they actually used it." Ley's reporting on the "Perceived Addiction" study was similar: "actual porn use had no reliable relationship to emotional issues, but perceiving oneself as addicted to porn did (again, anxiety, anger, stress, and especially depression were predicted by how strongly someone felt they were addicted to porn)."
---
See also: Does Religion Cause Sex Addiction?
---
Intriguingly, the sample sizes are somewhat similar. The "Damaged Goods" piece interviews around 700 people, while the "Perceived Addiction" piece has over 1000 respondents, but found that around 700 of them had viewed porn in the last night. The "Perceived Addiction Piece" also worked with a population of students (a popular strategy because this demographic is often what researchers have access to) and that part had a longitudinal component as well. Thanks to the longitudinal component, Ley summarized this important finding: "Analyses confirmed that the self-perception as a porn addict predicted distress one year later, where either porn use or personality characteristics did not."
I'd encourage interested folks to read both blog posts, which do have different reporting styles to take into account. Dolan's post includes an interview with one of the authors of the study, who emphasizes that we still need more follow-up work on the nuances of porn use. Ley's post doesn't have an interview, but does a lot of contextualizing of the porn addiction industry.
Ultimately? I'm okay with using science reporting as a leaping-off point to criticizing the porn addiction industry, as Ley does. He characterizes this model as iatrogenic (as in, causing harm/damage while purporting to help/heal):
The model of porn addiction is one which serves many people, those who sell treatments for it, those who believe that sex and porn should be feared or controlled, and those who believe that they are helping others by spreading the word about the dangers of porn addiction. Unfortunately, this concept is now shown to do a disservice to the very people it purports to help.
If nothing else, focusing on porn addiction to the detriment of other issues – like when Republicans characterized it as a public health crisis, ignoring that their health care repeal efforts would be way worse – needs to be addressed. I appreciate both studies for providing further evidence that shame and stigma are powerful social forces with a real impact on people, since that's something we've been finding in the social sciences for a while now.
Anyway, yay science reporting. I kinda want to do more of it here, but I'd also like to use this post as a way to gauge interest in it. Thoughts?