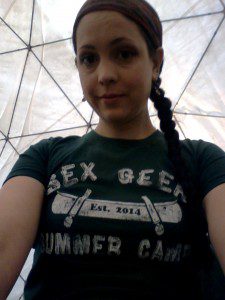 My blog post, Sex Positivity and Sex out of Context, has generated some hefty discussion. I think this is awesome. Doubly so because folks have largely been civil about what are some pretty controversial topics (how does sex positivity play out in practice? are certain sex acts inherently healthier or unhealthier than others? is there a hypocrisy in women wanting to be complimented in some contexts but not others?)
Then someone left a comment that irked me, and before I could respond, deleted it. Sure, welcome to the internet, that happens. But I thought it was worth responding to in case other folks had similar thoughts.
The comment was something along the lines of: "But here you call yourself the Foxy Folklorist, and then get offended when someone hits on you or calls you sexy! How hypocritical!"
Okay. I get it. The title of my blog (also my Twitter handle) is a bit provocative. And if I met someone, and they were like, "OMG, I read your blog The Foxy Folklorist! How cool to meet you! You're kinda cute in person too," then I would a) wonder if they'd actually read much of my blog, because hello, I talk about feminism and objectification and sexual boundaries and stuff like that a fair bit when I'm not rambling about folklore studies, and b) probably smile, take the compliment, and move on.
If you meet me in the context of knowing that I have a cutesy and tongue-in-cheek name for my blog, and you give me a cutesy and tongue-in-cheek compliment, fine. Whatever. I have bigger things to worry about. Giving a brief compliment related to perceived foxiness of this author is not the end of the world, and probably would not inspire its own ranty blog post. It's maybe not the best opening move if you've never met me before, and it's not gonna win you any Feminist Gold Stars. But it doesn't make you The Embodiment of the Evil Patriarchy, and I'm not even sure that it'd count as a microaggression. (ok, maybe it'd be a tiny one, which we can debate if we really want to)
If, on the other hand, someone responds to my Foxy Folklorist persona by taking the cutesy/sexy implication of the name and blowing it totally out of proportion – say, by not just saying hi and making a quip but launching into a detailed list of the sexual positions they'd like to try with me – that'd obviously be ire-worthy. Not just because it would be a form of sexual harassment, but also because it's utterly indefensible from the viewpoint described above (the case that one could kinda-sorta get away with making) that a clever sexy quip is a semi-appropriate response to a clever sexy nickname.
Because here's the thing: even if my blog persona name were ten times sexier, that wouldn't mean that I deserve or that I'm "asking for" ten times the sexual harassment or microaggression or what-have-you. It wouldn't matter if my Patheos blogger name were something ridiculous like The Tittiest Atheist … it's not okay for a random stranger to suddenly make sexualized comments about my body.
This is how rape culture works: by insinuating into our thought processes that it is possible for someone to deserve to be harassed, assaulted, or raped. As in, there is any action that a human being can take that makes it okay for another human to sexually humiliate, shame, or abuse them. Got a sexy blog name? Clearly you deserve to be hit on by strangers. Wearing a short skirt? Obviously you were looking for sex. Not a virgin? Yep, totally deserve what they did to you. You pursued some kind of consensual sex that's still marginalized or viewed as freaky/alternative? Then you must've had it coming when the consent violation happened.
I don't intend to blow all my carefully-hoarded Feminist Rage on dumb thoughtless comments that, sure, are maybe kinda compliments that could possibly be justified by the cute sexiness inspired by my blog title. The incident that inspired my ranty post involved someone objectifying me, to my face, by saying they wanted to get their hands on me, while I sat on a panel that I was attending as an academic expert. Nothing that I could say or do or call myself means I was asking for that or deserved it.
So, today we learned that nobody deserves microaggressions or harassment. Any other questions?