When I went to Woodhull last year, I was convinced that I stumbled into an amazing world full of some of the awesomest sex-positive people in existence. Returning this year only served to reinforce that impression.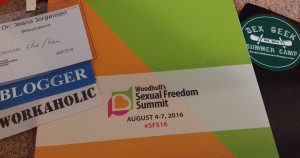 Since I was awarded a blogger scholarship from Woodhull, I've made an effort to disseminate as much information about/for/from the conference as possible. That's the main point of this post, but I'll also note for folks who couldn't be there, the main Twitter hashtag, #sfs16, provides a glimpse into the conference as it was happening. There are hashtags for each of the main workshop/panel topics, too (for now, you can find the hashtags listed next to each session in the schedule). At times my notes are a little thin because I was focusing on live-tweeting as much as I could!
I'll start with the social events. I spent a lot of time reconnecting with colleagues and making new friends, and I continue to be amazed at the depth of passion and knowledge we've accrued in the sex-positive community. I hung out with people who work as sex therapists, doulas, sex/relationship coaches, psychologists, sex workers, dancers, activists, and more. I didn't make it to Bedpost Confessions this year (which is a shame because of course I'm interested in the intersections of sexuality and storytelling), but I did make it to the Burlesque & Bubbles event, and I loved all the body positivity and humor I saw showcased. The awards ceremonies were also wonderful; I wasn't familiar with the work of each person being honored with a Vicki Sexual Freedom Award, but now they're on my radar so I'm getting to expand my sense of who's who in this field.
For those who have never been to a sexuality conference before, I'll note that Woodhull sets a pretty high bar. Like many progressive events, Woodhull has an accessibility policy and an etiquette policy that includes guidance for obtaining consent (even for photos and hugs and handshakes). All our name badges had a place for us to write in our gender pronouns. Many of the participants are already very sophisticated communicators with deep understandings of identity and intersectionality, and thus it felt like a really safe place to just be yourself. The hallways of the conference were filled with tables promoting sexual health and selling sex toys among other things, but everyone was very respectful and apart from listening to people talk about sexual topics, nobody was in anyone's face with flirting or sex acts, which is a misconception that some folks seem to have about sex positivity meaning anything goes.
One important event was the keynote presented by 3 members of WoCSHN, the Women of Color Sexual Health Network. Aida Mandalay, Trina Scott, and Cindy Lee Alves discussed the long history of women of color battling for reproductive rights as well as more recent occurrences in the sexual health field that have ranged from inclusive to exclusive. From the erasure of POC voices in recent sex ed publications to professional conferences like AASECT, white folks in the sexuality field need to take a good hard look at ourselves to see if we're (intentionally or not) perpetuating exclusion and erasure. The good news is, there are some fruitful partnerships to help promote and support the work of non-white sexuality professionals (you can see more at the hashtag, #SFSAction).
I'm going to cover 3 of my favorite panels in their own posts (part 1 is here; part 2 on masculinity is here), so I'll just mention that there were other panels I didn't make it to, but wanted to, on: microaggressions, eugenics still being a thing, masculine victims of sexual assault, decolonizing sex positivity, the experiences of sex workers, the need for military-inclusive sex-positive spaces, and diversity in the BDSM community.
For more info about the conference sessions and the conference as a whole, check out the following links:
I'm going to conclude my recap with a heartfelt message of thanks to Metis Black of the company Tantus, who once again sponsored the blogger lounge. Companies like Tantus, and organizations like Woodhull, recognize that bloggers and social media folks in general help get the word out about the very real forms of oppression occurring in the realms of sexuality, gender identity, relationship style, family, and more. Our public outreach is indispensable to the educational and activist mission of Woodhull, and it's great to be valued for such.
Coming to Woodhull very much feels like coming home. As I wrote over at Inside Higher Ed, academe (my first career/intellectual home) isn't very sex-positive. When I attend Woodhull, I get similar warm fuzzy feelings as when I'm at a folklore conference: I'm interacting with friends, colleagues, people who are passionate about the same things I am… but we sexuality professionals are also committed to a vision of the world that includes revolutionizing the sexual and professional boundaries that arbitrarily and unnecessarily hold us back.
The people at Woodhull share my dream for a more sex-positive society, and we're all doing what we can do make it happen. Many of them, like me, identify as sex geeks or sex nerds. In short, they're my people. Gathering so many of my people in a place where we also promote learning and tolerance is pretty much the best thing ever, and that's why I plan on being a permanent fixture at Woodhull.