Two decades ago, as my mother-in-law was steadily descending into the hell of Alzheimer's, an acquaintance described Jeanne's most recent difficult interaction with her mother this way: "Rose is a spiritual being having a human experience." This was a helpful reminder that there is more to a human being than her body, a something more that is not necessarily subject to the vicissitudes of our physical existence. Since we know our physical selves are temporary and have a very short shelf life, comparatively speaking, human beings have a natural attraction to any way of thinking or belief that promises something more, that identifies something that is not subject to sickness, disease, pain, suffering, decay and death.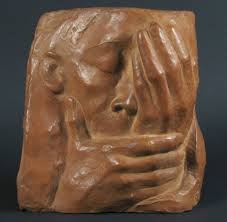 It is an attractive promise, so attractive that I find that most of my students, many of whom are products of Catholic primary and secondary education, consider the promise of life in heaven after one's physical body has worn out and stopped running to be the primary, perhaps the only, reason to be a person of faith.
Today is the second Sunday of Easter, which is always "Doubting Thomas" Sunday. As we all know, Thomas refuses to believe that Jesus has risen until he has seen and can physically touch the scars of the nails in Jesus's hands and feet and the place where the spear pierced his side. As we returned from Doubting Thomas Sunday at church a few years ago, Jeanne asked "Why are the scars still present on Jesus's resurrected body?" It's a great question, one which has stuck with me ever since.
There are a number of quick surface level answers, but this question worms its way deeper the longer it sits. Jesus not only bears the scars of suffering and torture in his resurrected body, but he also takes this scarred body back with him to heaven. Why? I wondered about that shortly after during a few days of silence and solitude on retreat. I returned to a familiar text that never fails to shock me every time I hear or read it.
Psalm 22 is a seminal text on human pain and suffering, a psalm that Jesus quotes—"My God, my God, why have you forsaken me?"—as he hangs dying in agony on the cross. It is a text so powerful and wrenching in its portrayal of human affliction that I find it difficult to even read.
Like water I am poured out
Disjointed are all my bones
My heart has become like wax
It is melted within my breast
Parched as burnt clay is my throat
My tongue cleaves to my jaws 
Even more crushing than the physical suffering is the psychological distress of isolation and abandonment.
O God, I call by day and you give no reply
I call by night and I find no peace
I am a worm and no man
The butt of all, laughing-stock of the people
All who see me deride me
They curl their lips, they toss their heads
"He trusted in the Lord, let him save him
If this is his friend." 
This is not fiction. Whether from disease, human cruelty, self-inflicted calamity, or just the chance misfortunes of life, human beings are in this place physically and spiritually in my community and across the world as I write. What can be said when someone is dying physically, empty emotionally, hasn't had a fresh thought in years, and has been abandoned by friends and family? Where is God? Is there God? Is there no help?
One of the "New Atheists" whose popular books have made dabbling in atheism trendy in the past twenty years or so—Sam Harris, Christopher Hitchens, Daniel Dennett, Richard Dawkins . . . I forget which one—writes that he finds it impossible to respect any religion whose foundational symbol is an instrument of torture and death. But in truth it is this very image of torture and death that makes the Christian story disturbingly and inescapably real. The suffering and pain portrayed in Psalm 22 is the human reality, whether Jesus on the cross, my mother-in-law suffering from Alzheimer's, an abused child, or a victim of injustice anywhere in the world. None of us is ever more than one step away from Psalm 22. Finding God in the middle of it requires taking the very strange Christian story very seriously.
The hope of the Christian faith is not that the suffering and pain that is natural to embodied, physical creatures will somehow be eliminated or overcome, but rather that our very human condition will be transformed from within, from the presence of the divine in each of us first foreshadowed by the Incarnation, God becoming human. Christianity is a full-bodied faith, involving every part of us—warts and all. One does not follow Christ by overcoming or rejecting one's humanity, but rather by participating in a transformation of that humanity into a unique bearer of the divine.
In the end, Rose was not a spiritual being having a human experience, as if being spiritual and being human are two different things. Strangely, she was a human being having a divine experience. What can be offered or said to or about a person in the midst of a Psalm 22 experience? Perhaps nothing. But somehow suffering, emptiness, abandonment and exhaustion bear a family resemblance—they all look like God. God who empties the divine into each cracked, leaky human container. We are hard-wired to expect God only in the miraculous, the spectacular, the triumphant; when this invariably does not happen, we conclude that God is absent, agreeing with the first thief hanging on the cross next to Jesus. But if the heart of God is self-emptying, then isn't the empty shell of a person, at the end of her resources and without support, the very image of God? The most ludicrous, inefficient, messy scheme imaginable, but this is a God I can relate to—one that doesn't run away from human imperfection and ruin. One who embraces and fills us again—over and over.