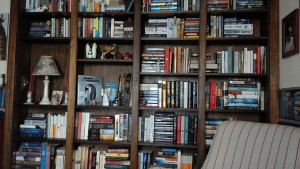 Last June as my sabbatical officially began, I decided to keep a running list of books read over the next year. Usually academics head into a sabbatical semester or year with a lengthy list of "must read" texts, tomes directly relevant to their research and the articles or books that are the required product of such semesters. Not me. My primary sabbatical project had over 300,000 words of my own writing from my three-and-a-half-year-old blog to work with. All of that writing was strongly influenced by dozens of books I read over the past several years; over the past nine months I have been in the enviable position of being able to read whatever the hell I wanted to rather than what I had to. As of today my "Read During Sabbatical" list is at forty-seven books and counting. A quick look at the list is very revealing, to me at least.
Mysteries—11
I prefer my mysteries in series; over the past few months I have caught up on Anne Cleeves' series set in Scotland's Shetland Islands and Jussi Adler-Olsen Department Q series set in Copenhagen.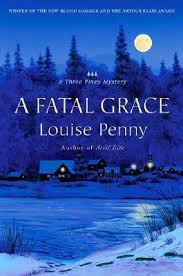 I'm just starting Louise Penny's Inspector Gamache books set in southern Quebec, no more than an hour or so from where I grew up in northern Vermont. I'm pleased to see that there are twelve books in the series—that will keep me busy for a few weeks.
Why do I love mysteries so much? And why do I prefer them in series rather than in stand-alone volumes? The growth, maturation, mistakes and inanities of my mystery friends from volume to volume remind me of just how complicated and fascinating the human journey is. They remind me of me. I can't remember exactly what I was doing exactly twenty years ago today, just as I can't tell you what murder case Tommy Lynley and Barbara Havers were solving eight or nine Elizabeth George mysteries ago. But I can tell you about how their love/hate partnership and friendship has developed and grown over their virtual years, just as I can tell you about my own wandering path over the past two decades. Alasdair MacIntyre is right—human beings are "story telling animals." Pick your favorite genre and dive in.
Novels—19
Each summer for the past couple of decades I have chosen a well-regarded novelist whose work I have never read and immerse myself in her or his work. This year I chose Joyce Carol Oates, which turned out to be a mistake.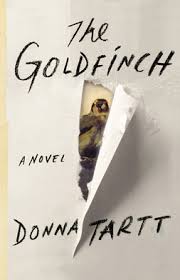 After plowing through three of her dozens of novels (selections recommended by my Facebook friends familiar with her stuff), I decided that (1) I am impressed that she is one of the most highly thought of contemporary novelists and, (2), I am not sure why she is so highly regarded.
Best novel read: Donna Tartt, The Goldfinch. Close second: A Big Enough Lie, by my friend and colleague, Eric Bennett.
Worst novel read: A tie between Wm. Paul Young, Eve and James Martin, The Abbey
Theology (very broadly conceived)—6
I suppose it says something about my tastes that the two most recent theology books I have read are Pub Theology and Evolutionary Faith. These titles reflect dominant threads in my blog over the past few years. No Barth, Newman or Schillebeeckx for me—I agree with a Benedictine monk friend who was a high school biology teacher before he retired several years ago. In a group discussion he once said that "Darwin has taught us more about God than all of the theologians combined." And he said it with a beer in his hand.
Philosophy (broadly conceived)—3
A philosophy professor who has read only three philosophy books during the first nine months of sabbatical? My philosophical hunger gets fed from many sources these days; very few of them are professional philosophers narrowly defined. But then, philosophy should never be "narrowly defined"—I tell my students that philosophy, the art of better and better questioning, is a natural human activity that can and should be applied to everything. It can also be stimulated by anything.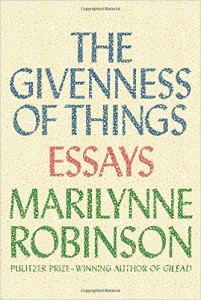 Collections of Essays—3
Two of the three volumes of essays on my list of forty-seven books are from Marilynne Robinson. Her novels, particularly Gilead, are pristine, beautiful, and powerful—her essays reveal the philosophical and theological underpinnings and insights that make such fiction possible. One paragraph of a Marilynne Robinson essay provides anyone with an attuned mind and heart with enough to chew on for days on end. Reading and digesting anything by Robinson requires work—work that is abundantly rewarded.
Memoir—3
Memoir has fascinated me ever since I was told seven or eight years ago at a writer's workshop that my essays are "philosophical memoir." The genre is tricky; it is difficult to thread the needle and use one's own experiences as a pointer to something important instead of delusionally thinking that one's self is that important thing. Perhaps my favorite book from the past nine months is an example of memoir at its best: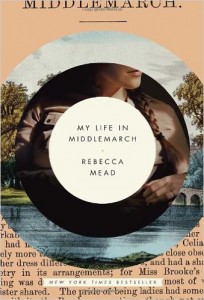 Rebecca Mead's
My Life in Middlemarch
. It's a book I wish I had written myself, given that
Middlemarch
is the greatest novel I've ever read. Guess I'll have to write something else.
In Bird by Bird, Anne Lamott tells aspiring writers that they should write what they would love to read. After reviewing my list of forty-seven books, I find that the relationship between reading and writing is both two-way and continuous. I do tend to write about themes that I love to read about and ponder, but I regularly gravitate toward new books that shine fresh light on what I've been writing and thinking about. I'm sure that a person with the proper training could conclude a number of things about me by studying my list of forty-seven books; my own conclusion is that Jeanne was right many years ago when she observed that I don't need a lot of human friends, because my books are my friends. I'm very grateful for the opportunity to spend so much uninterrupted time with them.
For those who demand way too much information, here's my sabbatical reading list as it currently stands, in the order that I read them: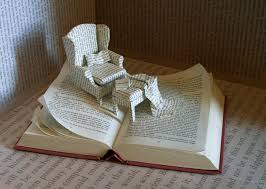 Nesbo, Blood on Snow
Coetzee, The Childhood of Jesus
Klein, Travels with Epicurus
Goldstein, Plato at the Googleplex
Joyce Carol Oates, Carthage
Tartt, The Goldfinch
Grose, A Good Place to Hide
Goldstein, The Mind-Body Problem
Henry, We Only Know Men
Kanon, Leaving Berlin
Lee, Go Set a Watchman
Dickens, Our Mutual Friend
Cleeves, Raven Black
Cleeves, White Nights
Cleeves, Red Bones
Bennett, A Big Enough Lie
Cleeves, Blue Lightning
Oates, them
Wallace, Consider the Lobster
Ebrahim, The Terrorist's Son
Jeeves, Minds, Brains, Souls and Gods
Oates, We Were the Mulvaneys
Malesic, Secret Faith in the Public Square
Bolz-Weber, Accidental Saints
Brooks, Caleb's Crossing
Young, Eve
Martin, The Abbey
Robinson, When I Was a Child I Read Books
Adler-Olsen, The Purity of Vengeance
Mead, My Life in Middlemarch
Wiseman, The Plum Tree
Gregory, The Taming of the Queen
Robinson, The Givenness of Things
Hannah, The Nightingale
Bourgeault, The Meaning of Mary Magdalene
Russell, Dreamers of the Day
Cleeves, Dead Water
Cleeves, Thin Air
Berghoef, Pub Theology
Adler-Olsen, A Conspiracy of Faith
Gulley, Evolutionary Faith
Russell, Doc
Russell, Epitaph
Adler-Olsen, The Marco Effect
Penny, Still Life