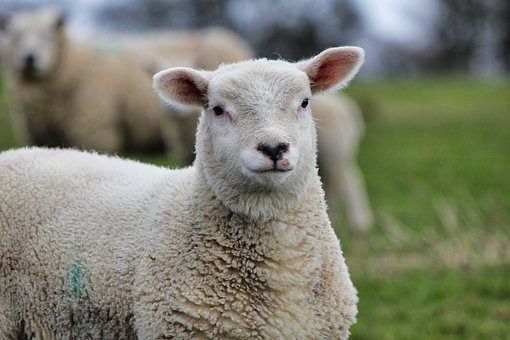 I'm at an academic conference in Ottawa this weekend; I'm reminded of another conference two or three years ago at which I also gave a paper. The conference was held in a room that clearly had once been a chapel, containing a huge, round stained glass window on the front wall. From a distance I could not figure out the theme of the window–its central figure was a young man in full medieval armor, so I figured it was probably St. George without the dragon. Upon closer inspection, I read the text on the banner underneath the soldier: "Enter thou into the joy of thy Lord." "Oh my God!" I thought as I returned in memory to my childhood–"that's Christian from Pilgrim's Progress!"
As I followed the various scenes around Christian clockwise around the window starting at the bottom, I observed Christian's struggle against various tempters and opponents on his journey from despair to heaven. This book, with beautiful illustrations, was a staple of my childhood home, ranking in my mind equally with the omnipresent picture Bible. My mother read it with me frequently–I'm pretty sure I hadn't thought of it in forty years. But it came flooding back to me as the conference began–Pilgrim's Progress introduced my at a very early age, more effectively than anything in scripture, to the most basic human questions that have obsessed me my whole life. Where do I come from? Where am I going? And, most pressingly, how do I get there?
In my all-time favorite movie, Dead Poet's Society, Mr. Keating teaches an important lesson about non-conformity to his students with a brief experiment. Bringing his young charges out of the classroom into a nearby courtyard, Keating directs three of the students to start walking around the perimeter. Although they start off at a different pace, soon all three are marching in lock step, with Keating singing an impromptu Marine-style tune and the other students clapping in accompaniment. Keating's point is about conformity. Given the opportunity to walk uniquely and independently, the boys choose instead to fall into step with each other. Keating then evokes Robert Frost's "The Road Not Taken " to introduce the alternative of individual risk and choice.
What path should I follow? In many ways my professional path has been clear from the moment I chose in my early thirties to major in philosophy in graduate school and do my PhD at a Catholic university (to the dismay of my professors and mentors in my Master's program at a secular state university). Thirty years later, I have achieved some success as an academic scholar, great satisfaction in the classroom on a daily basis, and have never regretted walking down this particular academic professor path.
But I've learned more and more over the past several years that there are many paths more important than the professional one. By defining myself for years by what I do, I found it very easy to forget about figuring out who I am. As Christian found out in Pilgrim's Progress, the path to wholeness and integrity as a human being is fraught with far more pitfalls and dangers than any path to professional success. The prophet Micah tells us that all God wants is for us to do justice, to love mercy, and to walk humbly with our God. But what is the nature of this walk? What paths am I to take? These questions have become more and more pressing.
Today is "Good Shepherd Sunday" with sheep/shepherd readings from the Gospel of John and the Psalms. Psalm 23 is all about paths. We are told that the Lord our shepherd leads us in paths of righteousness and even is with us in our darkest hours, as we walk through the valley of the shadow of death. Such a familiar text, however, can breed, if not contempt, at least complacency. Shepherds and sheep evoke a pastoral and peaceful image, but very few of us have any knowledge of what the daily lives of shepherds and sheep are like. I got a peek into this life once almost thirty years ago while we were living in Milwaukee. Milwaukee is a city of festivals, with every ethnic group imaginable getting its own weekend and festival. During a celebration of all things Scottish, Jeanne and I were with the boys at one of the many large parks that Milwaukee has to offer for Scottish Fest. The weather was appropriate, drizzly and foggy with bone-chilling dampness.
One of the events that day was a demonstration of sheep herding. Upon being let out of the penned enclosure in which they were being held, a flock of forty or fifty sheep immediately scattered to the four winds, running into the surrounding residential neighborhood faster than I ever imagined sheep could move their fat, wool-laden selves. The shepherd remained standing in the now-sheepless park, with two small border collies at his side, as residents of the surrounding streets wondered where the hell the sheep in their back yards came from. Then at a signal from the shepherd, the border collies leaped into action. After they disappeared into the neighborhood like lightning bolts, we could hear the dogs occasionally barking in the distance. Within a few minutes, sheep started appearing from various directions, with the border collies running manically back and forth behind them, nipping at their heels and talking trash as only a dog can. Before long, all of the sheep were back in the pen and the border collies returned to the shepherd's side. He bowed in acknowledgement of our applause, even though his four-legged buddies had done all of the work.
As a youngster I always bristled at the frequent Biblical comparison of human beings to sheep, because I knew (or had read at least) that sheep were both smelly and stupid. I appreciated our rector pointing out yesterday that in ancient times, sheep were highly regarded sources of milk, wool and companionship, only becoming mutton once they became too old to provide any of the other stuff. I still resist the analogy (according to youngest son, who was a vet tech for several years, goats–as well as just about every animal are much more interesting than sheep), and believe that there are many more fruitful paths available to me than to a sheep. But it is comforting to know that there is divine companionship and guidance on whatever path I find myself on, as well as to know that if I listen, all of those paths lead home to God.