My big brother, whom I unfortunately seldom see in the flesh, is celebrating his birthday today. He and my sister-in-law LaVona have been through a hell of a year–but they are still standing and facing down all of the challenges that come their way. Help me celebrate this important day!
In the 1946 classic film "It's a Wonderful Life," Angel Second Class Clarence Oddbody is assigned as George Bailey's guardian angel. It's a challenging assignment; George has been driven to the brink of suicide by a series of unfortunate choices and circumstances.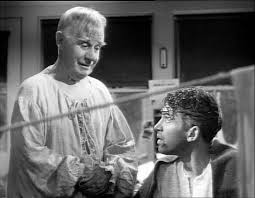 More than George's life rides on Clarence's success since Clarence, who has been a wingless angel for over a century, is guaranteed by his managing angel Joseph that if Clarence turns George around, he will finally earn his wings. Clarence has a childlike honesty and is completely up front with George about both his identity and his mission from the start—and George isn't buying any of it. "Well, you look like about the kind of angel I'd get," George comments. "Sort of a fallen angel, aren't you? What happened to your wings?"
I was reminded of this scene from everyone's favorite Christmas movie not long ago as my Facebook feed greeted me with the opportunity to find out who among my 1125 Facebook acquaintances is my guardian angel. I have taken far fewer of these sort of Facebook quizzes and games recently than I used to, but this one was of particular interest.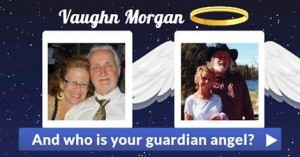 Upon seeing the result I thought "That makes perfect sense. My brother is exactly the kind of angel I would get, and I'd be surprised if he noticed that I needed help. I'm totally screwed. Fallen angel, no wings." But today is his birthday, so a few observations are in order.
It's a good thing we connect frequently on Facebook, because my brother and I rarely see each other.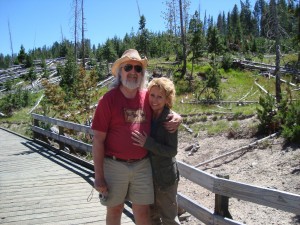 Vaughn and his wife LaVona live a busy life in Wyoming where he is a doctor while Jeanne and I are equally well established 2500 miles away in Rhode Island. My son and daughter-in-law spent a week a few summers ago with their aunt and uncle in Wyoming; if memory serves correctly, it was the first time my daughter-in-law ever met them. She remarked afterwards that my brother, my son, and I are so similar in our mannerisms—the way we walk, talk, cross our legs, our senses of humor—that it is "freaky." Vaughn and I were best friends during the early years of my life, more of necessity than choice, since for the first eleven years of my life and fourteen years of his we lived in rural Vermont, far removed from relatives and even school friends. If we didn't want to be alone, we had to get along. I particularly remember an early turning point in our relationship.
As she usually did on a Saturday morning,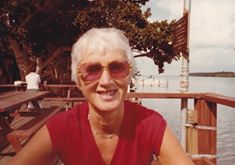 my mother sent my brother and I outside shortly after breakfast and said "See you at 5:00 for supper." So she was surprised to see me coming through the front door about a half hour later. "What are you doing here?" she asked. I answered that my brother had told me to go upstairs to get something needed for the game we were playing that he had forgotten in his bedroom. "You go tell your brother to come in here and get it himself!" she told me. "You don't have to do what Vaughn tells you to do!" "I DON'T?" I replied—this was news to me. Up until that point I had assumed my older brother had the authority of a third parent. That Saturday morning was a turning point in my life—I didn't have to do what my brother commanded any longer.
Just as a good Baptist kid should, I used stories from the Bible as touchstones during my growing up years. As the younger of two sons,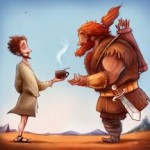 I identified with Jacob's preference for his mother and for hanging around the house rather than going out hunting and killing things, something Vaughn did with my Dad. Jacob's ability to regularly outsmart and manipulate his doofus older brother Esau rang true, because I was sure I could get my equally challenged doofus older brother to do whatever I wanted whenever I wanted. I was sure that if Baptist fathers gave special and exclusive blessings to oldest sons, I could get Vaughn to hand over his blessing in exchange for a can of soup.
In reality, it wasn't like that. My brother and I are the first two people on either side of our family to earn a four-year college degree, let alone an advanced degree. I remember no time when it was not clear to both Vaughn and me that we were going to college; this, of course, put the grade pressure on from the beginning. Both of us earned mostly A's, but it seemed to me that Vaughn got his without breaking a sweat, while I had to work hard for mine beginning with my Freshman year in high school. This served me well as I headed to college, as my work ethic was already established; my impression was that my brother didn't enter the world of having to work hard at school until college.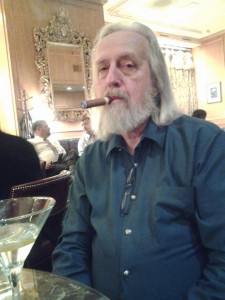 I sometimes wonder how it is possible that the two of us are even distantly related, let alone brothers. He loves rural Wyoming, while I prefer urban settings and would go insane with boredom living in the sticks. He prefers vodka martinis, which taste like lighter fluid to me, while he cannot abide the intense single malt scotches that I love. He once pronounced on Facebook that Samuel Adams Boston Lager is as dark as he will go. I replied that Boston Lager is as light as I will go. Even though he dresses like an aging cowboy for work, he made critical remarks about corduroy jackets in another Facebook pronouncement–I had to point out that such jackets are the sine qua non of male attire in my profession (I own five of them). He loves hockey but can take or leave college basketball, apparently unaware that the greatest two weeks in sports each year is March Madness. But at least we share a similar passion for the Red Sox.
Happy 69th, Big Brother! You're my favorite sibling! Of course you are my only sibling, but you might be my favorite even if there were more. If I was to construct an imaginary brother, he would be just like you but with much better taste in adult beverages and clothes. Even though we don't see each other very often, it's a comfort knowing where my closest likely match for organ transplants lives. Mom and Mad Eagle are smiling on you today—have a good one!