Life can only be understood backwards, but it must be lived forwards. Soren Kierkegaard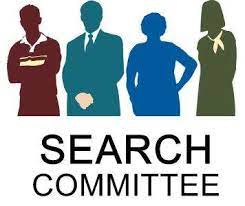 One of my duties on campus this semester is as the co-chair of a national search for the person who, when hired, will be the second most important faculty member on campus, second only to the Provost. It's a daunting assignment—I've told people that I'm essentially co-chairing the search for the person who will be my boss's boss. The President and Provost told my co-chair and me when we first met about this search in August that they both thought that this was the most important search that would happen on campus during their respective leadership tenures. No pressure, though.
According to my vita, I've been part of a dozen academic search committees during my three-decade academic career, chairing five of them, but never when the stakes are so high. As I've read dozens of applicant files over the past few weeks, it's been interesting to see how each candidate presents her or his credentials and career journey that they believe qualifies them for serious consideration. Roughly speaking, there are two sorts of applicants for a position like this. Some organize their vita/resume in a bullet point Dragnet "just the facts, ma'am" manner, filling their cover letter with point-by-point references to what they consider to be the most important aspects of the eleven-page job description. These are the "Type A" applicants.
Then there are the "Type B" storytellers. The vita is still well organized but less informative and the cover letter takes precedence. The letter provides a narrative arc that places the person's career and qualifications within the context of a story. Such applicant letters are 5-6 pages long rather than 2-3, while their vita might be several pages shorter than those submitted by the Type As. The difference between Type A and Type B has little to do with academic discipline. I have read Type A dossiers from English and theology professors and Type B dossiers from chemists and mathematicians. This is a personality-type distinction that transcends disciplinary boundaries.
No value judgment is to be made here—I have read equally strong and equally "iffy" dossiers from both Type A and Type B applicants. But the experience of reading more than one hundred dossiers reminded me that, despite the appearances when I was young, and despite sterotypes about rational logic-obsessed philosophers, I am a full-blown Type B storyteller. I tell stories on this blog, I tell stories in the classroom—I agree with the medieval rabbi who reportedly said that "God made human beings because God loves stories" and Alasdair MacIntyre who wrote that "human beings are story telling animals."
I have a sabbatical coming next year in the Fall 2023 semester—a sabbatical that for various reasons I delayed for a year. A sabbatical doesn't happen just because one is eligible for one—you have to apply for it with a proposal that has to be approved by both the department chair and the dean. As I considered my proposal—due and submitted a few weeks ago, I had to consider not only its content but also how to present it. Some sabbatical proposals are entirely Type A with statistics and bullet points; mine was entirely Type B. Here are the first few paragraphs.
On a crisp and clear October morning nine years ago, I stood behind a podium on the top step of the newly minted Ruane Center for the Humanities that had opened for classes only a bit over a month earlier. As the director of the Development of Western Civilization (DWC) Program for which the new building was designed to be the new home, I was asked to give greetings from the faculty to the hundreds of people gathered on the lawn in front of Ruane, a gathering that stretched almost all the way back to Harkins Hall. I was given four precious minutes of the festivities to provide those greetings.
I began by telling those gathered of a story my father, an itinerant Baptist minister, once told me. During his many years of preaching, my father got to see the sermonizer's side of the pulpit that parishioners seldom, if ever, saw. Often pulpits had short quotations from scripture on the preacher's side, passages such as "Let the words of my mouth and the meditations of my heart be acceptable in Your sight, oh Lord my Strength and my Redeemer" from the Psalms. But on the back of one pulpit was a direct question that my father never forgot, and neither have I. What are you trying to do to these people?
I used this question almost a decade ago to frame my four-minute overview of what the DWC program was trying to accomplish with its students and faculty in the beautiful building directly behind me. As I look back now on more than twenty-eight years of teaching at Providence College and more than three decades as a professor and academic, I propose in my Fall 2023 sabbatical to spend a few more than four minutes with this important question, using it as a frame for my teaching and academic career. What, after more than three decades of teaching, after thousands of students, team-teaming with hundreds of colleagues in interdisciplinary courses, a multitude of mistakes and failures in the classroom along with successes and teaching honors, do I believe I have been doing to the people with whom I have been privileged to spend a lifetime of learning?
My proposed Fall 2023 sabbatical will be the fourth, and perhaps final, sabbatical of my academic career. My first (Spring 2002) and third (academic year 2015/16) sabbaticals each produced monographs, two of my five published books. When describing my second sabbatical in Spring 2009, I usually start by simply saying that "It changed my life," changes that affected and continue to shape my life and my teaching in ways that I have been exploring both in writing and in the classroom in the years since.
One of the fruits of that sabbatical is my blog, "Freelance Christianity," that began in August 2012 and continues to attract thousands of visitors and readers on the Patheos platform every month ( http://www.patheos.com/blogs/freelancechristianity/ ). I have posted three essays of 1000-1500 words per week since beginning the blog, meaning conservatively that I have published more than two million words on my blog in the past decade. This material has been the basis for two recent books, Freelance Christianity: Philosophy, Faith, and the Real World (Cascade Books, 2017) and Prayer for People Who Don't Believe in God (Wood Lake, 2019), both of which focus in entirely different ways on the intersection of reason and faith, philosophy, and religious belief, in real time.
Because I have never attempted to separate my teaching vocation from my "real life," dozens of my blog essays focus on my life as an academic and in the classroom—this material will be the jumping off point (but not the exclusive content) of my sabbatical book project. Not only do I have thousands of words to work with, I also have hundreds of comments and responses from readers of my blog that will inform my work.
Of course, teaching memoirs are a dime-a-dozen, just as memoirs of all sorts are. As I gather my materials and thoughts for this project, I continually ask myself: What, if anything, makes my story unique? What stories can I tell, what insights I can share, that come from a perspective that is singularly mine?
One of my favorite philosophers, whom I almost never get to teach, Soren Kierkegaard once wrote that "Life can only be understood backwards, but it must be lived forwards." That observation seems truer the older I get. I'm thinking of my sabbatical project in that way. Life happens . . . but sometimes you get the opportunity to look back on it and tell a story. How does this all connect? What is the constant thread? Maybe there isn't one. Maybe life truly is just one damn thing after another. But I think I can do better. I'll be spending my sabbatical next fall trying to do just that. Stay tuned.
Note: The working title for this project is Nice Work If You Can Get It: Lessons and Stories from a Life in the Classroom. I'm not big on crowdsourcing, but I would be interested in hearing—especially from those who have been reading this blog for a while—about what you would like to hear about or learn about in a project such as I have described above. Feel free to comment!