Although today is the next-to-last day of 2021, I am writing ten days earlier on December 20. That's because today Jeanne and I are returning from Tampa after a five-day cruise to Cozumel and other points of interest on the east coast of Mexico. Since even I am not likely to spend much time on our first-ever cruise writing, I've chosen to get everything ready on the blog early for the rest of the year.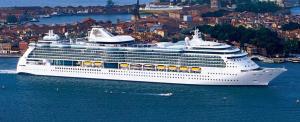 That doesn't mean, of course, that the uncertain world of 12/20/2021 (a palindrome!) will not have changed significantly for the worse in the next ten days. Given how 2021 has worked out so far, here are a few things that might happen in the next ten days:
The Theta variant will have arisen in Antarctica and will be on its way north rapidly, dedicated to showing that the Delta and Omicron variants are posers.
The NCAA men's basketball, NBA, NFL, and NHL seasons will have all been cancelled. A few NCAA and professional sporting events have already been cancelled this weekend, a mask mandate has been put in place at the Dunkin' Donuts Center where my Friars play their home games, so why the hell not?
The Provost of Providence College will announce that all classes next semester will be remote on Zoom, not because a spike in positive Covid cases forces it, but because "it was so much fun when we did it in 2020, why the hell not?"
There will be a breakout of breakthrough Covid cases on Royal Caribbean's "Brilliance of the Seas" cruise ship (our ship). Accordingly, the hundreds of passengers on board will not be allowed to disembark on December 29th in Tampa, by order of President Biden. The President, channeling the spirit of the former guy, says that allowing a bunch of asymptomatic but positive-testing people off the boat would "make me look bad."
You get the idea.
We all should have known that a year that began with an insurrectionist attack on the U.S. Capital when it was only six days old would compete in a number of ways with its predecessor for the "shittiest year ever" award. In my New Year's Day 2020 blog post, entitled "It's a New Year. Thank God," I wrote the following:
There are, however, reasons to be hopeful that 2021 will be a significantly better year than 2020. Vaccines are in the pipeline and are getting into more and more people's arms every day. This coming semester will undoubtedly be similar to the Fall 2020 semester, with masked students in person and socially distanced in the classroom and several more on Zoom, but by September 2021 we might be getting back to "normal." Perhaps most importantly, in three weeks a new, sane President will be inaugurated.
It's quaint to realize that I was that innocent less than a year ago. Just three days later I received word from our college nurse that my biweekly Covid-19 test had turned up positive.
Even that didn't derail my general optimism about 2021. My 1/5/2021 blog post was titled "The President Who Wouldn't Leave," humorously comparing Donald Trump's obvious reluctance to leave the White House to an iconic John Belushi, Dan Ackroyd, and Jane Curtin SNL skit: "The Thing That Wouldn't Leave."
Millions of Americans these days are feeling the same way about the current resident of the "People's House," the White House, who despite increasingly pointed reminders that he is to be out of 1600 Pennsylvania Avenue by January 20th so the new tenant can move in, continues to seek more and more desperately for a way to stay in residence. Someday, someone will make a horror film about these past weeks and months: "The President Who Wouldn't Leave." . . .
One of the reasons that the U.S. Constitution includes so many procedures and steps for elections and then the transfer of power, and the reason why so many constituencies and different offices are involved in that transfer, is that the Founding Fathers knew something about human nature. They knew that those in power will usually be reluctant to give it up. There is a story, probably apocryphal, that George Washington, after American independence was won, was offered the kingship of the newly established nation. Washington turned it down, choosing instead to return to his farm (until he became our first President). But our current lame duck President is no George Washington, and he is not leaving willingly.
I ended that essay this way: Tomorrow will undoubtedly be a stressful day for us all. Thanks to my son, Caleb, for sending me this link a few days ago. Sometimes laughter is truly the best medicine.
https://www.facebook.com/warren.bell.714/videos/10155512531395870
As events unfolded the next day, "Holy shit" was the only thing that came to mind. Along with "This isn't funny."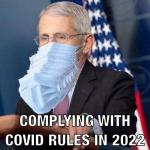 I will never be a pessimist—it isn't in my DNA. I can only sustain cynicism for a short time. But it is difficult to be positive when, at the end of a year that promised far, far more progress and success on fronts from political and pandemic to professional and personal than it actually delivered, we find ourselves in many ways in much the same place as we were in early January.
This is not a "New Year's Resolution" post—if there is going to be one, it will come in a couple of days. For today, I have these commitments for 2022. Whatever the year brings, for better or for worse:
I will live my life. I am thrice-vaccinated, have already had Covid-19, and will wear a mask when required to. If told to get another booster shot in six months, I will. Other than that, I'm going to live as "close to normal" as possible, assuming I can remember what "normal" looks like.
I will not be afraid. I truly have not been afraid over the past two years, but this commitment extends to avoiding fearful people. That means continuing my almost-100% moratorium on watching 24-7 news. That means suspending my Twitter account. That means not letting other peoples' fear put a cloud over my day. That means not trying to talk others out of their fear, and (more importantly) not allowing anyone to project their fear onto me.
It's not as if there are no wonderful things in my life. There are many of them, starting with Jeanne and our Corgi puppy Bovina who joined us in late October. Justin, Caleb, and Alisha. Teaching, especially when it is in person. Our first cruise (as long as they let us off the ship). But the last year has made me hyper-aware of the things that rob me of my joy, happiness, and general peace. To the extent that it is in my control, I will be engaging with those things as little as possible in 2022. I definitely will not be deliberately putting myself in their way.