The Freedom From Religion Foundation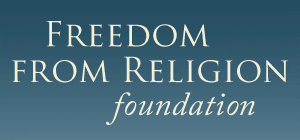 is the nation's largest association of freethinkers–atheists, agnostics, and skeptics–with more than 23,000 members. FFRF works to uphold the constitutional separation between state and church and to educate the public on nontheism. FFRF has been defending Jefferson's "wall of separation between church and state" since 1976. Incorporated in 1978, members and generous donors make FFRF's work possible with their tax-deductible memberships and donations.
Each year, FFRF attorneys address thousands of state-church complaints from citizens by writing cease and desist letters or, if necessary, filing lawsuits. Members and citizens can report a state church violation on FFRF's website: https://ffrf.org/legal/report.
FFRF fights to inject reason into public debate and policy, to counter the religious campaign against women's rights and LGBTQ rights, and to keep religious dogma out of our civil laws.
FFRF also works to build a community for freethinkers and to educate the public and public officials about freethought (the use of reason in forming an opinion about religion). FFRF does this by:
FFRF is the sole member of Nonbelief Relief, Inc., a charity dedicated showing that we are good without god. This humanitarian agency for atheists, agnostics, freethinkers and their supporters works to improve this world, our only world.
John Stuart Mill wrote that "[t]he world would be astonished if it knew how great a proportion of its brightest ornaments–of those most distinguished even in popular estimation for wisdom and virtue–are complete skeptics in religion." FFRF's honorary board includes some of those bright, skeptical minds, including: Jerry Coyne, Robin Morgan, Richard Dawkins, Daniel C. Dennett, Ernie Harburg, Jennifer Michael Hecht, Susan Jacoby, Mike Newdow, Katha Pollitt, Steven Pinker, Ron Reagan, Robert Sapolsky, Edward Sorel and Julia Sweeney. Christopher Hitchens and Oliver Sacks, M.D., served as an honorary directors until their deaths.

FFRF also maintains an online library documenting the distinguished contributions of freethinkers to art, music, literature, science, progress, and social reform: FFRF's Freethought of the Day.
Read more about who runs FFRF, and its work, staff, and building here.