By Andrew L. Seidel
Staff Attorney
Freedom From Religion Foundation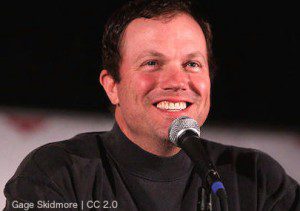 Earlier this month, I got into a little Twitter tussle with the moderately famous Adam Baldwin, the actor who's been in Full Metal Jacket, The Patriot, and TV shows like Chuck and Firefly.
Yesterday, we crossed tweets again. It began when a nice young lady asked where to get the FFRF T-shirt that prompted Adam to get in touch with me in the first place. Get all your awesome atheist tees here.
In the end, he asked me to prove evolution and the Big Bang. I think you'll like my response. The full exchange, minus a few irrelevant sidebars, is below.
FFRF is a national nonprofit dedicated to keeping state and church separate and educating about nontheism. We depend on member support, please join today.