Freethought Now! authors work for the Freedom From Religion Foundation. Follow FFRF on Facebook and Twitter.
---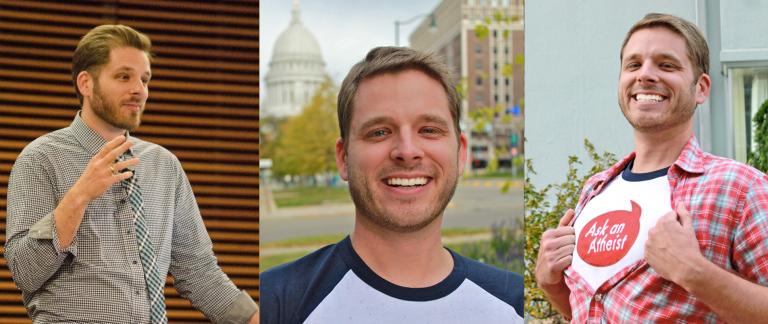 Andrew L. Seidel is a constitutional attorney and the Director of Strategic Response at the Freedom From Religion Foundation. He holds two law degrees: a J.D. magna cum laude from Tulane University Law School, where he won the Haber J. McCarthy Award, and an L.L.M. from Denver University's Sturm College of Law, where he given the Outstanding LLM Award for his perfect 4.0. Andrew has a B.S. in neuroscience and environmental studies from Tulane.
Before dedicating his life and law degree to helping atheists assert their rights and keeping state and church separate, Andrew was a Grand Canyon tour guide and an accomplished nature photographer.
Andrew has appeared on Fox News to debate Bill O'Reilly, MSNBC, and hundreds of other media outlets speaking on behalf of FFRF. Andrew is on the SSA Speakers Bureau and available to talk at your event. He is currently working on a book debunking that idea that America was founded on Judeo-Christian principles.
Follow Andrew on Facebook and Twitter. You can read all of Andrew's posts here.
---

Annie Laurie Gaylor is co-president of the Freedom From Religion Foundation FFRF. She co-founded FFRF in 1976 as a college student with her mother Anne Nicol Gaylor. Prior to becoming co-president in 2004, she was the editor of Freethought Today, the only freethought newspaper in the United States. As a college student at the University of Wisconsin-Madison, she ended a 122-year abuse of graduation prayers in 1976. She graduated in 1980 with a degree in journalism.
Annie Laurie has authored three books on freethought: Woe to Women: The Bible Tells Me So, a reader's guide to the bible's treatment of women; Betrayal of Trust: Clergy Abuse of Children, the first nonfiction book exposing widespread sexual abuse of children by clergymen (out of print but available for free here); and Women Without Superstition: "No Gods – No Masters" the first anthology of women freethinkers. All are published by FFRF and available online.
Annie Laurie has appeared on many talkshows, including Tom Snyder's Tomorrow Show, The Sally Jesse Raphael Show, Phil Donahue's Last Word, Oprah Winfrey, the O'Reilly Factor, Sean Hannity (several times), CBS Evening News, ABC World News and others. She has served as a plaintiff in many FFRF lawsuits as well.
Annie Laurie serves on the Board of Directors of the Women's Medical Fund, the nation's longest continuously-operating abortion rights charity. WMF has helped more than 20,000 indigent Wisconsin-area women exercise their constitutional right to safe abortion care. Annie Laurie has been a lifelong feminist and was on her first picket line at age 14. She was co-chair for more than a decade of the Feminist Caucus of the American Humanist Association, which bestows an annual "Humanist Heroine" award at AHA conferences.
She is married to FFRF Co-President Dan Barker and they have a daughter, Sabrina. Find Annie Laurie on Facebook and Twitter and read all of her posts here.
---
Dan Barker is co-president of the Freedom From Religion Foundation. Dan was a teenage Christian evangelist. He got ordained, pastored in three churches, and did missionary work in Mexico. For many years he had a musical ministry and graduated from Azusa Pacific College majoring in religion. Barker preached the gospel for 19 years before he "just lost faith in faith." Now Dan is an advocate for reason and freethought. He has participated in more than 120 debates, including at Oxford University.
Dan has authored seven books including: Godless: How An Evangelical Preacher Became One of America's Leading Atheists with a foreword by Richard Dawkins; Losing Faith In Faith: From Preacher To Atheist, Dan's autobiographical story of deconversion, and a critical analysis of Christianity and the bible; and Life Driven Purpose: How an atheist finds meaning, with a foreword by Daniel C. Dennett, in which Dan shows that life is more meaningful without god, that true meaning and purpose come from within, not from "out there." Dan's latest book, God: The Most Unpleasant Character in All Fiction, with a foreword by Richard Dawkins, is due out on February 2, 2016.
Dan's other books include The Good Atheist: Living A Purpose-Filled Life Without God with a foreword by Julia Sweeney and three freethought books for children: Just Pretend; Maybe Yes, Maybe No; and Maybe Right, Maybe Wrong.
Dan is an accomplished pianist and songwriter. He has produces three albums of freethought music released by FFRF including Friendly Neighborhood Atheist, a 2-CD musical album with 34 songs, Beware of Dogma (2004), Adrift on a Star (2013) which includes the song "Poor Little Me" that Dan and Broadway composer Charles Strouse (Annie, Bye Bye Birdie) wrote together. Dan's upcoming album with Shelley Segal, Live at Audio for the Arts, will be available soon.
Dan has appeared on Maury Povich, the Sally Jesse Raphael Show, Phil Donahue, Oprah Winfrey, and has the great honor of being one of the few people, and possibly the only guest, to get kicked off Fox News.
Dan is married to Co-President Annie Laurie Gaylor, they have one daughter. He has four children from a previous marriage. Find Dan on Facebook and Twitter and read all of his posts here.
---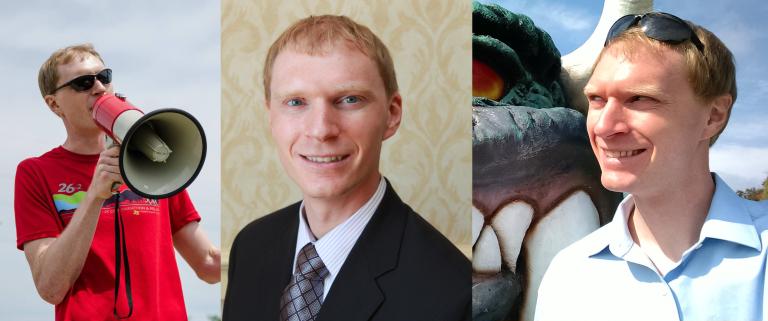 Sam Grover is a staff attorney with the Freedom From Religion Foundation. He holds a B.A. in philosophy and government from Wesleyan University and a J.D. from Boston University.
Prior to working for FFRF, Sam wrote healthcare legislation for the Vermont legislature, interned for Justice Unity Dow of the High Court of Botswana, and wrote an article on counterterrorism and the law in Oklahoma City. His article on the religious exemptions to the Affordable Care Act's health insurance mandate was published in the American Journal of Law and Medicine.
As an attorney for FFRF, Sam has spoken at freethought events across the country on the importance of secular activism. He has appeared on MSNBC, CBS, Fox, ABC, America's Forum, and, of course, Freethought Radio where he has advocated for secularism, critical thinking, and the importance of protecting Jefferson's wall of separation between religion and government.