By Ryan Jayne
Staff Attorney
Freedom From Religion Foundation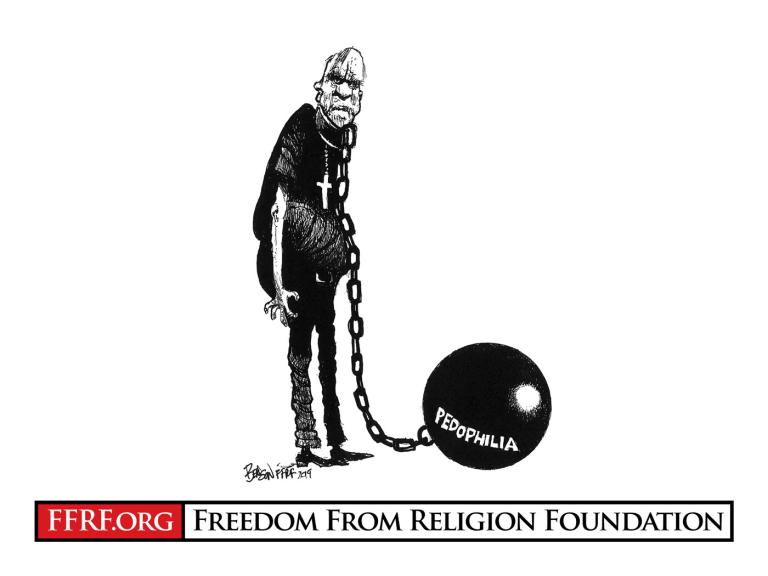 Wisconsin Attorney General Josh Kaul has announced a historic statewide investigation into clergy sex abuse. This investigation is fully warranted and should have been commenced years ago. In fact, the District of Columbia and at least 21 other states have beaten Wisconsin to the punch. Clergy abuse in Wisconsin has been widespread for decades, and history has taught us that churches cannot be trusted to police themselves.
The Catholic League's Bill Donohue, in a letter to Kaul published by CNS News, has ranted against the announcement, spinning tales of anti-Catholic animus and pointing his finger at public schools. Donohue is always the first out of the gate denouncing every attempt to protect children from priestly abusers, no matter how undeniable or reprehensible the facts may be.
Donohue makes the implausible claim that "almost all the molesting priests . . . are either dead or no longer in ministry." His evidence? He's written a book that says so. Just a couple of major problems with this claim.
First, Donohue has been repeating his knee-jerk defense of pedophile priests for well over a decade. The problem hasn't gone away since then, and no one can doubt that a decade from now, he will be making the same arguments every time a church is caught covering up abuse.
Second, Donohue and the church are hardly reliable sources when it comes to uncovering church abuse. Every major abuse investigation includes revelations of the cover-up. Let's let secular law enforcement authorities look into this issue before we conclude the perpetrators have magically vanished.
Donohue is not the only one who has written a book about clergy sex abuse. Almost 35 years ago, FFRF Co-President Annie Laurie Gaylor wrote Betrayal of Trust: Clergy Abuse of Children, the first nonfiction book documenting the widespread patterns of clergy abuse. Sadly, state investigations have repeatedly found that clergy abuse and church cover-ups are more vast than previously anticipated. FFRF's newspaper has run a continuous column, Black Collar Crime, further documenting this ongoing crisis.
Wisconsin's church abuse investigation will hold abusers responsible, will bring justice to many survivors of abuse, and, most importantly, will help to protect Wisconsin children from future abuse. Donohue and anyone else who defend the abusers and try to play "what aboutism" are complicit and should be ashamed of themselves.
This problem will not miraculously vanish any more than the COVID-19 virus did last Easter. Pedophile priests and church cover-ups are not a thing of the past, and their religiosity is no excuse to escape justice.
---
ABOUT THE AUTHOR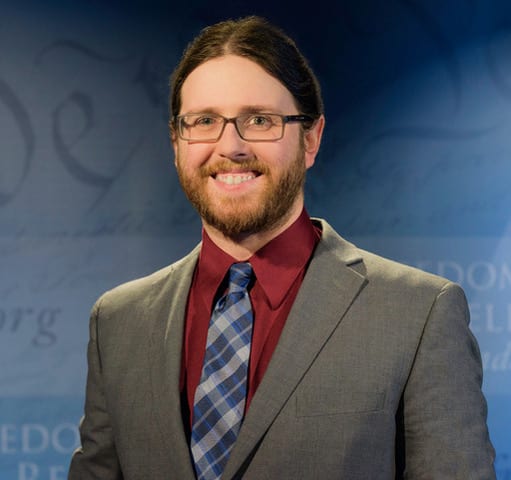 Ryan Jayne received a B.A. in philosophy from the University of Wisconsin-Milwaukee Honors College in 2007. After graduating, Ryan taught piano and chess lessons while working as a financial advisor until 2012, when he began law school at Lewis & Clark in Portland, Oregon. In law school he focused on intellectual property and animal law, serving as an associate editor for the Animal Law Review at Lewis & Clark and co-founding the Pacific Northwest's first Secular Legal Society. Ryan graduated cum laude in 2015, began working with FFRF in January of 2015, and became a Diane Uhl Legal Fellow in September, 2015, specializing in faith-based government funding. Ryan became an FFRF staff attorney in September, 2017.