Reflection
It has taken me three weeks to write this blog. I have been to a lot of festivals, hundreds of them. Each one is different: the good ones are good for a great variety of reasons; the great ones are great in their own way. I attended my first Paganicon this year and this was great plus.
It has been a busy year so far. I attended three festivals in February and a brief break before attending Paganicon. While I do like outdoor festivals, I must say that I can appreciate a hotel-based festival. I used to live in the Twin Cities and it was nice to be back. The hotel had a very unusual design and in some ways was maze-like. No matter where I went In the hotel, it seemed like an adventure.
Arrival
I flew in on Thursday and easily found my way to the hotel. When I checked in at the front desk, I could already see pagans-in-attendance; this was a good sign! The front desk staff took everything in stride and I knew this was a good, too. Standing in the lobby was featured speaker Kristoffer Hughes, head of the Anglesey Druid in Order (ADO), and a person I consider a friend. He greeted me warmly and I chalked this up as a good omen as well.
I saw other Druids from the Midwest passing through the lobby, various pagans of many different backgrounds and traditions, and the over-riding feeling was one of comradery and joy. This joy and feeling of well-being would permeate the next four days at Paganicon. While the sun was brilliantly shining on the hotel and environs, there were still large piles of snow and ice to be seen just outside the doors of the hotel. The front of the hotel was U-shaped and to me, walking in, it seemed like open arms saying "welcome". And welcoming it was.
Featured Presenter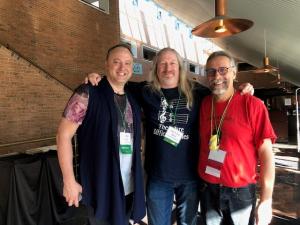 I was invited as a featured presenter which was truly an honour for me. Since this festival would revolve around the concept of the Sacred Grove, I felt that Druidry would be a welcome topic at the festival and I was happy to represent ADF along with a lot of other ADF members. Not only were there ADF Druids, but the Family of Druidry was well-represented with the Order of Bards, Ovates, and Druids (OBOD), the Anglesey Druid Order (ADO), Reformed Druids of North America (RDNA), as well as other Druids, some of them solitary, some of them members of other groups. There were pagans of many traditions and it was a time of great sharing. I learned a lot; I think others did as well.
Organization
Before I go any further, I must shine a spotlight on the organizers of this festival. They were present, available, and welcoming. They always rose to the occasion.
Presenters were feted with a meal of Thursday night and not only was the food VERY tasty, but it was suitable for a wide-variety of diets, including my vegetarian ways. The setting was friendly and relaxed, and indicated once again how this festival was going to be – great! I was so happy to dine with Kristoffer Hughes, Damh the Bard, and Cerri Lee. They are so very knowledgeable and so very nice.
Druids of the Midwest
The Druids of the Midwest put together a beautiful Druid Suite. It was comfortable, beautifully decorated, and a welcome place to sit and visit. There was food, beverages, information, and smiling faces to greet visitors. Workshops and amazing activities – like Ogham Bingo – allowed people from different traditions to get together to find a common purpose – hospitality. Conversations abounded which made this a sharing experience.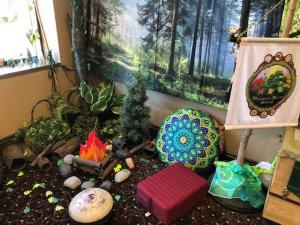 Friday
Friday started early with workshops at 9:00 and a full schedule. The biggest challenge of the entire festival was trying to choose from a wide variety of exceptional offerings all sharing the same timeslots. This was probably the hardest decision of the weekend.
Opening ritual was on Friday, hosted by Jenya T. Beachy. This ritual was a blessing and sharing of waters and featured guests Damh the Bard, Dr. Beverly Smith, Kristoffer Hughes, Cerri Lee, Tuatha Dea, and myself each offered something towards the rite. The ritual was standing room only. Each person's contribution flowed well nicely into the next person's. It was a beautiful beginning to the weekend.
Damh the Bard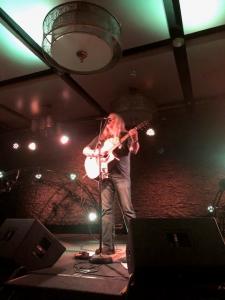 Friday evening promised to be a great musical beginning to the festival with a performance by Damh the Bard. For those who have never heard Damh perform, please, please, please listen to this amazing pagan artist. Damh is not only a fabulous musician but a great herald and representative of OBOD, Druids, and pagans everywhere.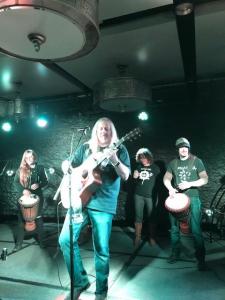 I arrived at the concert early hoping to get a front row seat – which I did get. When Damh first started the show, he invited everyone up to right-in-front-of the-stage, which I speedily ran to! The concert was probably the best show I have ever seen. Damh is SO very real and his music is heartfelt, and it is nice to be able to sing along to all the songs. Oh, my goodness! Damh invited Tuatha Dea onto stage with him during the second half of the concert. which was a doubly special treat. After two plus hours, the show ended, and it was a perfect close for an incredible first day.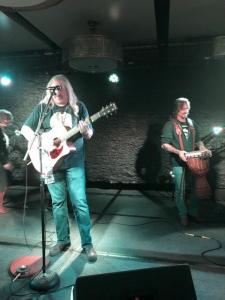 What pagan festival would be complete without fire? Fire wasn't allowed within the confines of the hotel, so a fire pit was set up outside for people to gather around. This provided heat, light, and a intimate way to commune with nature, fire, and other festival attendees.
Saturday
Saturday dawned bright and the day was off to a quick start again at 9:00 with the first workshops. There were excellent workshops and I tried to take in as many as possible while still allowing time to meet and greet with friends new and old. I held a presentation on Devotion in Druidry that I thought went well. I want to thank all of those who attended and shared their thoughts before and afterwards.
There were the first of two Druid panels over the weekend, this one with Damh the Bard, Cerri Lee, Kristopher Hughes, and Heather Roan Robbins. This was a great discussion of Druidry from the perspective of all the members of the panel. Each person on the panel – and probably each in attendance – has their own way of being a Druid – but the discussions were insightful, personal, and powerful.
Saturday night's musical offering was a concert by Tuatha Dea which was just stellar. The rhythms produced by Tuatha Dea are not only invigorating, but inspirational. I kept thinking how very cool it must be to travel from festival to festival with such talented people bringing the gift of music and movement to so many people. All I can say is WOW!
Sunday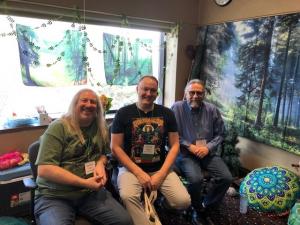 Sunday dawned sunny again, and the festival was moving early again. I was part of a Druid panel in the Druids of the Midwest suite along with Damh the Bard and Kristoffer Hughes. It was great sharing the dais with both amazing Druids. Every time that I listen to or talk to them, I walk away with a better understanding. We had a great audience and the intimate environment of the suite made it feel very welcoming. Thank you to the Druids of the Midwest for making it possible.
I did attend Damh's Druid Magic presentation which was just brilliant. The highlight of the presentation had to be the re-enactment of the story of Gwion Bach, starring Cerri Lee as Cerridwen and Kristoffer Hughes as the transformative Gwion Bach. I don't think I will EVER forget watching Kristoffer turning into a fish. The performance and the workshop were truly magical.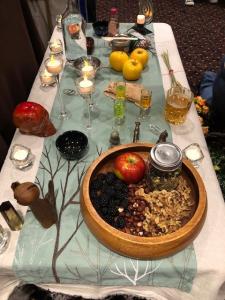 I participated in Uniting Our Groves, A Druid Unity Rite, created by Dale Frampton, Grove Organizer of Protogrove of the Whispering Spirits (ADF). The ritualists were Druids from many different paths, including RDNA, OBOD, ADF, and Northern Roots Grove, an independent Druid Grove made up of members of ADF, OBOD, and RDNA. The altar was just beautiful. The ritual included many Druids participating under the umbrella of an ADF Core Order of Ritual rite. Everyone partook of the Waters of Life. For me, it was the perfect end for a remarkable festival.
Departure
As I packed my bag, said my goodbyes, and headed out the door, I had to look back. This was a festival that was not only good for neo-paganism, but also amazingly good for my soul. I was able to spend quality time with wonderful, sharing people in not only the Midwest Druid Suite, but also throughout the festival. I felt refreshed and renewed and took one more look back, to see if I could still see myself among those gathered there.
Many thanks to the following groups for making a difference with the Druids of the Midwest: Northern Roots Grove, Oakdale Grove (RDNA), Koad Grove (RDNA), Protogrove of the Whispering Spirits (ADF), Protogrove of the Singing Oak Springs (ADF), Sinnissippi Tuath Grove (ADF), Mountain of Bran Beith (OBOD), and the many other Druids that made it all possible – a heart-felt "Thank You" to all of you.
A very special thank you to Paganicon for inviting me to speak and share for the festival. Thank you to all those who made the Midwest Druid Suite a home from home with all of the kindness and hospitality that people come to expect from Druids everywhere. As I looked back one final time, I decided that I too, would come back again.