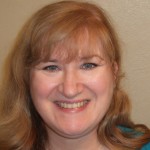 Kathy Nance is a freelance writer and green entrepreneur who lives in Missouri's Gateway City with her cats, Charlie and Lulu.
Her Paganism has its origins in long horseback rides through the Illinois woods with her grandfather and tending gardens with her grandmothers. She took their lessons of the natural world's cycles and our cooperative place in it and went looking for the Divine there as well.
Kathy feels fortunate to live within easy walking distance of a large urban park with an active Fey population and to be involved in an interfaith relationship with an Eastern Orthodox software engineer. Her current spiritual practice starts with daily sitting meditation and is informed by her advanced-level studies with Morningstar Mystery School. She leaves offerings to the Fey and to her ancestors, as well as to a multi-ethnic family of Gods and Goddesses who so far are content to share altar space. (Thank goodness. It's a small apartment!) She also has long-standing but manageable feng shui, tarot, and astrological addictions. To that mix, she adds insights from readings in anthropology, sociology, philosophy, world mythologies, and history.
Professionally, Kathy has a B.S. with majors in mass communications, sociology and English. She has worked as a newspaper education reporter, feature writer, and editor. Her freelance work has been published in general circulation and specialty publications in the U.S. and Great Britain. Before coming to Patheos, she was a featured writer for Civil Religion, the St. Louis Post-Dispatch interfaith blog. She has organized both large and small public Pagan celebrations, bringing together groups from a variety of traditions in the St. Louis area.