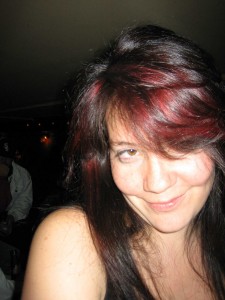 Greetings, fellow religion nerds. Today marks my debut on GetReligion. Since we'll be discussing many stories in coming months, I'd like to share a bit about myself.
I'm a reporter in beautiful Washington, D.C., where I cover the management of government programs for Gannett's Federal Times. I got into the journalism game a bit late, beginning with a stint at Radio & Records, the trade publication for the radio and recording industries. My education and previous professional background are in the dismal science of economics.
Most of my stories are straight news, but I have done some commentary and feature writing on religion, baseball, music, film, books and monkeys. Though my professional experience with the latter does not extend much further than a very exclusive Monkey News list-serv that I run, editors should feel free to contact me on all primate issues (despite a predilection against lemurs that I'd rather not discuss here).
In 2004 I won the Phillips Foundation Journalism Fellowship. This wonderfully generous program permitted me to spend a year researching and writing Losing Our Religion, a book on the changing shape of civil religion in America. Using original reporting, analysis of Supreme Court cases, and general historical review, I argue that the country has an official syncretistic religion.
This interfaith religion preaches that the public square is a great place for religious expression, so long as multiple religions are present; sacred scriptures are excellent for inclusion in political speeches, so long as multiple texts are cited; and state funerals and remembrances of national tragedy or pride can only be marked with religious services led by clergy from multiple religions. Most people think this is fine and good, but I argue that the arrangement trivializes religious differences and disenfranchises those folks who oppose syncretism. No matter where you stand on the issue, the book should make a great Chrismahanukwanzakah gift for everyone on your list next year.
Of course, my interest in these issues is informed by my background. My father is a Lutheran pastor and my mother teaches fourth grade at a government school. Sometimes my parents like to remind me what a difficult child I was. But the bottom line is that I'm Lutheran. Our perspective is unique — focused on the Sacraments, creeds and confessions of faith, and the eternal and otherworldly aspects of the faith. It's in strong contrast to the American idea of religion, which focuses on personal morality and politics. As a result Lutheranism is rarely noticed or understood in the press. It's extremely frustrating but great training for this gig: I've spent decades contemplating what's missing from religious stories. And my past year studying Islam, Buddhism and Hinduism confirmed that the problem extends well past Christianity.
Here at GetReligion, I hope to shed a bit of light and heat on local religion coverage. I grew up reading Old Man Mattingly in the Rocky Mountain News, where I learned that all the best religion stories are local. Snake handlers drinking strychnine don't start out as national news after all. In research for my book, I came to rely on a number of excellent religion reporters at medium to large papers and I look forward to highlighting their work on these pages.
For what it's worth, I attend Immanuel Lutheran Church, a congregation of the Lutheran Church — Missouri Synod, in Alexandria, Va. I serve on the LCMS Board for Communication Services. I also serve on the board of Higher Things, which helps parents, pastors and congregations cultivate a Lutheran identity among youth. I have four awesome nieces and a nephew. I have almost 1,000 LPs, ranging from Sufjan Stevens to Roberta Flack. And my favorite color is green.