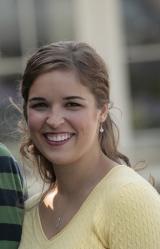 First things first.
Yes, I am the sister of Daniel Pulliam, former GetReligion writer extraordinaire. I began reading GetReligion back in the day because Daniel set my home page to the site. Little did I know I would end up writing for tmatt & co. one day.
I began covering religion news almost five years ago, thanks to an internship at Christianity Today, a highly symbolic magazine that covers the evangelical mainstream. I worried that religion reporting would put a dent in my journalism plans because I wondered whether editors thought it was a legitimate beat. I then discovered that it was one of the most compelling news beats — period — since it plays such an important part of many people's lives.
For example, I found that in the military town of Colorado Springs, people were more interested in discussing the local Episcopal church's split than the recent death toll in Afghanistan. I spent my college summers at newspaper internships, including the Gazette in Colorado Springs and The Columbus Dispatch where I wrote for the religion section (starting the religion podcast) and the state desk.
I studied communication at Wheaton College where I spent most of my time in the college newspaper office. That's where I discovered for myself that Christians don't understand journalism just as much as journalists don't understand religion. But that's the chicken and the egg question, right? Like every good Wheaton student, I took several Bible/theology classes, plus sociology of religion and sociology of evangelicalism.
Post-Wheaton, I began full time at Christianity Today, where I covered religion and politics during the 2008 election. These days, I focus mostly on writing news, updating the politics and women's blogs, and also do book interviews and profiles.
In August, I moved to Green Bay where beer, cheese and Packers reign supreme (insert Brett Favre joke). In September, I married my college boyfriend, who is a copy editor and page designer for the Green Bay Press-Gazette.
I grew up in Indianapolis attending a Reformed Presbyterian church (an itsy bitsy denomination) while my husband grew up in a Christian & Missionary Alliance church. Neither of us currently identify with a specific denomination, so we are "church hopping" in Green Bay. On the side, I read, try to cook, and pretend to play the violin again. I'm also an avid LOST fan, so come January, I'll be looking for those religion hooks.
But back to the work here at GetReligion.
As my sociology of religion professor put it, "how do you capture lightning in a bottle?" In other words, how do you empirically measure religion's impact on a society? There are no convenient Dow numbers, touchdowns or votes to report. So while journalists attempt to cover the who, what, where, when, why, and how questions, they often miss the "why" question. Why did he vote for that candidate? Why does she spend every Saturday at a homeless shelter? Why did he give 10 percent of his income?
If journalists keep exploring that "why" question, they'll often find a religion angle hidden right there in the facts of the story. That's where GetReligion comes in.