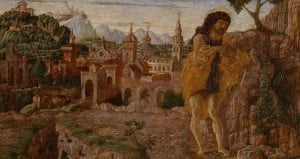 Flannery O'Connor, the great Roman Catholic novelist of the 20th century, once said: "The novelist with Christian concerns will find in modern life distortions which are repugnant to him, and his problem will be to make these appear as distortions to an audience which is used to seeing them as natural; and he may well be forced to take ever more violent means to get his vision across to this hostile audience. When you can assume that your audience holds the same beliefs you do, you can relax a little and use more normal means of talking to it; when you have to assume that it does not, then you have to make your vision apparent by shock—to the hard of hearing you shout, and for the almost-blind you draw large and startling figures."
We are in a generation that is deaf, dumb, and blind. The world portrayed by the news, by TV, movies, music, and literature is a distorted one, hostile to Christianity. John the Baptist was born into such a generation – a generation that didn't understand the nature of the coming Messiah. And so John shouted and became a startling figure.
John the Baptist, if you transported Him here today, would appear to us as one weird dude.
Strange even for his own day. But true prophets are always strange and doing weird things like sleeping naked on their side or eating scrolls or withering fig trees. This is necessary because in a world that is upside down you must go to extraordinary lengths to show the world that it is, in fact, upside down.
And so it is that you and I are to be the John the Baptists of our generations. You and I are to prepare the way of the Lord – and we might have to be strange and unpopular in order to do it. Like John the Baptist, we might have to appear to wear Camel's Hair and a Leather Belt, and eat Locusts & Wild Honey.
Go ahead, you have permission to be weird to the world. How can disciples of Jesus Christ not be?
In particular, God is saying to you and to me that there is a desperate need for prophets in this day. Second, that there are certain characteristics that true prophets of God have. And third, that there are certain rewards for being a prophet, but not always what we'd expect.
We have the wrong ideas about prophets and prophecy. We mistakenly think that prophecy is primarily about future predictions, as if the prophet were just a gimmick. But in the Bible, a prophet is one who speaks the word of God. In the Bible, prophets say, "God is coming, and He's bringing blessing for those who love and obey Him and curses for those who don't love Him and who disobey Him."
But because there are people who don't know God or His message of salvation, we are all called to be prophets in some sense. As St. Paul reminds us, in Romans 10:14, "How then shall they call on him in whom they have not believed? and how shall they believe in him of whom they have not heard? and how shall they hear without a preacher?"
The fact is that even those of us who have heard the Word of God and are struggling to live by it need constant reminders and encouragements and proclamations of God and His Word. Hey, if the heavens can shout about the glory of God and the firmament declare it, then shouldn't we, who are even more glorious and God-like, do it?!
The truth is that you and I are God's appointed means of leading people to Himself through His Son, Jesus Christ. But what if we refuse to answer God's call? What if we comfortably sit in our pews once a week and assume it's someone else's job?
At approximately 3:20 on the morning of March 13, 1964, twenty-eight-year-old Catherine (Kitty) Genovese was returning to her home in a nice middle-class area of Queens, NY, from her job as a bar manager. She parked her red Fiat in a nearby parking lot, turned-off the lights and started the walk to her second floor apartment some 35 yards away. She got as far as a streetlight when a man grabbed her. She screamed. Lights went on in the 10-floor apartment building nearby. She yelled, "Oh, my God, he stabbed me! Please help me!" Windows opened in the apartment building, and a man's voice shouted, "Let that girl alone." The attacker looked up, shrugged and walked-off down the street.
Kitty struggled to get to her feet. Lights went back off in the apartments. The attacker came back and stabbed her again. She again cried out, "I'm dying! I'm dying!" And again the lights came on and windows opened in many of the nearby apartments. The assailant again left and got into his car and drove away. Kitty staggered to her feet as a city bus drove by. It was now 3:35 a.m. The attacker returned once again. He found her in a doorway at the foot of the stairs and stabbed her a third time–this time with a fatal consequence. It was 3:50 when the police received the first call. They responded quickly and within two minutes were at the scene. Kitty was already dead.
The only person to call, a neighbor of Kitty's, revealed that he had phoned only after much thought and an earlier phone call to a friend.
He said: "I didn't want to get involved."
Later it was learned that there were 37 other witnesses to the stalking and stabbing over the half-hour period. Why did no one offer any help or call the police earlier when it might have helped? The story and question were front-page news across the country.
The police stressed how simple it would have been to have gotten in touch with them. "A phone call," said one of the detectives, "would have done it."
A housewife, knowingly if quite casually, said, "We thought it was a lovers' quarrel."
A husband and wife both said, "Frankly, we were afraid." They seemed aware of the fact that events might have been different.
A distraught woman, wiping her hands in her apron, said, "I didn't want my
husband to get involved."
One couple, now willing to talk about that night, said they heard the first screams. The husband looked thoughtfully at the bookstore where the killer first grabbed Miss Genovese. "We went to the window to see what was happening," he said, "but the light from our bedroom made it difficult to see the street." The wife, still apprehensive, added: "I put out the light and we were able to see better."
Asked why they hadn't called the police, she shrugged and replied: "I don't know."
A man peeked out from a slight opening in the doorway to his apartment and rattled off an account of the killer's second attack. Why hadn't he called the police at the time? "I was tired," he said without emotion. "I went back to bed."
It was 4:25 A.M. when the ambulance arrived to take the body of Miss Genovese and drove off.
"Then," a solemn police detective said, "the people came out."
Brothers and sisters: there are people out there dying, not just because their
bodies have stopped working but also because their souls have stopped living for God.
This is not the time or place for excuses about why we can't get involved. What a shame and a tragedy, if we only come out after someone we could have shared Jesus Christ with has already died.
When it comes to evangelism, to sharing the good news of Jesus Christ: you and I are the someone else!
Like John, we have an urgent message, and that message is Jesus Christ and everything about Him and what He has done and is doing. Like John, we should be bold and courageous: we should, culturally speaking, be willing to wear a camel's hair coat and eat locusts and wild honey.
Like John, we must be humble because of who God is, and because of our own sinfulness and weakness. Like John, I humbly say, "I am not worthy even to unloose His sandal strap." Watch closely what people in the Bible say about Jesus and themselves, and then look for the same pattern in people today. When God's people are faithful they always boldly proclaim, "I am a disciple of Jesus Christ, who is the Lamb of God that takes away the sins of the world." When they are ashamed and cowardly, like Peter, they say (to God's I AM), "I am not. I am not one of those kinds of Christians. I just want to get along and not be noticed. I am not weird, and you won't catch me wearing a camel's hair coat or eating locusts!" When they are humble, they say, as John says here, "I am not. I am not the Prophet. I am not the Christ. I am not the one you are looking for. But I am the voice of one crying in the wilderness, 'Make straight the way of the Lord.' I am a witness to the One you are seeking, and there He is, Jesus Christ, the Lamb of God that takes away the sins of the world."
Like John, every true disciple of Jesus Christ will look strange to a blind, deaf, dumb, and dying world. How could we not? Now I've been known to have a little strangeness of my own. Just look at the books on my bookshelves, the art work on my walls, the records in my collection, etc. Jackie was the "strange" one among her family; but she gave up claim to strangeness when she met me; and in my own Erlandson clan, even I am not the strangest one.
But I'm also very strange because I insist on talking about Jesus Christ. I insist on doing certain things and not others, and I insist on having my kids live differently from the world and thus have infected them with my Christian strangeness.
Like John, there is also a reward for every good and faithful prophet. There is, of course, the salvation of your soul. There is the glorious reward of participating in the kingdom of God, and in His work. There is the peace at night of having spoken the truth and having obeyed the Master.
Yes, there is also the reward of the head on a platter, the rejection by the world in the many forms in which it comes. But even this is the prophet's reward, for even in suffering and persecution, we are sharing in the life of Jesus Christ.
Sometimes Christians do some strange, weird, or goofy things.
I've heard of preachers dressing up as Superman and Elvis Presley to bring people into the Church. And one priest celebrated the Holy Communion as a clown. And for only $29.95, your child can receive from you this "collectable, soft and cuddly, hypoallergenic" Huggy Jesus doll designed to let kids know how much the Lord loves them. By parting with a piddling 37 bucks, says HuggyJesus.com, "All can enjoy the warmth and comfort of Huggy Jesus." (If you want more proof, go find "Jesus is My Friend" by Sonseed on Youtube!)
But I'm even more concerned about Christians bending over backwards to hide and fit in so well that no one can tell they're Christians. The sobering statistics are that in terms of what they watch, listen to, read, and how they live there is very little difference today in America between Christians and non-Christians.
So prophets, the messengers of Jesus Christ, will be a little strange. It may look to the world that we are wearing Camel's Hair and a Leather Belt, and eating Locusts and Wild Honey. But if we must be strange to this world estranged from God, and I think we must, then let us be strange because God is strange to people.
Let us be humble before God, humble enough to answer His call to do His will by proclaiming His gospel everywhere we go.
Resolution: I resolve to find one way today in which I can boldly proclaim Jesus
Christ, remembering that my prophetic utterance can also be to other Christians.
Prayer: Almighty God, by whose providence thy servant John the Baptist was wonderfully born, and sent to prepare the way of thy Son our Savior by preaching repentance: Make us so to follow his doctrine and holy life, that we may truly repent according to his preaching; and after his example constantly speak the truth, boldly rebuke vice, and patiently suffer for the truth's sake; through the same thy Son Jesus Christ our Lord. Amen.
Points for Meditation:
What is it that keeps you from more boldly proclaiming Jesus Christ to others?
In what ways could you be proclaiming Jesus Christ to other Christians?
Is there someone you should be proclaiming Jesus Christ to but have not?
John the Baptist – U.S. Public Domain