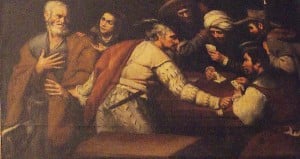 "Surely it is not I, Lord!"
Surely I am not the disciple who will betray You.
That is what we all say whenever read this passage, for we cannot help but have our hearts burn within us when we read of the betrayal of our Lord once again.
First, we read of betrayal by Judas, one of the 12.  How terrible this betrayal is!  How chilling when we read, in St. John's account (John 13), that the devil had already put betrayal into Judas' heart before the end of the Last Supper and read that after Jesus had given Judas the dipped piece of bread that Satan entered into Him.  How terrible to be betrayed by a kiss, of all things!
And yet I find that there is a betrayal that shames me even more, and that is Peter's betrayal.  Every time I read about Judas, I expect him to betray Jesus.  I allow it.  But when I read that Peter, too, even Peter betrayed Jesus, then I am truly saddened and hurt.  I never hope or expect to be like Judas, with his purposeful and demonic betrayal.  But I do expect to be like Peter, ever-ready to give his little faith to His Lord.
Surely, Peter is not the disciple who will betray You.
But he does.
And we do.
I have known some Judases, disciples who, over time, have allowed themselves to walk so far away from their Lord that they are capable of the most callous betrayal of their Lord.  But, I have known a lot more Peters, disciples who, out of weakness, also betray their Lord.
I know them, because they are each one of us, in the small ways we betray our Lord each day.  Very few of these little betrayals are as deep or terrible as Peter's, and yet they are betrayals.  Each time that we have done what our Lord commanded us not to do and each time that we have not done what He commanded us we must do, we have betrayed Him.  Whenever the Lord has asked us to walk with Him or speak of Him to others or respond to His presence, and we have not, we have betrayed Him to some degree.
Some of our betrayals, that is sins, are more overt and "in your face"; some are out of weakness; and some are almost unconscious.
Whatever the degree of betrayal, there are 2 responses we should have to each of them.
The first is Peter's response to his betrayal here.  When Peter came to his right mind and heart, and realized what he had done, he "went out and wept bitterly."  That should be our response to every betrayal to Jesus, to our every sin.  I don't think it's possible or necessary to actually have this level of emotional response to every sin we commit.  It is a mistake to think that every confession of sin and act of repentance should be judged by its emotional intensity.  And yet Peter's whole-hearted recognition of his betrayal is exactly what our Lord desires when we confess our sins.
I remember a small betrayal of mine: it took place in 4th grade.  Back in 2nd and 3rd grade I had made a reputation for myself by writing crazy stories filled with humorous (to 2nd and 3rd grade boys, anyway) stories.  I wrote one story with an entire page of "very"s.  The ___ was very, very, very . . . .  I wrote a lot of stories with built in audience participation, and I achieved this by allowing the class to pick adjectives at key moments.  For example: "One day, Johnny met a girl on the street.  The girl was  a) ugly   b) stupid  c) smelly  or  d) mean."
4
th
grade was a new school year with a new teacher I was trying to impress.  One day my friend Terry Williams came up to me and said, in front of the teacher: "So, Charlie, do you still write those funny stories?"  Thinking she might think my stories stupid (or ugly, smelly, or mean), I pretended not to know what in the world Terry was talking about.  A small betrayal, to be sure.  But I felt terrible, for I knew what I had done.  How much more should we feel terrible about our daily betrayals of our Lord.
Judging the seriousness of our sins is therefore very important.  One of my favorite hymns "Ah, Holy Jesus" helps me to remember the seriousness of my sins.  The 2nd verse says:
"Who was the guilty?  Who brought this upon thee?
Alas, my treason, Jesus hath undone thee.
'Twas I, Lord Jesus, I it was denied thee:
I crucified thee."
The second response we should have to our betrayals is not actually here in this passage, but it would be wrong to simply leave Peter and ourselves suspended in a world of betrayal and bitter weeping with no hope of restoration.  The second response, then, is to actually confess our betrayals, repent of them, and accept the mercy of our Lord once again.  We should remember that this same Peter was later restored by His Lord.  This same Peter, when filled with the Holy Spirit, became God's chosen vessel to help turn the world upside down!
It was for such betrayals that Jesus died.  But it is also in such betrayals, when confessed and repented of, that He comes to you with grace and mercy in His hand.
Prayer:  Thank you Jesus for dying for such betrayers as myself.  Lead me to confess each act of betrayal today and turn from them wholeheartedly.  Restore me to Your presence, where there are joys forevermore. 
Point for Meditation:  How well do I repent?  Do I often forget to repent of my sins?  Am I as aware of my sins and how terrible they really are?  Do I repent lightly and not prayerfully and vowing before God to respond better to His grace by obeying?  Do I ask forgiveness but don't truly hear God's absolution and forgiveness?  Assess your process of repentance and how it might more faithfully allow you to acknowledge your sins, confess your sins, turn from those sins, and receive God's absolution. 
Resolution:  I resolve to be aware today to the Spirit's prompting me to pay attention to the ways I still choose to betray my Lord.   I resolve to respond quickly and with true confession and repentance every time the Spirit speaks, no matter how quietly. 
Peter's Denial of Jesus – U. S. Public Domain