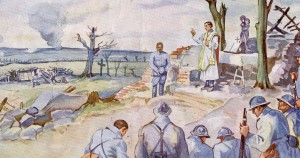 Strange days have found us. Strange days have tracked us down.
We have seen strange things today!
An invisible miracle takes place in the Erlandson household every evening after our common supper. A great multitude comes together to hear the report that is going around concerning Jesus of Nazareth. A great multitude gathers together to be healed by Him of their infirmities.
Jesus heals those who are deaf and dumb, and those who are blind and numb, those who are plagued by evil spirits and are the outcasts of society, and those who paralyzed and are sinners.
It's really quite an amazing thing – you ought to see it sometime!
Every evening after our common meal, a motley band of miscreants, lepers, and generally broken people straggle from the dinner table to the living room table where we come to worship God. The very first thing we come to do, after being called to attention to God, is to humbly confess our sins before Almighty God.
We have yet to see an instantaneous physical miracle: the kids still get their boo boos, and I still have my chronic fatigue (even with several kids earnestly petitioning the Lord every night).
But what we witness every evening is something even more wonderful and amazing, even though it usually doesn't seem like it. What we witness every evening is the miracle of the forgiveness of our sins. Every evening we come before Jesus, saying, "Lord, if you are willing, You can make me clean!" And every evening we hear the most amazing words, when Jesus says, "I am willing; be cleansed."
When He sees our faith, and when we are truly penitent, He says to each of us: "Man, your sins are forgiven you."
Our response ought to be to listen more attentively to His Word and seek more diligently to obey. It ought to be to depart to our own house glorifying God. A lot of the time we Erlandsons go on our not so merry way, as if nothing particularly significant has happened. Too often we are like the nine lepers who forget to show thanks and offer the appropriate sacrifices. What is truly amazing and strange sadly becomes ordinary and routine.
But the fact remains, that every evening we witness the most important miracle of Jesus Christ: the forgiveness of our sins.
This Jesus Christ, the one who healed the man from leprosy and who healed the paralyzed man, is the one who can and will heal you. He is not obligated to heal your body from every ailment, but He does offer the miracle of the healing of the forgiveness of your sins. As often as you sin and as often as you have true faith and repent, vowing to sin no more, Jesus Christ will forgive you of your sins.
The physical miracles in the New Testament were so that people would know that Jesus Christ had the power to forgive sins. But we already know – or should know – this. Even without the physical miracles, God offers you today the miracle of the forgiveness of your sins.
Come to Jesus Christ today, to be cleansed. No matter how many sins you have committed or how terrible they are, come to Jesus Christ to be cleansed. Come humbly and freely confessing all. Come with faith and true repentance, and you, too, will witness a strange and marvelous thing. For you, too, will hear those blessed words: "I am willing; be cleansed" and "Man, your sins are forgiven you."
Prayer: Almighty and most merciful Father; I have erred and strayed from thy ways like a lost sheep. I have followed too much the devices and desires of my own heart. I have offended against thy holy laws. I have left undone those things which I ought to have done; and I have done those things which I ought not to have done; And there is no health in me. But thou, O Lord, have mercy upon me, a miserable offender. Spare the one, O God, who now confesses his faults. Restore me, as I am penitent; According to thy promises declared unto mankind in Christ Jesus my Lord. And grant, O most merciful Father, for His sake; That I may hereafter live a godly, righteous, and sober life, To the glory of thy holy Name. Amen.
Grant, I beseech thee, merciful Lord, to thy faithful servant pardon and peace, that I may be cleansed from all my sins, and serve thee with a quiet mind; through Jesus Christ my Lord. Amen.
Point for Meditation: Meditate on the condition of your soul before the Lord. Have you truly acknowledged your sins before Him? Search your heart deeply and honestly: don't hide anything from yourself or the Lord (as if you could!) What sins still lurk in your heart that you are unwilling to give up?
Have you truly sought God's forgiveness? What is keeping you from freely confessing all your sins?
Do you truly desire to turn from your sins (to repent), or are you just looking for a "quick fix" to make you feel better? To receive forgiveness, you must be willing to actually turn from your sins, and not just to ask God to wave His magic wand.
Resolution: I resolve to spend time today confessing each and every sin I have committed today and all of those unconfessed sins from other days, that I might receive the forgiveness of sins. After confessing my sins, I will vow to truly repent and turn from them and go and sin no more.
Absolution from Le diplôme de mérite d'une écolière de Melle (Deux-Sèvres) – Creative Commons CC0 1.0 Universal Public Domain Dedication