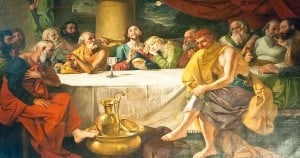 What is this thing that Jesus does, this Last Supper, which is the Church's first Communion?
I love a number of Communion hymns, but one that creates chills and goosebumps in me is "Come, Risen Lord" (this happens to me only when it's sung to the "Edsall" tune.) The words that get me most are: "we meet as in that upper room they met." Sometimes when I sing that hymn I am aware of a mysterious connection between myself, the worshiping parish I'm in, the disciples in the upper room at the last supper,  and the church universal.
Sometimes in this life I find that there is a mystical connection between one thing and another. I'm not a very good mystic, even though I've read some of the mystics, but I've had a few quasi-mystical experiences. One of my favorites was in 2006 when I was visiting "Bede's World" (Bede's World, Bede's World!) in Jarrow. There I was able to put on a monk's garb, as if I were putting on the spirit of Bede. At the time, I was finishing my Ph. D. and working on Give Us This Day from a small Reformed Episcopal Church parish in Hot Springs, Arkansas: St. Chrysostom's.
After leaving Bede's World, I visited Bede's tomb at Durham Cathedral. As I was thanking God for his life and work and asking for guidance in my own, I became aware of a close connection between the Venerable Bede and myself. He seemed to be telling me that it was a good thing for me to be in a small place with a small window on the world because often that provided just the kind of clarity and focus one needed to see the invisible in the visible. He told me that if he could be the most learned man of his day, never having strayed far from Jarrow, that I could likewise serve God from a small parish in a small town. Finally, he communicated to me that I could be of similar service to God if I would continue to humble myself before Him in the small things of life.
Sometimes in this life I find that there is a mystical connection between one thing and another. And so it seems sometimes as if Jesus' disciples are present with us at the Lord's Supper and as if I am present with them at the Last Supper. The Holy Communion has a way of translating us into God's time in which time does strange things in this post-Einsteinian world.
Here, in the Lord's Supper, Holy Communion, Eucharist, or Mass, we are united to Christ; here, we are made the Body of Christ again. Here, gathered together around the Table to unite in fellowship, are all the great events in the life of Christ: the Incarnation, Crucifixion, Resurrection, Ascension, and Pentecost of Christ.
"And as they were eating, Jesus took the bread, blessed, and broke it, and gave it to them and said, 'Take, eat; this is My body.'"
Here is the pattern of all life and creation, made manifest by God in His creation and here in His re-creation: He takes hold, breaks, distributes, evaluates, and then enjoys.
In a moment of time, as Christ breaks the bread, He has broken it, He breaks it, and He will break it: time takes the form of ancient and venerable history; it smacks me in the face as a present force; and it whispers deliciously to me of what will always be.
As I see Jesus take the bread in Mark 14:22, I see Jesus' birth and Incarnation. God takes hold of His Creation and becomes a part of it so that He might redeem it. As I see the priest take hold of the bread, I see Jesus take hold of the bread. The Incarnation is present here at the Eucharist, and God once again pronounces over His creation, "It is good, it is very good!"
As I hear Jesus bless the bread, I sense His holy and perfect life. The birth of Christ is forever connected to the life of Christ: God blesses what He took hold of for us, whether human life, or the bread of the earth, or the Bread of Life that unites them both. The Son didn't become man only to die but also to live, and by that holy life which He took and lived we are made holy as well.
As I see the bread be broken and hear the snap of its moment of brokenness, I hear and see the coming Crucifixion. Here, as the bread is broken, the body of the Bread of Life is also broken. Broken 2000 years ago in Mark 14, broken today in Mark 14, and broken forever as the one, sufficient, and perfect sacrifice for the life of the world. Here is Christ's sacrifice: once broken and always broken; once offered and always offered.
As I feel the bread as my turn to partake arrives, I feel the Resurrection, Ascension, and Pentecost of Christ. Here is the life of Christ, who though He was dead now lives again. Here is the Resurrection, promising that after the life of Christ has been offered and taken, He will take it up again. Here is the Ascension, promising that the human life which Christ took hold of has now been glorified and has entered heaven so that the divine and human may dwelling together forever. Here is the Pentecost of Christ, the life of Christ given for the Body of Christ: as Christ is broken and ascends into heaven, He is miraculously multiplied as the members of Christ are knit together into the one Body by His Spirit.
In the beginning, God commanded Adam and Eve not to eat of one tree. But now He commands us to eat of one tree, Jesus, the Tree of Life. Christ is the food on which and by which His Body lives. In the Lord's Supper, He has given, He gives, and He will give Himself to us as the heavenly food, so that He might be with us and we in Him forever.
Here, not only past, present, and future meet; not only the Incarnation, life, Crucifixion, Resurrection, Ascension, and Pentecost of Christ meet; but also God and man.
If all of this is too abstract, and it probably is, then remember this: that Jesus Christ offers Himself, all of Himself, to you in His Supper. If you're having trouble seeing, hearing, and feeling Him today, then make it your intention to partake of Him more frequently and more faithfully. This will require planning and preparation, meditation and memory, but it's the most important thing you can do this week.
Like the disciples, let us go and eat Jesus Christ today and, having eaten, go and sing a hymn of eucharist!
Prayer: All glory be to thee, Almighty God, our heavenly Father, for that thou, of thy tender mercy, didst give thine only Son Jesus Christ to suffer death upon the Cross for our redemption; who made there (by his one oblation of himself once offered) a full, perfect, and sufficient sacrifice, oblation, and satisfaction, for the sins of the whole world; and did institute, and in his holy Gospel command us to continue, a perpetual memory of that his precious death and sacrifice, until his coming again.
We most heartily thank thee, for that thou dost vouchsafe to feed us who have duly received these holy mysteries, with the spiritual food of the most precious Body and Blood of thy Son our Saviour Jesus Christ; and dost assure us thereby of thy favour and goodness towards us; and that we are very members incorporate in the mystical body of thy Son, which is the blessed company of all faithful people; and are also heirs through hope of thy everlasting kingdom, by the merits of his most precious death and passion. And we humbly beseech thee, O heavenly Father, so to assist us with thy grace, that we may continue in that holy fellowship, and do all such good works as thou hast prepared for us to walk in; through Jesus Christ our Lord, to whom, with thee and the Holy Ghost, be all honour and glory, world without end.  Amen. (From the Prayer of Consecration and the post-Communion Prayer from The Book of Common Prayer)
Points for Meditation:
How does Jesus' Last Supper relate to my life outside of the hour of the Lord's Supper? How does He come to me through the things of this life? In what ways is the Lord using the things of creation to unite me to Him?
How can I more faithfully seek the Bread of Life today?
Plan to sing at least one hymn of praise to God sometime today.
Resolution: I resolve to prepare adequately for the next time when I will partake of the Body and Blood of Christ in the Holy Communion.
Last Supper – Creative Commons Attribution-Share Alike 3.0 Unported license