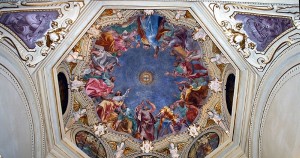 Welcome to Spirit-Reality!
If you're like me, everyone you know is interested in spirituality. But everyone has a different take on just what this means.
Every Christian you know is also probably interested in the Holy Spirit.
And yet not many people come to the obvious but soul-blowing conclusion that "spirituality" is really "Spirit-uality," life in the Spirit.
And so I want in my new blog to explore Christian Spirituality, or life in the Spirit. In a way, it's the culmination of my life's work, as I draw together the things I've written, am writing, and will write about life in Jesus Christ and, therefore, life in the Spirit.
Over the years ahead (yes, I have a Master Plan!) I hope to write about the following:
– the meaning of spirituality
– the truth behind the phrase "I'm spiritual but not religious"
– Trinitarian triads and Trinitarian spirituality hidden in plain sight all throughout creation and culture
– a Trinitarian definition of religious identities
– an entire scheme for Christian Spirituality
– book reviews of books on psychology, sociology, change, influence, habits, addiction, the science of excellence, personality tests, etc. that can all be seen as consistent with an authentic Christian spirituality
– worship, prayer, and "going to church"
– suffering
– technology, the arts, and spirituality
In my next post I'll tackle that ubiquitous slogan: "I'm spiritual but not religious."
Pentecost, San Marco Milan – By permission of copyright holder