The time has come to seek support.  I've been writing for about a year and a half now and my plate just keeps getting fuller and fuller!  It's a good problem to have, but there's so much that needs to be done and I could use your help getting it done.
Between writing the blog, responding to emails, interacting with other writers, moderating discussion groups, and generally networking with a growing list of friends, I'm swamped!  And there's so much more I'd like to do.  I want to make some videos, and there are several creative projects which will remain on the backburner until I can clear some time in my schedule to devote to them.  I have the beginnings of three books to write, scads of blog post ideas, and reader questions to answer. On top of that, I see a growing need for someone to help freethinking groups across the South to connect with each other to improve communication and share ideas for growing and strengthening their groups.  I believe in the importance of secular communities, and I want to help them grow.
With a little bit of reader support, I could devote more of my time to working on these things, and now there's an excellent way to help me out!
I've set up a Patreon page wherein you can become a monthly sponsor for the creation of more content on this site.  You could give as little as a dollar a month, or you could give more.  If you want to be a regular sponsor, you can set it up to give a small amount every month. Just click the image below: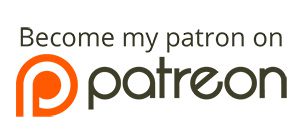 On the other hand, if you'd prefer to just give a gift from time to time to help out (my children will thank you), you can also give through Paypal using this button:
I'll soon have both the Patreon page link and the Paypal button featured on the sidebar on the right so that they will be easy to find in the future.
If you've been helped by what you've read on Godless in Dixie, I hope you'll consider giving a little to help me do more for those who haven't yet connected with people through this site.  I can't keep it up without some help, and there's so much left to do!  Feel free to ask me any questions you like about how the money would be used (the short answer is that I can either keep up multiple part-time jobs on top of my full-time job or else I can write, but I can't do both).  I'm excited about the opportunities I see ahead of me, but I can't do it without you.