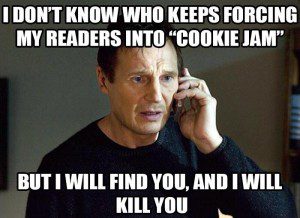 Many of you have voiced your frustrations to me about the annoying way this blog is causing redirects to game apps and random unwanted solicitations. I feel your pain. I have a bad internet connection at my day job and these redirects actually make it nearly impossible for me to comment on my own blog during the day because I can only access this site from my phone while I'm at work. If you use an iPhone like I do, that makes commenting on the blog nearly impossible because the page won't even finish loading before BAM! you're sent to some asinine game app you didn't want and you can't even get back to my blog to finish reading it, much less comment on it.
I'm so sorry. The Patheos tech support team has been working overtime trying to catch the scripts that are making this happen because it is NOT something Patheos agreed to at all. The site is essentially being hacked by opportunists who are exploiting a weakness, particularly in the iPhone's setup.
So would you please help us catch these annoying turds? Here's how you can help us do it. The next time it happens to you on a computer, you can:
… RIGHT-click on the ad
… Click "Inspect Element" (A window of code will open)
… Take a screenshot of the entire window and all the code.
… Email the screenshot to blogops@patheos.com
… We do NOT need a screenshot of the ad itself. ONLY the code window.
Thank you so much for helping us with this. I don't have a good way to catch it while you're on a phone, but if enough people will help us this way it should cut down on this annoying problem.
Thanks for your patience.