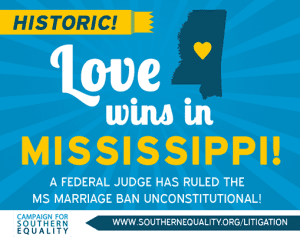 U.S. District Judge Carlton W. Reeves granted a preliminary injunction today, effectively overturning Mississippi's state marriage ban after hearing five hours of argument during a hearing on November 12th for the Campaign for Southern Equality v. Phil Bryant.  Last year the Campaign's lead attorney, Roberta Kaplan, represented Edie Windsor in the landmark case, United States v. Windsor, which struck down the Defense of Marriage Act. Now she and Mississippi attorney Robert McDuff of McDuff & Byrd are representing Becky Bickett and Andrea Sanders of Harrison County along with Joce Pritchett and Carla Webb of Jackson, who married in Maine last year.
Along with the ruling overturning the same-sex marriage ban, Judge Reeves also granted a 14-day "stay" before the injunction goes into effect in order for the state to appeal the case to the 5th Circuit Court of Appeals.  It is widely expected that the 5th Circuit will block the lower court's ruling, preventing same-sex couples from obtaining marriage licenses until such a time as this or a similar case can be appealed to the Supreme Court.
Judge Reeves, a 2010 appointee of President Obama and only the second African-American federal judge in the state, issued the following opinion (excerpted from the full ruling, available here):
It has become clear to the court that people marry for a number of reasons: marriage is a profound source of emotional support; marriage is a private and public expression of commitment; some marry in exercise of their religious beliefs; some do so because it opens the door to economic and government benefits; there are those who marry to present a certain status or image; and others do it for the noble purpose of legitimizing their children. In reviewing the arguments of the parties and conducting its own research, the court determined that an objective person must answer affirmatively to the following questions:

Can gay and lesbian citizens love?
Can gay and lesbian citizens have long-lasting and committed relationships?
Can gay and lesbian citizens love and care for children?
Can gay and lesbian citizens provide what is best for their children?
Can gay and lesbian citizens help make their children good and productive citizens?
Without the right to marry, are gay and lesbian citizens subjected to humiliation and indignity?
Without the right to marry, are gay and lesbian citizens subjected to state-sanctioned prejudice?

Answering "Yes" to each of these questions leads the court to the inescapable conclusion that same-sex couples should be allowed to share in the benefits, and burdens, for better or for worse, of marriage.

The court concludes that Mississippi's same-sex marriage ban deprives same-sex couples and their children of equal dignity under the law. Gay and lesbian citizens cannot be subjected to such second-class citizenship. Mississippi's same-sex marriage ban violates the Due Process and Equal Protection Clauses of the Fourteenth Amendment. 
The battle for marriage equality in Mississippi is far from over, but today was most certainly a clear victory for the Campaign for Southern Equality.  It's at least a partial victory in a state which I swore would be the last to see it, and that's a cause for celebration.  It also means I probably owe James Croft money since Mississippi is now one step ahead of Missouri in the battle for marriage equality.