In case you haven't read it yet, you should be sure to read yesterday's guest post by my friend Brian (aka "The Apostate").  Like me, Brian has a lot of Reformed theology in his background, and he understands how Calvinists think.  Like me, he was taught the presuppositionalist method of apologetics which essentially represents a retreat from arguing about evidence for faith into arguing about arguing about evidence for faith.  It's a kind of meta approach that resulted from the realization that traditional arguments for God just don't carry the same weight that they used to carry.  We live in an age where people are accustomed to being lied to and advertised to all the time, so we're getting better at smelling a sales pitch (well, some of us are anyway).  More and more folks nowadays need to see proof before they commit to something, and arguments aren't evidence.
Brian takes the biblical assertion that deep down everyone really is a closet Abrahamic monotheist and inverts the argument, asking if there's evidence that deep down even those who profess faith don't really believe the stuff they say they believe.  For devout theists, this doesn't carry any more weight than the Calvinists' method does for us skeptics, which is why the title calls it "a bad argument."  Inconsistency of conviction among those who profess faith isn't what determines whether or not the stuff they say they believe is true.  But I see great value in making this point anyway because recognizing that you know better than to fully believe the stuff you say you believe may very well help you snap out of it and come to grips with the way things really are.  A person who consistently takes the Christian message (particularly the evangelical Christian message) and tries to live by it would probably injure himself.  Nobody who's sane could live that way.
That's why my new friends Cass Midgley and Bob Pondillo call their podcast Everyone's Agnostic.  It's a nod to the fact that if you look at how we live and work in the world, we don't really fully believe all the things we say we believe.  Deep down, everyone's agnostic.  Cool name.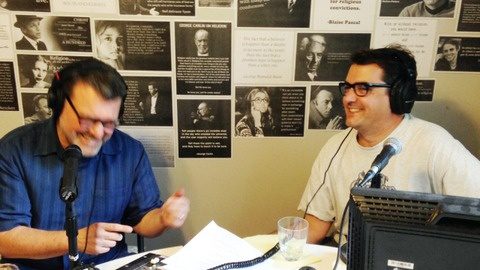 Cass and Bob invited me to join them on their podcast and we chatted for more than an hour about my own personal journey from evangelical Christianity to atheism.  It was a fun talk, especially as I learned in the process how much Cass and I have in common.  Like me, he has traveled around the religious landscape enough to know what it is that they believe and what it's like to think your way out of it all.  He and Bob were friendly, intelligent hosts, and I expect to see a lot more great chats coming from them in the future.  They've already got more friends of mine lined up for the future, including Brandon Fibbs (one of the video directors for the series COSMOS), and Ryan Bell of Year Without God fame.
If you'd like to listen to my talk with Bob and Cass, you can listen here, or even better follow one of the links below so you can bookmark their podcast for future interviews with some really cool people:
You can find their Facebook page here and "like" them so that you'll get notifications of future episodes in your news feed, or you can just go to their website and follow them from there.
If you'd like to download the talk for later listening, you can go to their download page here so they can keep up with how many folks are listening.