Thanks to the support of readers like you, I've been able to reach the first funding milestone on Patreon and have thereby been able to devote more time to writing. You may have noticed an increase in output over the last few weeks. That's been possible because the help I've received from friends has enabled me to make writing my primary "job" outside of my full-time job teaching high school. I can't tell you how grateful I am that people have valued this corner of the blogosphere enough to provide financial help to keep it going.
Now it's time to turn and look ahead to the next couple of milestones, and I'll need your help for that as well. At this year's American Atheist Convention, I plan on giving a talk about how to develop and grow freethought groups, especially in highly religious places which are hostile to them like the Deep South. I'm beginning to talk to some of those groups to see what they've done to get to where they are. In the process, several of them have begun asking for me to travel to see them and to speak with them in person, but not all of them can help defray the cost of travel. This is where you come in.
If you'd like to help me reach the next funding goal so that I can start traveling more and helping to connect these groups with each other and communicate about what's working and what's not, please consider sponsoring me on Patreon by following the link below and signing up to help.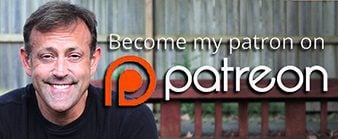 Or if you'd prefer not to agree to a regular donation, you could also follow the link below to donate through Paypal, which seems to work better for single gifts than it does for recurring ones.
I've already been blown away by the support I've received from friends and readers. Now I'd like to set our sights on the next task at hand. Once I've begun facilitating better communication between the various atheist/agnostic/humanist/freethought groups around my region of the country, the next step after that will be to begin writing a book outlining my own journey from devout faith to skepticism. I have confidence that with the support that's out there, we can make it happen.
Thanks again for all you've done to help Godless in Dixie become what it can be.