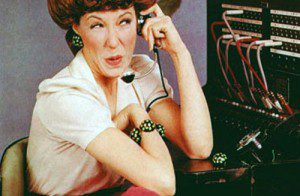 At long last, the Recovering from Religion Hotline Project is up and running!  It has been years in the making, but as of this morning the real-time peer-provided secular support hotline is now fully operational.
In a press release that went out this morning, Executive Director Sarah Morehead described the hotline as:
…an international peer support phone line for people across the many stages of religious disbelief…The Hotline also assists callers in dealing with the fallout of leaving their faith, and people who have friends or family facing these transitions. Offering emotional support and practical resources, The Hotline Project connects callers to a friendly voice with a listening ear, and provides immediate, anonymous, confidential, and compassionate encouragement with relevant resource referrals.
As a volunteer for the project and a grateful supporter of RR's work, I'm excited to see this dream become a reality.  Those of us who once oriented our lives around our religious traditions only to later change our minds can go through some really rough times.  Some have it the worst while they're still "on the inside." Others get the worst after they've left.  The one thing that they all need most but seem to find the least when they need it is a sympathetic ear to listen to what they're going through without any judgment or personal need to turn them away from directly facing their questions and concerns.
Now there's something to help!  Starting today, RR will be providing volunteer peer counseling around the clock on the weekends and from 6pm to midnight during the week.  More than a hundred volunteers have already signed up to participate (applications to volunteer can be found here) and they're already being trained as we speak.  The number to call?  1-84-I-Doubt-It.

Recovering from Religion was founded in 2009 by Psychologist Dr. Darrel Ray and is a national 501(c)(3) organization that  has provided support and practical resources to so many people who have been negatively affected by their religious backgrounds. Since that time they've started a Secular Therapist Project to help connect people to licensed specialists to help them deal with mental and emotional issues, and they've also begun hosting a podcast on the Secular Sexuality Podcast.  Now they've added one more desperately needed resource by creating this real-time hotline so that people struggling with their doubts and with the attending relational fallout can speak to "a friendly voice with a listening ear."
So is this Hotline about Deconverting People?
No.  That's not the intent of the hotline nor is it the aim of the volunteers who are offering their help.  As one of the hotline agents myself, I can tell you that I already spend a large portion of every week interacting with friends online who are struggling with questions and doubts at every stage on the spectrum of faith and skepticism, and it is never my goal to try to make them change where they are.  
It's just. not. what. I'm after. 
 What I'm after is to help friends realize they're not alone, and they're not crazy for needing to think through the issues that confront them.  I talk with my friends about the things they're already thinking about, and I do what I can to connect them to resources that can help them work through what they're pursuing.  That's it.  That's my end game.
I don't have a personal need to see other people become like me.  Some people wouldn't be happy without faith in their lives, and I have no desire to change that about them.  But not everyone is so happy where they are.  Many people are struggling with deep doubts, concerns, and at times even emotional and physical abuse.  These people need someone to talk with who will not try to push them in one direction or the other.  That's where we come in.  We have no indoctrination to defend or reinforce.  We aren't there to make people think differently.  We're there to come alongside those who need to know they're not alone in what they're experiencing.
Ideally their faith communities would be a helpful place to walk through those problems.  But under the circumstances, those communities often feel compelled to shore up their own borders and maintain their own cultural territory.  Too often the prosperity of the group identity takes precedence over the individual needs of the person.  That's why this hotline was created, to provide a place that's safe to speak freely without fear of retribution or group punishment for coloring outside the lines.  Most of us are in the habit of providing this help to our friends already.  Now we have a tangible way to make that available to a wider group in real-time conversation.
I'm excited to see what will come of the new Hotline Project, and I anticipate a large number of people will be helped by the resources we have at our disposal.  So pass the word along and let folks know this exists.
To see some of the handouts and materials made available by RR, click here for their resource kits.
For more information you can contact me through my contact page or you can email sarah@recoveringfromreligion.org.