My family is an Ole Miss family through and through.  In fact, I am the only one of us who didn't attend Ole Miss at one point or another. I was evidently too spiritual and chose to go to a nearby Baptist college instead.  But everyone else in my family has roots in the University of Mississippi one way or another. All three women in my family attended Ole Miss, and both my sister and my stepfather graduated from the University of Mississippi Medical Center. My biological father was the punter alongside Archie Manning back in the late sixties, plus on top of that they were frat brothers, but let's not delve into that, m'kay?
Just a few years earlier, my mother's brother, Gray Jackson, was the student body vice president the year James Meredith became the first black student to enroll in the school. Bobby Kennedy had to call in the National Guard because Governor Ross Barnett, whose family used to sit in front of my family at church, refused to honor the federal law and admit Meredith into the school. At my uncle's funeral a few years ago the student body president from that year recalled that during the ensuing riots my uncle successfully redirected a group of angry students from taking down the state flag and hoisting the Confederate flag in its place. It was a tumultuous chapter in the history of a state marred by the racism and discrimination for which we have been famous for as long as I can remember.
Grace Under Fire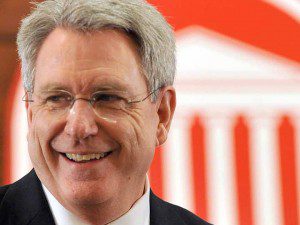 Just last year the school made headlines again when a few frat boys put a noose around a statue of James Meredith along with an old state flag of Georgia that bore the Confederate flag in its design, a gesture which led to the closing of the school chapter of their fraternity (Incidentally the current state flag of Mississippi still bears that symbol, making us the last remaining state where that is the case). The chancellor of the school, Dan Jones, responded to that incident as he did to a number of other racially and culturally insensitive moments during his tenure at the school—with transparency and with a resolute commitment to help move the school forward, laboring to separate the school from its discriminatory past.  He invited third-party consultants to come in and scrutinize the school's organizational structure and school culture to make recommendations which would help move the university forward and disassociate the institution from its checkered past.
Even the editor of the school paper which broke the news of each embarrassing event had nothing but positive things to say about the way these matters were handled by Dr. Jones, a former medical missionary to Korea and one-time president of the American Heart Association.
If there's anybody Dan Jones should be angry with right now, it's me. During my time as editor of The Daily Mississippian this past academic year, we broke two stories…that drew national condemnation and threw the administration into crisis mode. If The DM hadn't run those stories, it's unlikely that many people would have heard about them. It's also very possible Dr. Jones wouldn't be under such intense scrutiny in the wake of the university's diversity and inclusion report that was released [in August of last year].

But the chancellor isn't the type to blame others or hide from problems. He never once called me to complain, to coerce, or to co-opt our coverage of the negative events. Rather, he's handled these incidents and the underlying divisions like a doctor, his first career: collect the relevant facts, diagnose the problem, come up with a treatment plan, and follow it relentlessly. And as long as Ole Miss has been living with the cancer of racism and inequity, a smart, compassionate doctor with a patient bedside manner is exactly what we need.
"An Unforgivable Decision"
Well, evidently the state college board of trustees disagreed, and in a private session on Thursday they decided they didn't want him to lead the University of Mississippi any longer.  They decided in a 9-2 vote not to renew his contract, despite record improvements during his tenure as head of the largest employer in the state.  Clarion-Ledger editor Sam Hall enumerates his accomplishments by the time of his sudden dismissal:
Fall enrollment was at its highest point in school history.
Freshman high school GPA (3.49) and average ACT scores (24.3) are at an all-time high.
The Chronicle of Higher Education ranked the University of Mississippi as the 13th fastest growing public doctoral institution in the nation thanks to a 43.1 percent increase over 10 years.
The Chronicle of Higher Education also named the university as the top fundraiser and as having the largest endowment among doctoral institutions.
The school's endowment has grown by approximately 50 percent, from roughly $400 million to $600 million, in the past six years.
Private gifts to the university have nearly doubled, with the last three years topping $100 million.
Dr. Jones's predecessor, Chancellor
Robert Khayat
,
calls this sudden move
"egregious and a major mistake," recalling how as Dean of the Medical School Jones reversed the downward trend of the UMMC hospital in every aspect that could be measured.
Jim Barksdale
, the former CEO of Netscape and the university's largest donor, calls this "an unforgivable decision." One wonders whom this decision was really meant to please.  From all accounts it appears the only thing Dr. Jones failed to do was kiss the backsides of a handful of men ordinarily accustomed to getting their own way.
I personally know Dr. Jones from when I attended his Sunday School class as a newlywed years ago at the First Baptist Church of Clinton, MS.  I found him to be an erudite and even-handed guy, and everyone else who knows him has had only the highest praise for him.  Knowing what I know about how he has handled himself under the pressure of public scrutiny in a state whose image has been marked by intolerance, I feel like he has been an ideal man to head up the University of Mississippi. At a time when others in my state are demonstrating their faith by erecting a 110-foot-tall cross in the parking lot of a fish house, Jones aspires to apply his calling to his profession by simply doing his job well, with an integrity and a transparency that is unheard of among leaders of institutions of this size.  Where else will you hear a high-profile leader from my state voicing sentiments like these, and meaning every word of it?
As I have said many, many times, our university, because of our unique history in regards to race and inclusiveness in higher education, has a larger responsibility and opportunity than most universities do to provide leadership on these issues. We are in imperfect place like any other place. We are a place where we still have demonstrations of hate and intimidation that take place from time to time. The ones that occur here are always met with disappointment and regret, but we'll always get more attention than most places because of our history. The downside to that is the inconvenience of the negative publicity. The upside is that when the spotlight comes, we have the opportunity to provide leadership. I'm grateful for those opportunities for me personally. I probably spend more time personally than most college presidents or chancellors do dealing with these issues. I'm personally interested in them. I'm personally interested in seeing this university make progress, I'm personally interested in seeing our state make progress, and I'm interested in seeing our country make progress in the very difficult issues of race.
Amen, brother. I couldn't have said it better.
The college board meets again at 4pm today, and I expect a major pushback from the students, alumni, and other supporters of the University of Mississippi.  Student protests about his dismissal are already planned for later this week.  Jake McGraw of Rethink Mississippi lists several ways people can voice their disapproval for this terrible step back for my state. I hope the board will rescind their decision and renew Jones's contract for the next term. He deserves it.
*****Update*****
The board of the IHL (Institutions of Higher Learning) met Monday afternoon and after much discussion they reaffirmed that they have no intentions of renewing Chancellor Jones's contract.  It doesn't seem to matter that their biggest donors and most famous alumni have all spoken out against this decision over the past few days. Something is compelling them to stay their current course. Given the complexities of the financial details of running an institution the size of the University of Mississippi, at this point we can only speculate about what has motivated the board to make this bewildering move.  So far only one theory has surfaced which merits my curiosity.
Our governor, whose political relationships with the IHL board members are fraught with conflicts of interest, has gambled a good deal of his legacy on his personal commitment to opposing the Affordable Care Act (aka "Obamacare"). Like most Republican governors, Governor Bryant refused to expand Medicaid in response to the passing of the ACA, a move which effectively cancels the most important benefits of the healthcare plan for our state.  No single institution in our state juggles the intricacies of working around this limitation like UMMC. The University Medical Center is where the rubber meets the road as far as Obamacare is concerned for our state.  Whoever controls patient care and Medicaid disbursement for that institution can make or break the governor's legacy.  To date, the only explanation for this baffling move by the IHL board which makes sense to me is the one that most sickens me:  Perhaps this counterproductive move to eliminate one of the most effective institutional leaders in our state's history is rooted in partisan gubernatorial politics.
But what do I know?  This is just a theory.  Getting to the bottom of this would take a great deal more transparency than I have come to expect from Mississippi politics and business. In the meantime, the students, alumni, and friends of the University of Mississippi are going to be applying tremendous pressure on the IHL board to reverse this patently terrible decision.  I hope they succeed.