This year the conference that previously brought you both Neil deGrasse Tyson and Lawrence Krauss will be bringing in Penn & Teller to headline in the Night of Magical Inquiry, September 18th at the DFW Airport Marriott. Tickets for both Penn & Teller and for the rest of the conference (Sept. 18-20) are now available (link here).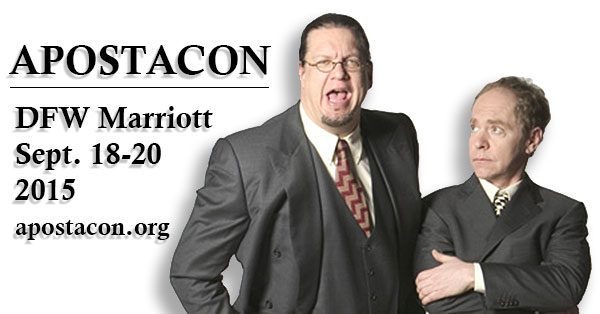 Like many skeptics, Penn & Teller use the illustrative power of illusion to demonstrate how good we are at fooling ourselves. Through magic and humor they remind us to use our critical thinking skills to cut through the claims of paranormal magic, no matter what the source or how revered the tradition.
Don't miss this fantastic conference! Apostacon, which derives its name via portmanteau (apostate + conference), is basically a party disguised as a convention. It will feature many fantastic speakers (names being added weekly, see list below), a comedy show, and a costume party (the famous "Meat Ball"). This year it will be held in Dallas, TX, and you will want to be sure to make your way there, trust me.
Get your tickets here and follow the conference Facebook page and the conference website for important updates as the date gets closer. I'll be one of the speakers as well, so if you're a reader of this blog I'd love to see you there.