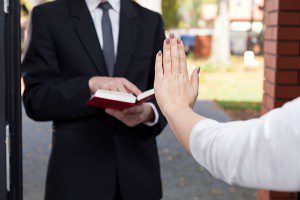 If you've ever peered into the creepy world of pick-up artists you've probably heard of "negging." Negging is a technique whereby the pick-up artist discovers and exploits a vulnerability in his target in order to get her off balance just long enough to take advantage of her insecurities for his own purposes.  Maybe that means drawing attention to something about her appearance or her mannerism about which she may have misgivings, or it could simply mean capitalizing on an inadvertent slip-up over the course of a conversation.  The seasoned pick-up artist will dig until he finds something about which his prey is insecure, then he will go in for the kill.  Sounds a little sleazy, right?
Now consider evangelism.  I've had plenty of training in "witnessing" to others and it's only recently dawned on me how analogous these two practices are, even if the latter is less overtly sexual than the former.  But the predatory nature of the game is still there.  The goal of the evangelist is to discover and exploit a perceived weakness or shortcoming in the prospective convert, taking advantage of a temporarily vulnerable state.  Ideally there should be tears, but they aren't completely necessary.
What is needed most is a moment of admission that the target of the evangelism has somehow failed to be what he or she should be.  That's the goal right there.  Everybody has something about which they lack confidence (or even better for which they feel shame). As an evangelist you must find that and seize upon it, making the most of this opportunity to offer the solution to all of their problems. Whatever it is they lack, certainly you have exactly what they need, right?  You're the proverbial guy with a hammer to whom everything looks like a nail.
"What a terrible thing to say!"
Yes, I know, it's offensive to have evangelism compared with the techniques of pick-up artists. Perhaps you feel it's unfair since you believe you have something the other person truly needs.  Fair enough.  I'll grant that your intentions are rooted in altruism, albeit a misguided one in my opinion.  But the similarity of method is striking, nonetheless.  You need an inroad to your prospects' psyches, and it requires finding something wrong with them so they'll be more willing to listen what you have to say.  You're "negging" whether you realize it or not because your sales pitch demands that you begin by finding something wrong with the other person.  If they're not broken, then they don't need fixing. And if they don't need fixing, then why are you seeking an audience with them in the first place?
While I've been "out" as an atheist online for a couple of years now, it has only been in the past few weeks that most folks in my local area have discovered the extent of my apostasy (thanks to the CBS piece as well as the local coverage of the same). Since then I've been receiving a bit more than the normal amount of evangelism, in particular from one gentleman whom I always seem to catch in the locker room at the gym where I work out.  Here's a snippet from one of our recent conversations.
Him: How's it going?

Me: Rough week, man. Rough week.

Him: People beatin' up on ya, right?

Me: Yeah, pretty much.

Him: That's Satan, you know. Hard at work.

Me: Well, it's some people in my personal life. But you know sometimes it gets to where you have to distance yourself for your own good, and then YOU look like the bad guy for disconnecting.

Him: Well, brother, what you gotta realize is, you ARE the bad guy. Once you get that settled, everything else falls into place.

Me: I've gotta go cook supper.

Him: Alright, hey, we'll take this up later then!
He sounded so chipper about it.  And he does this all the time. We'll be chatting about whatever, and he always feels compelled to interject something about how we're all fallen human beings and the Devil's behind whatever's wrong in the world and yada yada yada.  Not everyone around me talks like he does, although most of them seem to think that way, even if they don't say it out loud.  He's a fundamentalist, and most people I know would try to distance themselves from that label. But they believe the same things. They just don't wear their beliefs on their sleeves because to them it sounds odd for people to talk about the Devil out in public.  Maybe it makes them feel a little silly, so they only talk like that around the people who they know believe the same things.
Either way, they all feel compelled to find an opportunity to inform me that I'm not the way I'm supposed to be.  They almost all do it at some point or another. Their beliefs compel them to do it.  They must find a way to convince me that I'm not okay the way I am, and that I need something they have.  Well, I disagree, and it's going to feel a bit creepy after a while if you keep at it.  No means no, m'kay?